Ben Hogan's classic attire discussed in Golf Digest Stix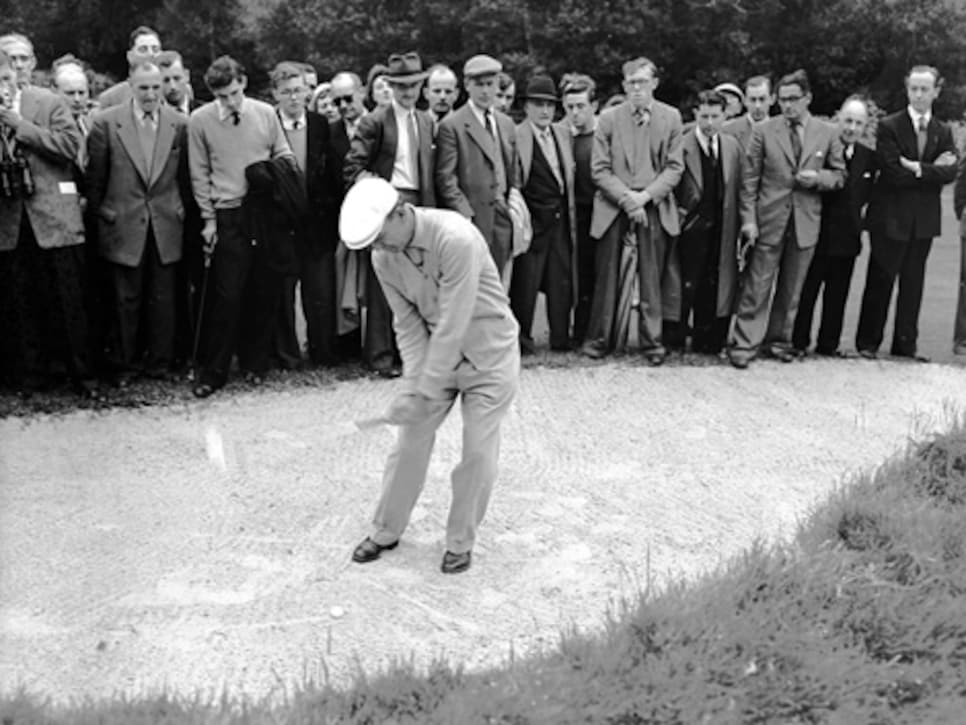 Photo: Bob Thomas/Getty Images. Hogan plays out of a bunker at Wentworth in 1956, surrounded by patrons equally dressed to the nines as Hogan is.
Elegance, separates itself from other traits in its involuntary quality — it's a description one uses to personify another individual as a whole.
That's exactly how our style guru, Marty Hackel, described Ben Hogan's fashion in the latest edition of Golf Digest Stix, our newly-launched e-magazine that reports on the latest equipment and style trends.
While not a new trend, Hogan's classic attire stands the test of time. His traditionalist garb might've been customary in Hogan's day, but  we assign a label of "elegance" to it now.
David Hueber, whose extensive career as a golf executive includes serving as the President of the Ben Hogan Golf Company (in addition to residing over the National Golf Foundation and Vice President of Marketing for the PGA Tour). Working closely with Hogan for years, Hueber offered some insightful commentary after reading Mr. Style's take in Golf Digest Stix:
"Times have changed. We used to wear our best when going to church or flying on a plane. We used to wear long pants and our best Ban-Lon polo shirt when playing golf. Alas, now it's cargo shorts and a maybe a collarless shirt."
And yet, Hueber doesn't think that's the worst thing. As someone who has studied the trend of golfer participation over the past decade as a doctoral student at Clemson, he sees new trends . . . that could be encouraging.
"The democratization of the game in the U.S. is a fait accompli with more than 80 percent of the rounds now being played at public golf courses.  Depending upon who is counting, we now have 26 million golfers and we want more. Does golf really want or need a dress code? Probably not, unless you are in the business of selling ties."
Thankfully, most of us are simply in the business of enjoying this great game chasing around a little white ball.
And we'll do so as the game continues to evolve, while admiring the elegance of our game's biggest figures.