The Loop
Ben Crenshaw's final advice to Jordan Spieth: 'Everything...was spot on, don't change a thing'
AUGUSTA, Ga. - Before embarking on his second Masters, Jordan Spieth gained additional insight on Augusta National GC from fellow Texan Ben Crenshaw, the two-time Masters champion who played in his final Masters this week.
That nine-hole practice round seemed to do wonders for Spieth, who has proceeded to set several records on the way to a four-shot lead over Justin Rose entering today's final round.
Crenshaw made a point to speak to his fellow Longhorn again after Saturday's third round, and perhaps the few tidbits of wisdom he offered might help his young friend get through what will be the most nerve wracking round of his brief professional career. Spieth and Rose go off at 2:50 p.m. (EDT) in the final pairing, the position from which 20 of the last 24 winners of the Masters have been won.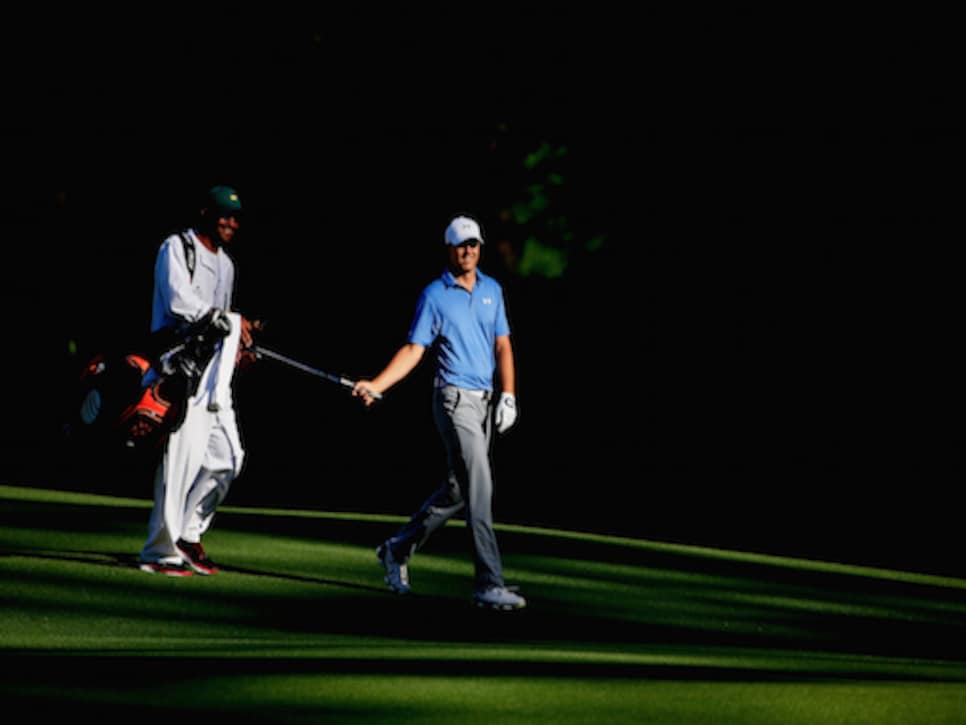 "He'll be antsy, no doubt. Who wouldn't be? But, by gosh, he has such a good head on his shoulders," Crenshaw said Saturday night behind the Augusta National clubhouse.
"I got to say hello to him. I wanted to see him before he left. I told him he hit a good putt on 17, that he made a great save on 18. I wanted him to know that everything that he'd been doing was spot on, and to not change a thing in how he is thinking and how he is playing."
Spieth, who has led from the outset after an opening 8-under 64, increased his advantage to seven strokes after he birdied the par-3 16thhole. But he made a mess of the 17th, suffering a double-bogey. He looked to be in further distress on 18 when he flew his approach long, but he pitched to five feet and saved par for a 70 and 200 total, a 54-hole record.
"That up and down was big at 18 … after absolutely killing himself at 17," Crenshaw, 63, said. "His reaction said to me, that he didn't think the putt was going to do what it did. So he hit a good putt. He's been hitting good putts all week. He knows these lines so well - already, at just 21 years old. Just amazing.
"He plays the golf course like someone with far more experience, like he's been here for years and years, and that helps. It's not how many times you've played it, it's how well you understand it."
Crenshaw won the Masters in 1984 and '95, and he is the last of seven Texas natives to capture a green jacket. Twenty years ago he slept on the 54-hole lead, and he admits he was never more nervous going into the final round of a tournament. His closing 68 enabled him to hold off Davis Love III by one stroke.
"It's so difficult to play with the lead here," he said. "I didn't sleep well [in 95]. It's exhaustive sleep, really. What I dreaded was getting up. You have to busy yourself, and it's excruciating. You play the golf course over and over again in your mind, so much. You think about what you've done the last few days. You think about what you want to do. You're almost mentally tired before you ever get to the course. You assess the weather, the pins, how you want to play the round.
"There's so much of a puzzle out there, and it's such a big course. And with all that's at stake, it's hard to not feel totally overwhelmed, whoever you are. That's why Jordan seems so special. He'll know what to do. I'm not making any predictions. His mood was good when I spoke with him.
"The bottom line is he knows he has to go play solid. He has to play aggressive on some holes.  He can't sit back and be protective. He's got to go out and do it."
And Crenshaw will be watching every shot. "I'm not going anywhere. No way," he said, grinning. "I'll be living and dying with him on every shot."