Instruction
The New Way To Make Them All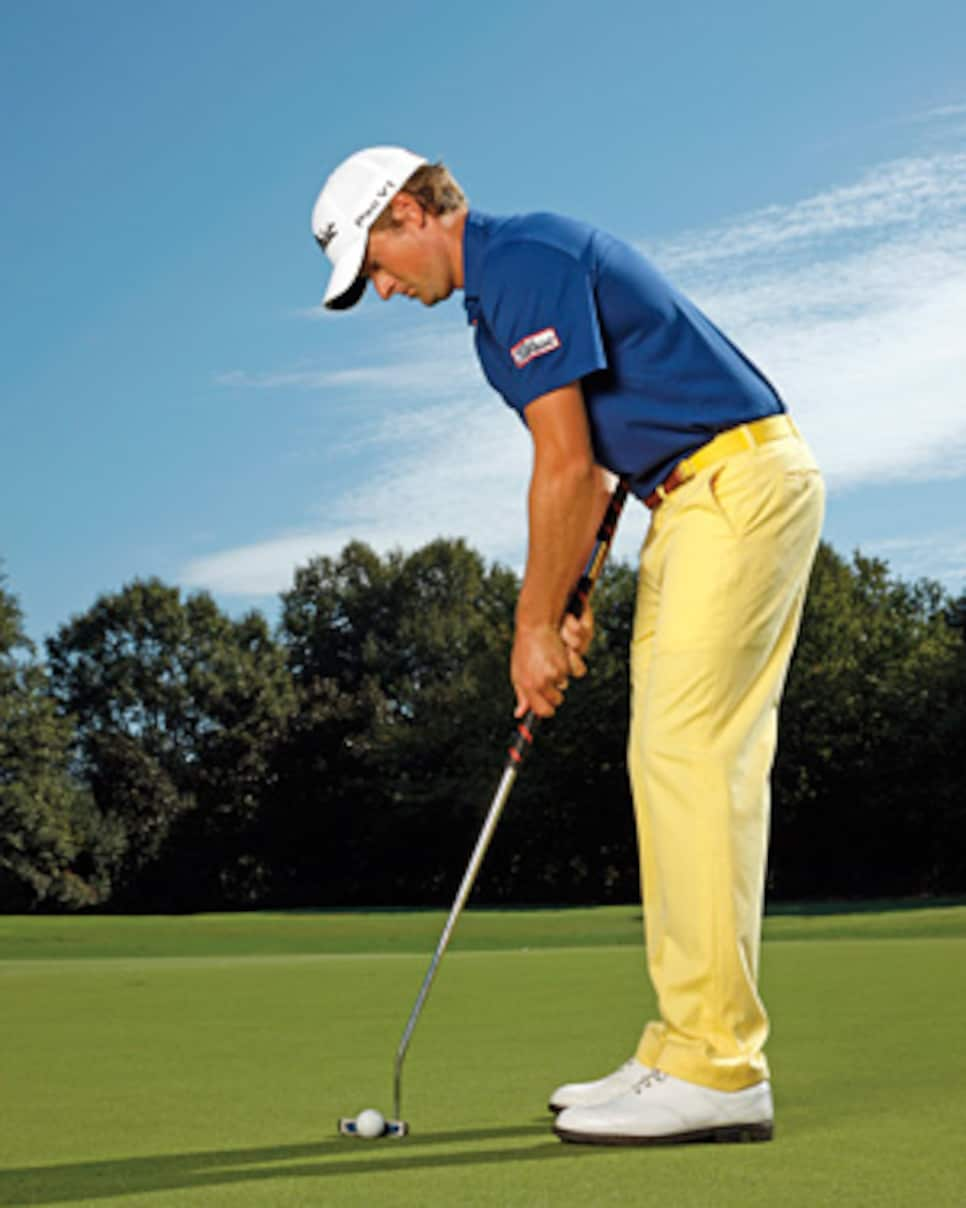 SIMPSON'S PUTTER SPECS: MODEL: Ping G5i Craz-E B | SHAFT LENGTH: 44½ inches | LOFT: 1½ degrees | HEAD WEIGHT: 385 grams
MY SETUP SQUARE EVERYTHING TO THE LINE
The first time I tried a belly putter, I made everything I looked at. It was Thanksgiving my freshman year at Wake Forest, and I picked one up in the shop, just messing around. I got some grief from my teammates, but it was too good not to switch. Basically, it has made my putting more mechanical and less dependent on feel and sight. My setup hasn't changed: Feet, shoulders, eyes and clubface square to my line (right). My arms hang naturally, and the ball is just forward of center. Once I get set, I'm free to focus on controlling my speed and starting the ball on line.
MY CONNECTIONS HANDS ON AND HANDLE IN
I like the left-hand-low grip because it quiets my hands and feels right for the longer club. I close my hands around the handle comfortably, with my right forefinger down the back side of the grip for feel. My grip pressure is medium: I don't want a death grip, but not so light that I can't control the putter. Where do I anchor the grip? If my bellybutton were a clock face, the butt end would rest at exactly 2 o'clock (below). And it stays anchored, regardless of how long my stroke is. Some guys let the handle drift on long putts, but mine stays firmly planted the whole time.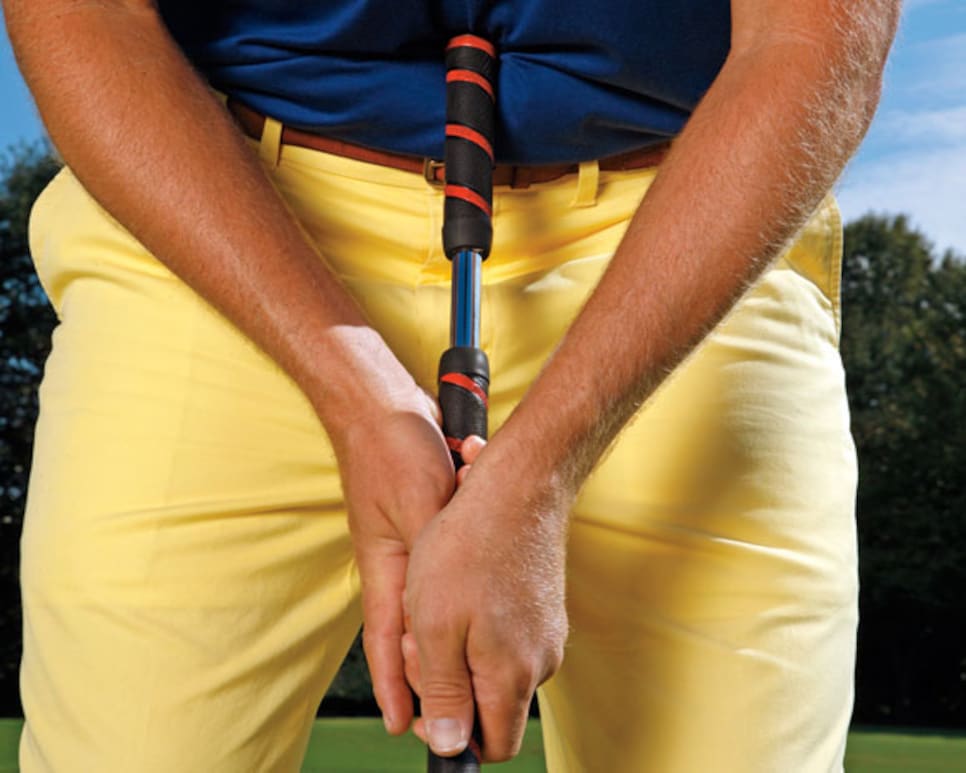 MY BACKSTROKE FOCUS ON ARMS AND SHOULDERS
As I said, my arms hang freely, just like they would with a conventional putter. Starting the club back, I allow my arms to swing and my shoulders to rock. The stroke with the belly putter should cause the club to track slightly inside the line of play (below, left), not straight back. There also should be a little "play" in the stroke, meaning the face should fan open slightly. The length of the putt determines how far back I swing the putterhead, but my rhythm stays consistent from putt to putt.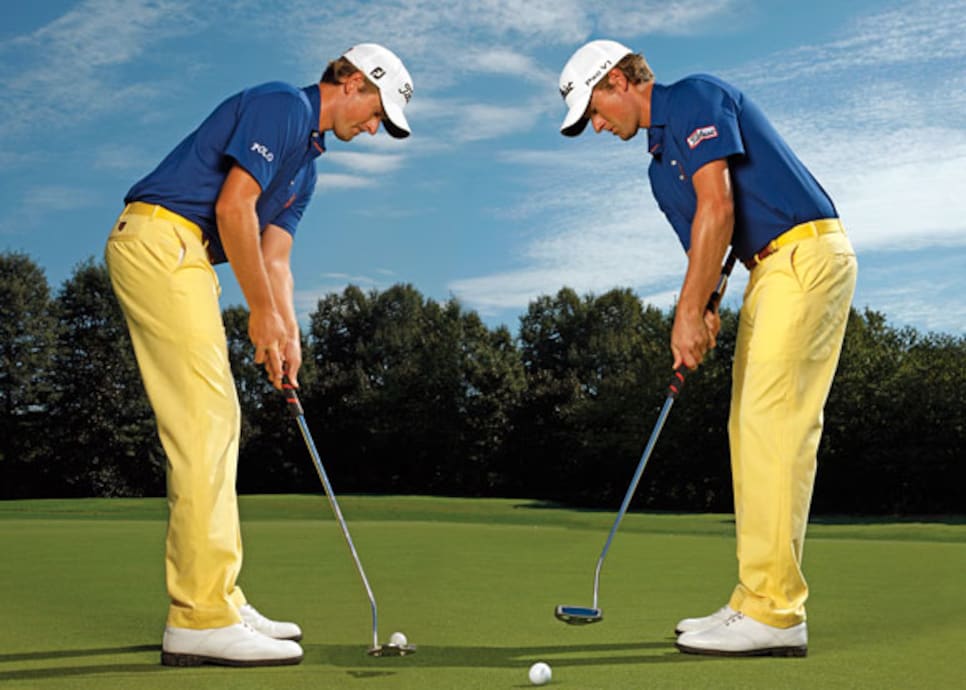 MY THROUGH-STROKE CATCH IT ON THE UPSWING
I allow for a little "release," letting the face rotate to the left of the target after impact (above, right). My left-hand-low grip keeps my hands from dominating, but I do have a sense of feel in my fingers. It's important that the stroke feel free, not robotic. Because I play the ball forward, I hit it a touch on the upswing; I catch it a little thin. My putter has only 1½ degrees of loft, but that turns into the traditional 3 or 4 degrees because of the upstroke hit. That's how I get the best roll.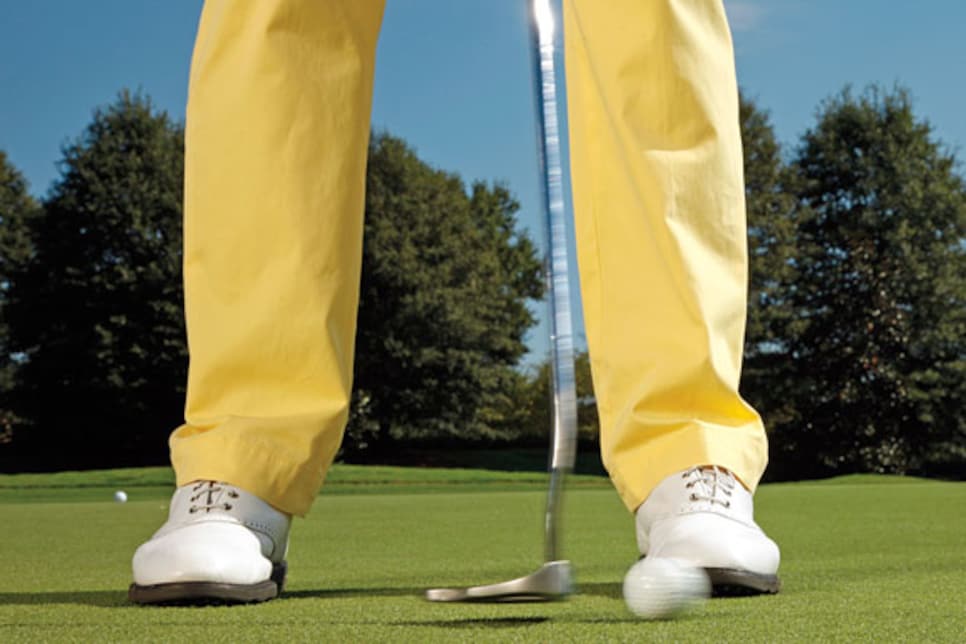 When Webb Simpson is in contention, his cheeks tend to blush apple-red and his blue eyes become wide, his gaze piercing. It was hard to watch Simpson in 2011 and not become wide-eyed, too. After two early runner-up finishes, Simpson won the Wyndham Championship in late August, then the Deutsche Bank in a playoff two weeks later. Is Simpson, 26, presently the best American player? The pale-blue eyes narrow at the suggestion.
"I don't know about that," says Simpson, hanging out on the range at the Quail Hollow Club in Charlotte, near where he resides with his wife, Dowd, and son, James, who was born in February.
"What I'm trying to do is execute the things that will make me successful. I have some goals, but I try not to look too hard at them specifically. The way I'm doing it has taken some patience, but it seems to be working."
He's clearly doing a lot of things right. Through early October, Simpson ranked No. 2 in scoring average and was tied for sixth in putting average.
Simpson is from Raleigh, N.C., one of six kids, and was an outstanding junior golfer before he was one of the nation's top amateurs and an All-American at Wake Forest. He earned his PGA Tour card on his first try, in 2008, and was moderately successful, though winless, his first two years. He arrived in 2011 with his long game much sharper, thanks to work with instructor Ted Kiegiel. His ability to hole clutch putts with his belly putter at times bordering on uncanny, Simpson earned more than $5.7 million this year and came close to winning the FedEx Cup and its $10 million bonus.
His late rush left the tall (6-2) but unimposing Simpson a bit weary. "Can't wait for five weeks off, with no serious golf," he said in the wake of the Tour Championship. "I'm looking forward to doing nothing except hanging out with Dowd and the baby, and watching my house get painted."
He can add to that list thinking about his first Masters. That might make his eyes widen all over again.