News
Rising to become the best golfer in the world, like Dustin Johnson, is tough. Staying might be even tougher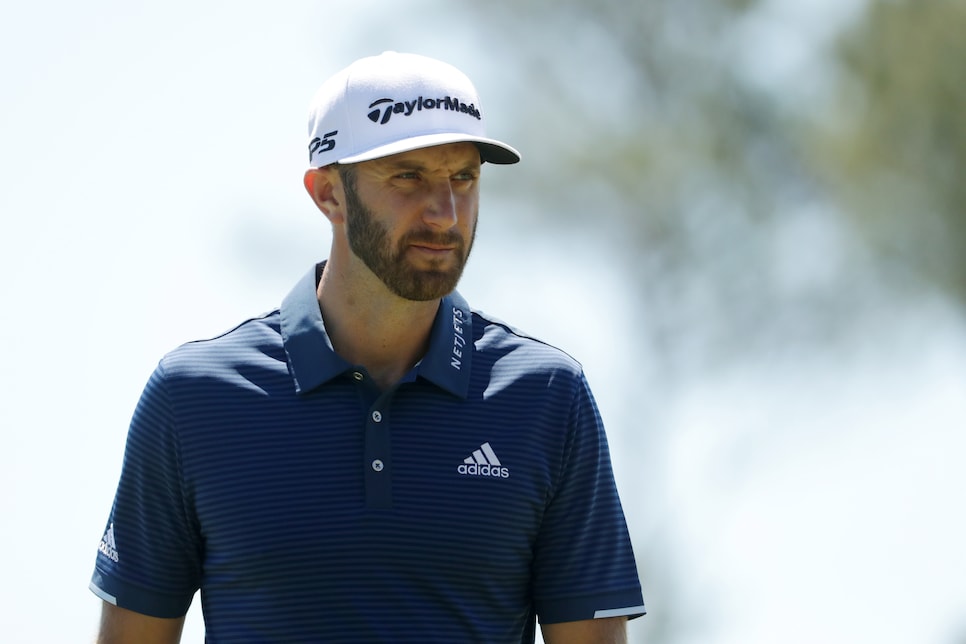 PONTE VEDRA BEACH — The first time Jason Day thought about being No. 1 in the world he was 16 years old. He had just won the prestigious Callaway Junior World Golf Championship at Torrey Pines, and Tiger Woods was his idol.
Eleven years later, Day reached the top of the Official World Golf Ranking for the first time after capturing the 2015 BMW Championship. He stayed there for a month before returning to No. 1 six months later following back-to-back victories at Bay Hill and the WGC-Dell Match Play in 2016. This time the run would last 47 consecutive weeks before Dustin Johnson usurped him with a win at Riviera, the first of three straight victories for the current No. 1.
Day, meanwhile, hasn't won since last year's Players Championship.
"I could sense that being No. 1 and all that stuff was getting pretty hard mentally more so than physically, just the mental demand that has on you, the expectations," he said from TPC Sawgrass. "It's very, very easy to get burnt out in a sense."
Getting to No. 1 is one thing. It's a goal and a chase. Staying there is another. It comes with a target, expectations and demands.
When the Official World Golf Ranking debuted April 6, 1986—the same week as that year's Masters—it was called the Sony Ranking. Bernhard Langer sat atop the initial list. In the decades that followed 18 more players would claim the throne with Tiger Woods famously owning the top spot the longest at an incomprehensible 681 weeks overall, including 281 consecutive weeks between June 12, 2005 and October 30, 2010.
The shortest reign at the top was Tom Lehman's. It lasted just one week in 1997. Woods has topped the list 11 times overall; Rory McIlroy seven; the late Seve Ballesteros five; Nick Faldo, Luke Donald Jordan Spieth four; and Ernie Els, Vijay Singh and Day three times.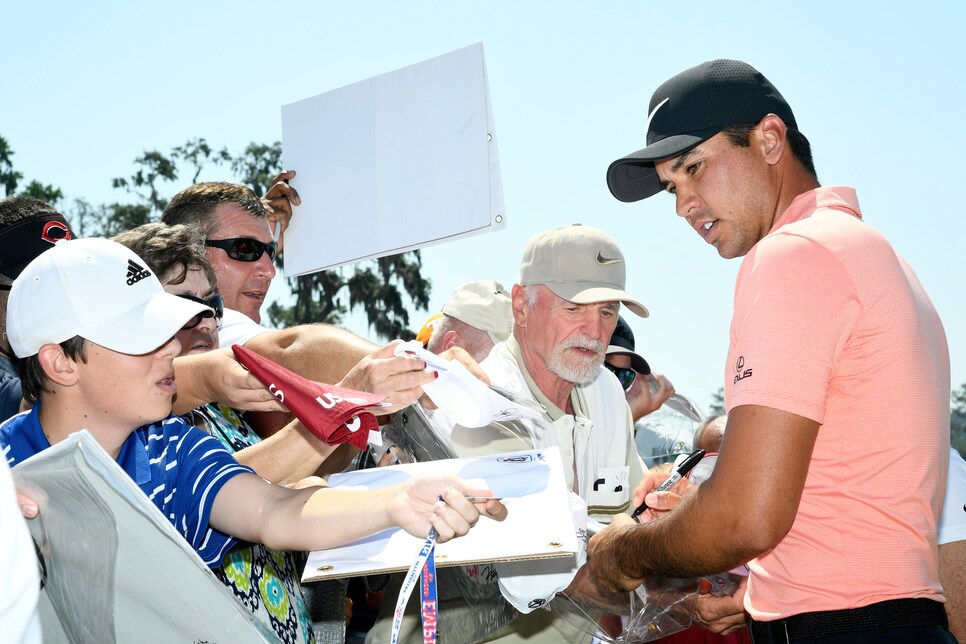 How long Johnson will remain there is still to be determined, but it could be a while. His lead over No. 2 McIlroy is a whopping 4.7057 average points. Only Woods has had a lead that large over his closest rival in the ranking's last two-plus decades.
That could be particularly helpful in making sure Johnson holds on to the spot after this week. Players ranked No. 1 don't exactly have a great track record at TPC Sawgrass. In the last five years the best finish by a No. 1 was a tie for 28th, by Johnson a year ago.
There's also the matter of how Johnson is playing. Entering the Masters, he had won his last three starts. Then he suffered a freak accident on the eve of the first round at Augusta National, slipping down a few stairs while wearing socks in his rented house that week and injuring his back. He withdrew moments before his Thursday tee time.
Johnson returned at last week's Wells Fargo Championship, showing no ill effects as he finished T-2 at Eagle Point Golf Club.
Physically, there are few, if any, holes in Johnson's game. He leads the PGA Tour in driving distance and greens in regulation. His much maligned putting has also improved with Johnson ranking 23rd in strokes gained/putting this season. His wedge game is dialed in, too. He ranks first in approaches from 125-150 yards, fourth from 100-125 and sixth from 50-125.
"He just keeps doing it," McIlroy said of Johnson. "He's been so impressive, no matter whether it's before the Masters, when he won those three times. … I was actually hitting some balls the week after Augusta, and he was out at the Bear's Club and he looked OK. He couldn't really get through it with the driver that much, but to see him then, I watched a little bit of the golf [last] weekend and he just, he's on a roll."
Johnson's biggest advantage, however, might be how everything seems to roll off his back. Be it losing major championships in shocking and disappointing fashion (2010 PGA, 2015 U.S. Open), to overcoming a bizarre rules situation to win his first major (201 U.S. Open), to ascending to the top of the game, little seems to affect him.
Others have had a more difficult time once they got to the top.
"I didn't realize that once you got to No. 1 in the world the amount of demand from the media, fans, sponsors and pretty much everything else that entails being at a golf tournament and off course as well," Day said. "You could be at a golf course for 10 hours if you let it stretch out. You get kind of worn out.
"I handled it well for about a year and a half, and then it got to me finally," Day continued. "I'm just like, Whoa, this is too much. … It just feels like you're getting pulled in all sorts of directions and it feels like you're suffocating sometimes, and that's not what you want to feel when you're at the top."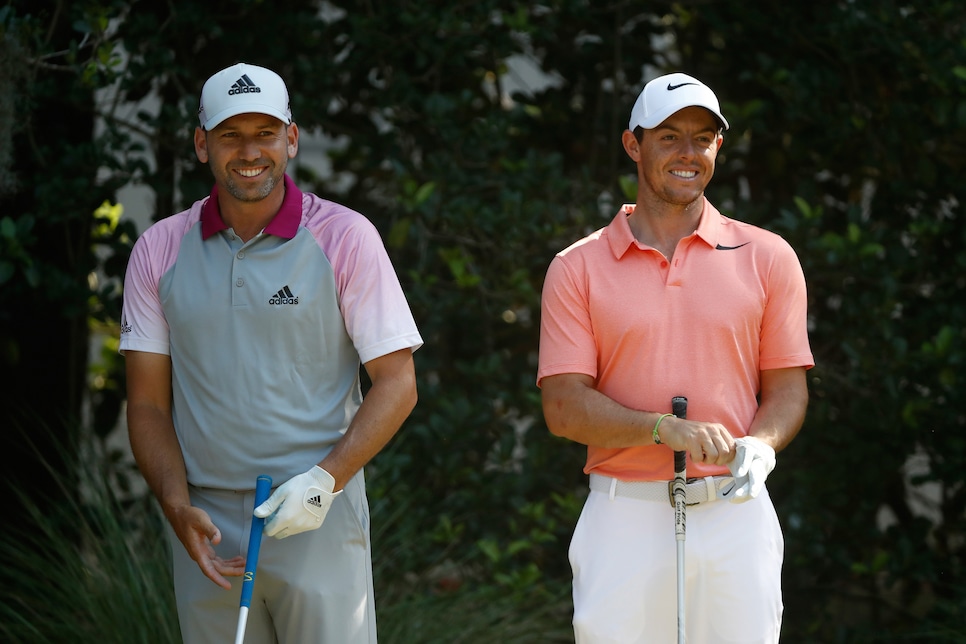 Once at the top, it can be hard for some to figure out what exactly to feel. There's the elation of getting there, but then what?
Spieth first got to No. 1 after finishing runner-up to Day at the 2015 PGA Championship. He bounced back and forth between first, second and third over the next few weeks before ultimately spending 26 weeks total at No. 1 through the early part of 2016.
He hasn't been back since and enters this week No. 5 in the world.
"How do you set a new boundary, a [new] barrier to break through?" Spieth said. "I think that's difficult to do. I don't think there's anything else to it other than once you're there it was such a satisfaction. It was such an awesome feeling living as that, and I still practiced just as hard, I still worked as hard. But when you get on the course and you have kind of that target now shifted to your back, it's how do you take that target from your back and put it on something else, and so you still have something to chase, some desire to chase.
"In the majors it's easier to focus on your legacy. It goes off of major championships. But throughout the rest of the year, I think it's difficult to stay focused on exactly what's there at hand that week, and that's what can make it challenging. For some reason Dustin doesn't seem to think so right now, and it's very difficult to beat him right now."
When Johnson reached No. 1 following his victory at Riviera, his response when asked about handling all that goes with it was "Ask me next week," a refrain he has repeated a few more times since.
Finally, he eventually relented, saying, "I don't mind the extra attention, it's OK. It's why I play the game, it's why I'm here. If that means I get extra attention from all you guys, that's just fine with me."
Not exactly words of worry. The responses were flatline. It's just who Johnson is—laid back, chill.
"I don't think [being No. 1] will faze him being where he is in the world of golf," McIlroy said. "I don't think anything fazes him, that's probably the understatement of the year. I can't see him falling off or dropping off. It's up to the other guys to try and catch him."