The Loop
Behind the camera: Gary Koch's view from 17 is "better than most"
We're spending the week embedded with NBC/Golf Channel at the Players. Here's Part 1 in our series.
In cramped quarters overlooking No. 17 at TPC Sawgrass, Gary Koch and assistant Harrison Root make up the team that will bring viewers coverage from golf's most famous hole. Do they work well together in a space the size of a small walk-in closet?
"You learn to real fast!" Koch said.
Koch has manned the tower at 17 for NBC and Golf Channel since 1997. He's quick to give credit to Root, who is working his first Players as a scoring associate.
"All that information is being provided. We're not that smart," Koch said. "It is a total team effort. You sit at home and hit the clicker and it magically appears. But we have 200 people working on this and the bottom line is, everyone has to do their job right for it to work."
This is the first time Root, who spends most of his time glued to ShotLink, is in charge of sliding index cards to his partner containing pertinent information and stats. It's also the first time at this tournament that Koch has been situated behind the island green instead of near the 16th green. And he's not complaining.
"This is the most spectacular," Koch says when asked to rank all the towers he's worked in.
But Koch and Root aren't just watching the 17th hole. A huge TV screen shows five other locations on the course that they're in charge of monitoring. This week it's Nos. 4, 8, 12, 16 and 16 tee. If something exciting happens at any of those locations, Koch and Root will alert producer Tommy Roy and then Koch will be called upon to comment.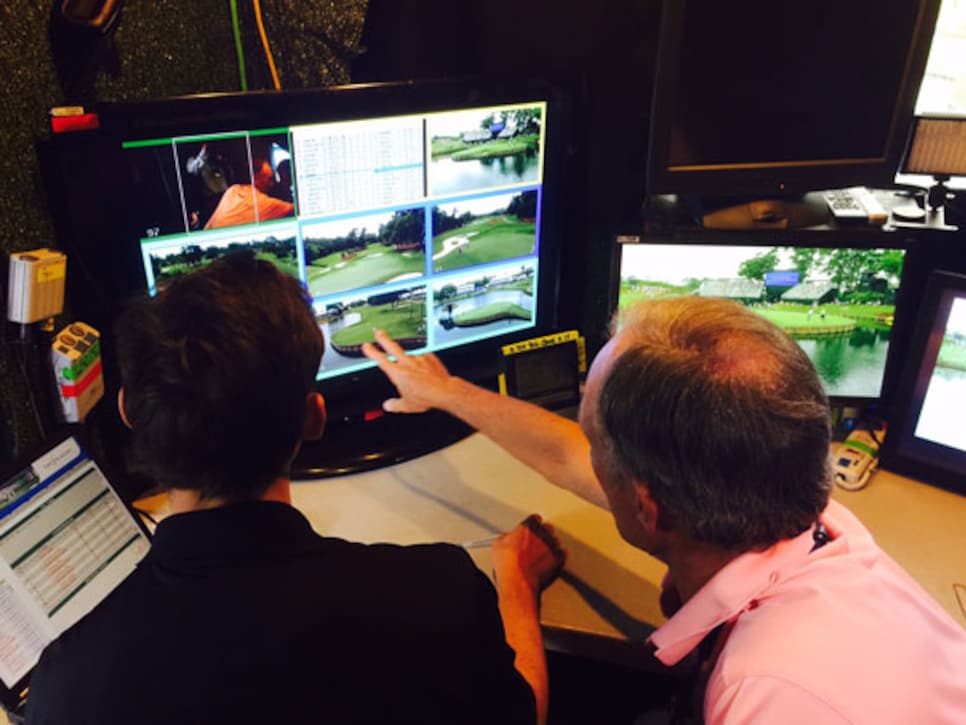 "The most difficult part of the job is saying something meaningful quickly enough," said Koch, who estimated 60 percent of his calls are live and 40 percent are taped. "When they come to me for a shot, you have 20 seconds, 30 seconds at most, and you need to hopefully say something reasonably intelligent."
"One ear is the program and the other ear is the producer. I'll hear, 'We're going to 17,' and as soon as I see the picture (on the main TV screen in front of him), boom, it's time to go."
Fans don't realize that much of the action is being called after the fact, but it's a necessity.
"There are times where there are six or seven balls in the air. It's also hard to go to a hole like 17 live sometimes," said Mark Rolfing, who works in the booth, but also as an on-course reporter. "Some guys that you know are fidgety anyway, you don't know when they're going to go or how long they're going to talk to their caddie. There's way more going on here."
"I called a hole-in-one on tape last week," Rolfing added. "You've got to be as natural as you can. I said it was on tape so I didn't jump out of the tower, but at the same time, it's a hole in one."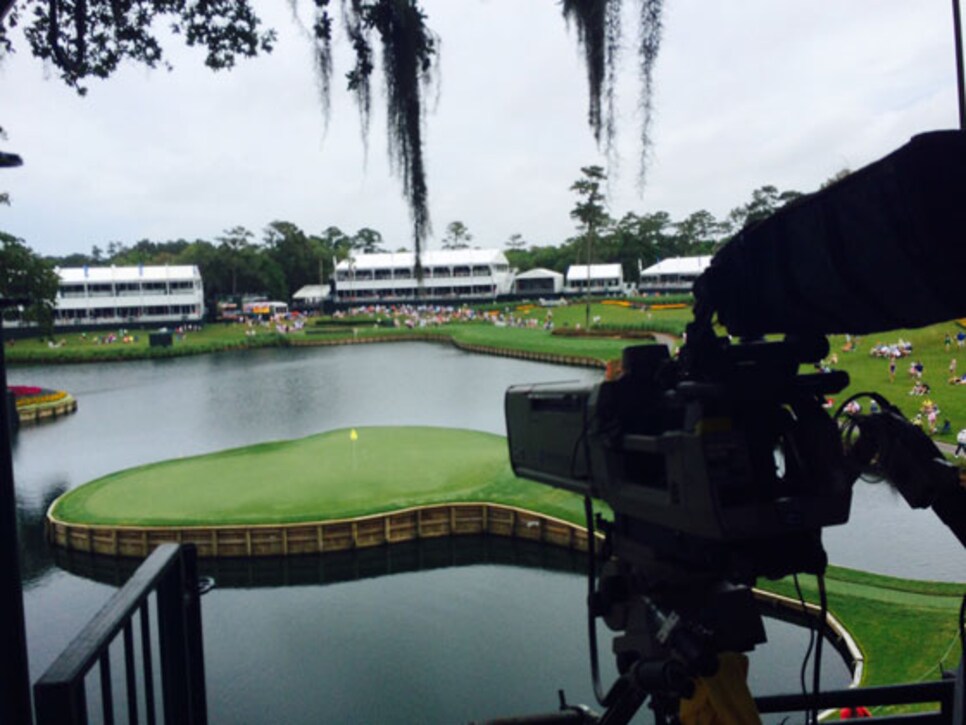 Koch said the most exciting moment he's covered from any tower was when he provided the "better than most" commentary for Tiger Woods' improbable birdie putt on the 17th hole in 2001.
"The eruption when that ball went in, the hair on the back of my neck was standing up," he said. "We didn't say anything for 45 seconds. We just set it up and we let it play."
It's moments like that that explains why Koch cherishes his location on the course, particularly at this venue -- even if he spends the majority of the time looking at a screen like viewers at home.
"How we react depends on the atmosphere," Koch said. "When you have a setting like this and you have a great reaction from the crowd, you're probably going to get enthusiasm and a great reaction from me. So it helps to be out here."