The Loop
Behind the AT&T National: Greg McLaughlin
BETHESDA, Md. --The general rule of golf writing is to get out on the course, spend some time walking holes, because you never know what you're going to see. It's been a New Year's recommitment, and Wednesday, it led me to a scene on the 16th fairway at Congressional, where Tiger Woods was leading a procession that included PGA Tour Commissioner Tim Finchem and Greg McLaughlin, the tournament director of the AT&T National.
I've known McLauglin for about 15 years, back to when he was the tournament director for the Nissan Open and extended the first sponsor invitation to Tiger as an amateur in a pro event. From there, he worked close to my home in South Florida as tournament director for the Honda Classic, where Tiger was again offered a sponsor's exemption. On Greg went, to the Western Golf Association, running the Western Amateurs and Opens, before landing the ultimate job, as Tiger's main golf tournament guy, first at the Target World Challenge, and now as the inheritor of this immense 116-day project of being a major-scale tour event to Washington, starting from scratch.
Well, not scratch. McLaughlin had Tiger and that opened the doors at Congressional and that opened the doors to all sorts of wonderful opportunities here in the D.C. area--which brings Finchem into the picture. The commissioner was more than slightly embarrassed that he had to pull the plug on tour golf in his city just last year. To march up that fairway with McLaughlin, towed by the currents of Woods, was quite a sight.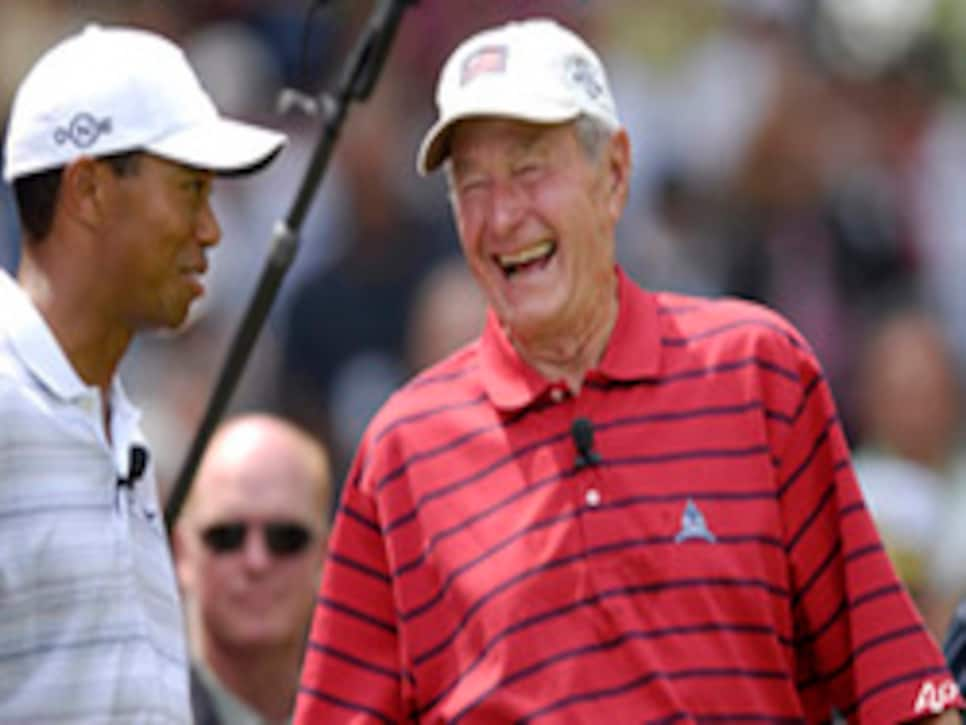 And then the parade halted, with time given to Air Force Sgt. Andy Armor and Army Sgt. Maj. Mia Kelly, the two active duty soldiers who had the luck of playing in the pro-am. They hit their shots and and it made you think, what a country. They've been Iraq and the rest of us complain if there's a wait going through airport security.
At the crest of the hill on the par-5, where his ball had come to rest, Woods was greeted with a visitor.  Awaiting Woods, along with a squadron of Secret Service, and wife Barbara, was President George H.W. Bush, old Forty One himself, looking spry and happy.
There was a sense that this was more than a photo op, like something historic was taking place, that Woods and Bush had shared a friendship and that this meeting of two icons really wasn't scripted. The smiles were too real.
Finchem went in for a couple of handshakes but McLaughlin stayed in the background. In his news conference on Tuesday, Tiger was asked if Greg was going to get a raise. Tiger playfully said, "No," knowing this event couldn't have been put together without him.
Thursday, riding into Congressional on the press bus, I saw Greg driving a cart, checking his blackberry, walkie-talkie nearby, heading to the range in full grind mode. Tiger was on the tee in a couple of hours.