The Loop
Before Ben Hogan became a legend, he had to break a nine-year winless streak as a pro
Ben Hogan is famously attributed with saying the secret to golf was "in the dirt." Ken Venturi also quoted Hogan as saying, "every day you miss practicing will take you one day longer to be good," which seems a mathematical improbability, but the point is Hogan was arguably the hardest-working player in golf history. Despite this, success took its sweet time, nine years to be exact after he turned pro in 1931.
The milestone moment took place 75 years ago this week at the 1940 North and South Open at Pinehurst No. 2, the golf mecca for many memorable events. The dates were March 19-21, which were a Tuesday through Thursday in 1940. Hogan had won a team event with Vic Ghezzi at the 1938 Hershey Four-Ball, but when he arrived at Pinehurst a few months shy of turning 28, he had not experienced individual glory on tour.
Pinehurst was an ideal spot for Hogan to break through. In Lee Pace's book Pinehurst Stories, Hogan is quoted as saying, "I always loved to play Pinehurst. I thought it was a great place. . . . The whole golf course was a most pleasant and testing golf course. It's a real test of golf." The 11th hole on the No. 2 course was said to be his favorite par 4.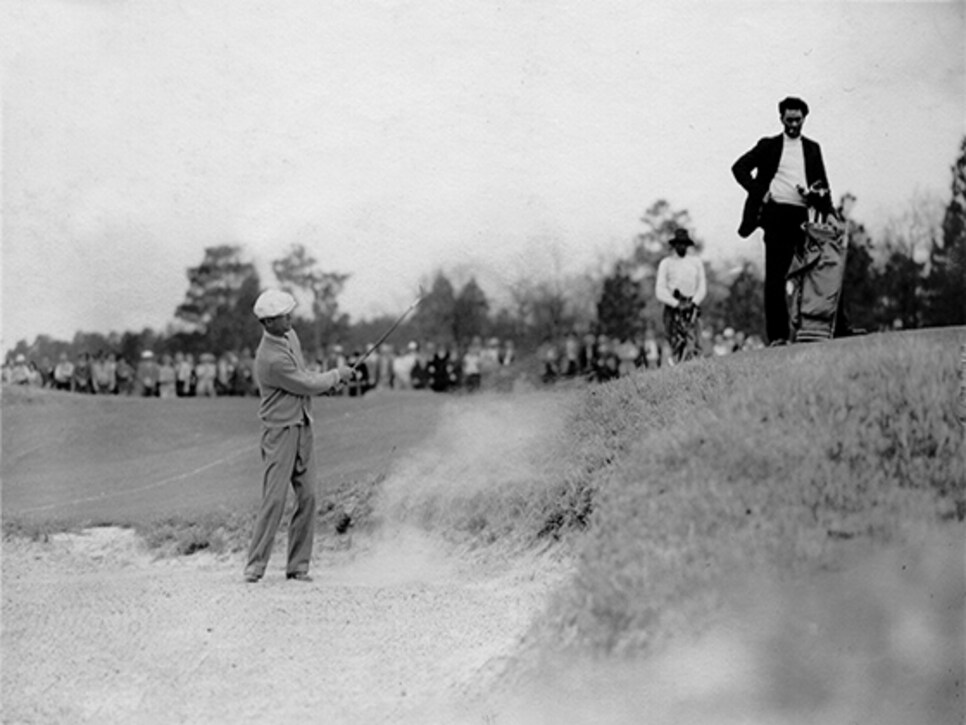 Due in large part to the Pinehurst prestige, a win in the North and South was held in high esteem, nearly of major status. The atmosphere was vibrant, with outdoor festivals part of the ambience on the hotel lawns. Bobby Jones attended as a spectator, and the field included Gene Sarazen, Sam Snead, Byron Nelson, Horton Smith, Paul Runyan, Lawson Little, Henry Picard, Lloyd Mangrum, Harry Cooper, Clayton Heafner, Johnny Revolta and Craig Wood.
Hogan's 66-67 start opened a seven-shot lead over Snead and Revolta at the halfway mark. But on a chilly 36-hole final day, Hogan also cooled off. Paired with Revolta and Heafner, Hogan turned tentative in Round 3, posting a 74 and his lead was reduced to six. Sarazen voiced doubt that Hogan's lead would hold up. Snead finished with a final-round 67 to put pressure on Hogan, but the impending champion made pars on the last two holes for a 70, and his 277 total won by three. For the first time, the results had the great contemporary trio of Hogan, Snead and Nelson, all born in 1912, finish 1-2-3.
Hogan was such an unexpected winner that Pace reports the Greensboro Daily News had him as Hagen (mistaking him for Walter) in the headline before correcting the mistake.
In the Hogan camp, the $1,000 first-place check was a welcome relief, but so was the broken ice. Wife Valerie said, "Don't pinch me. I'm afraid I'll wake up. Ben has been so close so many times, only to see one fatal shot crumble all his hopes. He's never given up trying, though, even in his darkest hours. That's why I'm so proud of him."
After being given the trophy and his earnings, and shaking hands with architect Donald Ross (see below), Hogan had a glass of milk and told the writers, "I won one just in time. I had finished second and third so many times I was beginning to think I was an also-ran. I needed that win."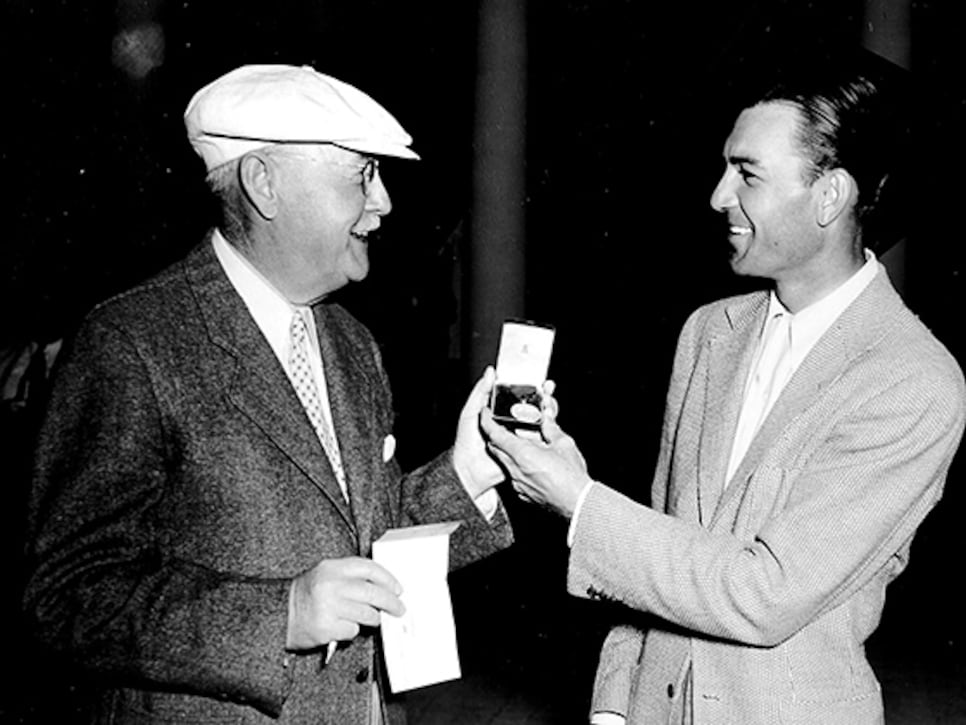 The importance of a victory 75 years ago at Pinehurst is being honored at the course. The starters on No. 2 from now until the end of April will be wearing Hogan caps in a mix of blue and white as a tribute.