Beau Hossler's summer looks a lot like Tiger Woods' summer of '94
The summer of Beau Hossler heads toward its final chapter next week, and if history is the guide, you're looking at the next U.S. Amateur champion.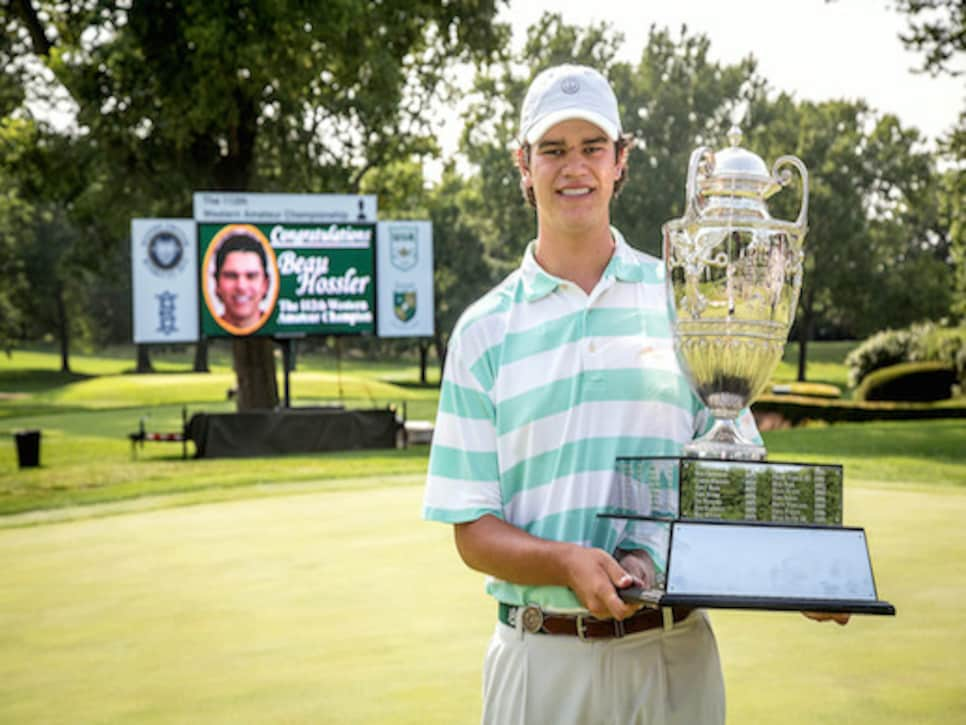 Beau Hossler with the Western Amateur trophy
Of course, history isn't the guide, but it is interesting to note the similarities between Hossler's summer and that of another Orange County, Calif., native 20 years earlier.
In 1994, Tiger Woods, then 18 and living in Cypress, lost in the semifinals of the California State Amateur, then won the Southern California Amateur and the Western Amateur and concluded his summer by winning the U.S. Amateur.
In 2014, Hossler, 19 and a resident of Mission Viejo, lost in the final of the California State Amateur, then won the Southern California Amateur and the Western Amateur and has to rank among the favorites in the U.S. Amateur next week at the Atlanta Athletic Club.
"I'm not going to get too wrapped up in that," Hossler said Tuesday, invoking the old saw about not getting ahead of yourself.
It is not fair to compare anyone with Woods, of course, other than to note that in the summer of '94 Woods established himself as the best amateur in the world and in '14 Hossler has played himself into the conversation.
Hossler began to elevate his performance toward the end this spring as the University of Texas freshman finished T-3 in both the Western Intercollegiate and the Big 12 Championship.
"I started seeing a little bit of improvement at the end of the year of college results," he said. "I was more consistently in contention and having a chance to win some tournaments. It was just all the work I'd put in in the offseason and fall and spring at Texas. It was just a matter of time before it started to pay off, and my confidence just keeps building and building."
Besides the victories this summer, he also tied for second in the Porter Cup and tied for fourth in the Southern Amateur.
Hossler provided a long look at his potential in the U.S. Open at the Olympic Club in 2012, when, at 17, he took the lead at one point of the second round, was only four back heading into the final round and finished tied for 29th.