PGA Tour
Beau Hossler is contending at Pebble while trying to put Friday's haunting caddie collapse behind him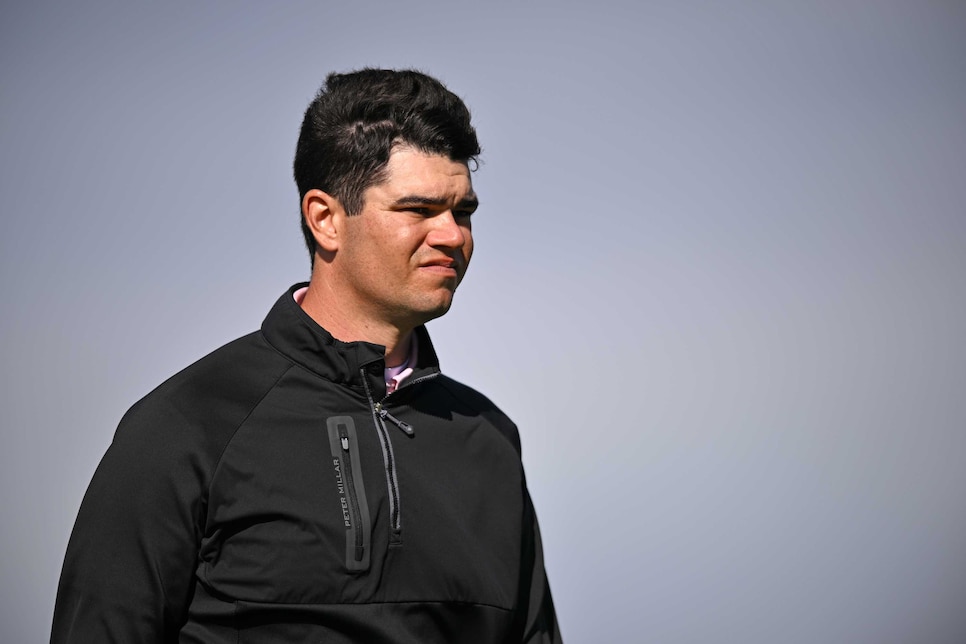 PEBBLE BEACH — As Beau Hossler and his caddie David Pelekoudas were preparing to leave the scoring area adjacent to the ninth green at Spyglass Hill Golf Course early Sunday morning, they accepted well wishes from Webb Simpson and caddie Paul Tesori, who had been playing in the group behind them.
"Such good playing, with all you have been through," Tesori said effusively as he passed the pair.
"Incredible effort. Play well the rest of the way," Simpson added, shaking hands with both men.
Hossler had just finished off a five-under 67 on a wet and chilly morning to move into contention in the AT&T Pebble Beach Pro-Am. He did it with his best round of the week on the most difficult of the three courses in the tournament rotation. And he did it with the still-lingering emotions of the traumatic events from two days earlier clinging to him as surely as the marine layer enveloping the Monterey Peninsula.
On Friday, Hossler and fellow PGA Tour player Max McGreevy and their amateur partners were confronted with a frightening development that would have shaken anybody. The caddie for McGreevy's amateur partner, Geoff Couch, collapsed on the 11th fairway at Pebble Beach Golf Links. He was administered CPR first by a spectator and then later by Cal Fire personnel before being taken by ambulance to a local hospital.
The caddie's name has been withheld to protect his privacy.
After consultation with PGA Tour rules officials, Hossler and McGreevy were granted an extended period of time to compose themselves. Eventually they returned to finish their second round after the last group had completed the 11th hole, letting seven groups pass through. Hossler came in with an even-par 72 and McGreevy a 75.
Both men played well at Spyglass Hill on Saturday before high winds suspended play for the day. Though coming off a double bogey at the par-4 sixth, Hossler was five under through 15 and eight under for the tournament, four behind Peter Malnati. McGreevy was three under and one off the cutline at even par.
"It was definitely not an ideal situation," said Hossler, acknowledging the challenge that he and McGreevy were confronted but declining to delve further into specifics of the incident. Hossler did say that he had heard "some relatively promising news," about the stricken man's condition.
Max McGreevy plays a shot on the eighth hole during the second round of the AT&T Pebble Beach Pro-Am at Pebble Beach Golf Links. Three holes later, the caddie of his amateur playing partner collapsed on the course.
Jamie Squire
Hossler and McGreevy resumed their third rounds Sunday in a downpour after having hit their second shots on the par-5 seventh hole Saturday. Given the option, Lukas Nelson, Hossler's amateur partner, did not return for the final few holes. Couch, a local businessman, had already withdrawn on Friday.
With three pars, Hossler posted at eight-under 207. He will start the final round on Sunday afternoon four behind Justin Rose, who played his remaining 10 holes in six under at Monterey Peninsula Country Club for a 65 and 203 total, one stroke ahead of Malnati and Kurt Kitayama.
"[Spyglass] is my favorite course of the three, by far," said Hossler, a California native who finished T-3 here last year. "I think historically I've always played pretty well here, even though it's statistically the hardest of the three courses. I've just always felt the most comfortable out here."
McGreevy birdied the seventh to move inside the cutline but three-putted from just off the green from about 60 feet at the ninth for bogey and a 69. As his 10-foot par save grazed the cup, he shouted, "No, no, no, no no!" Then he bent over at the waist for several seconds, obviously knowing that his even-par 215 total was going to miss the cut. He did not linger long after signing his card.
Hossler was arguably the hottest player on any of the three layouts on Saturday, getting to seven under par before struggling at the sixth, the hardest hole at Spyglass a 446-yard par-4 playing into gusting winds.
"Fortunately, I had done a lot of good things before that," he said, his head wrapped in a black ski cap.
Indeed he had. Which was quite something. And the challenge was even more daunting given that he and McGreevy had little time to regroup because they were slated for the first tee time on Saturday at 8:30 a.m. PT. And then tee times were moved up an hour because of the incoming inclement weather that eventually forced suspension of play at 12:20 p.m.
"I don't know. I really don't have an answer," Hossler said about preparing mentally and girding up for the third round. "Certainly, it's something that was unprecedented. I don't think any of us had experienced anything like that. It was traumatic, not just for our group, but for everybody that was around. Obviously, you never want to see something like that.
"I think we both did the best we could, given everything that happened," he added, referring to himself and McGreevy. "It was a tough grind. It's been a whirlwind week for a lot of reasons and now just hoping to get in as many holes as we can this afternoon and then finish up this tomorrow morning."