News
Beatriz Recari (who?) nabs 16th spot in Mojo 6 tournament
Most golf fans have never heard of rookie LPGA player Beatriz Recari from Spain, but apparently they liked what they saw when they spotted her picture among the 12 players vying for a spot in the LPGA-sanctioned million-dollar Mojo 6 tournament.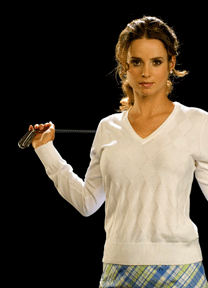 In a nice PR move, the unusual event, which gets underway at the Cinnamon Hill Golf Club in Montego Bay, Jamaica, on April 15 (and will be played in Raceway Golf format, with 30 six-hole matches taking place over two days), had originally named 15 of the world's top players as participants. Over the last month, organizers urged the public to go to the Mojo 6 website to vote for who should get the 16th and final spot in the field, and the ballot included big-name players such as Laura Davies, Catriona Matthew, Anna Rawson and Amy Alcott. Rawson launched her own campaign to rally voters, promising to donate her winnings to charity. Alas, this time, the LPGA's unofficial beauty queen found herself one-upped by a younger model.
The 22-year-old Recari hails from Pamplona, Spain, and is playing her first full season on the LPGA Tour after four years on the Ladies European Tour, where she won once and worked her way up to 22nd place on the 2009 Order of Merit. A fan of exclamation points, Recari blogs on her own website and for the LPGA's Rookie Blog, and she tweeted as follows after learning she had won the coveted Mojo 6 exemption: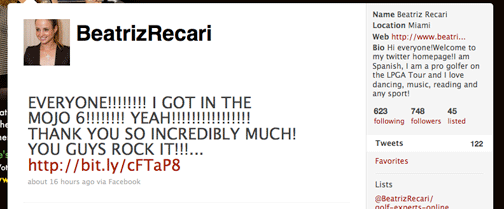 But all is not lost for Rawson. Olympic champion and Mojo 6 co-founder Edwin Moses made the following statement Tuesday, after announcing that the leggy Australian will now act as tournament host and reporter rather than contestant: "We recognize the huge charitable intent of Anna Rawson and had to find a way for her to be involved in The Mojo 6. If chosen by the fans for the 16th position, Anna was planning to donate 100% of her winnings to UNICEF, International Medical Corps and the Inspire Foundation. This attitude embodies the mission of Mojo."
The tournament will be televised on CBS May 1-2.