News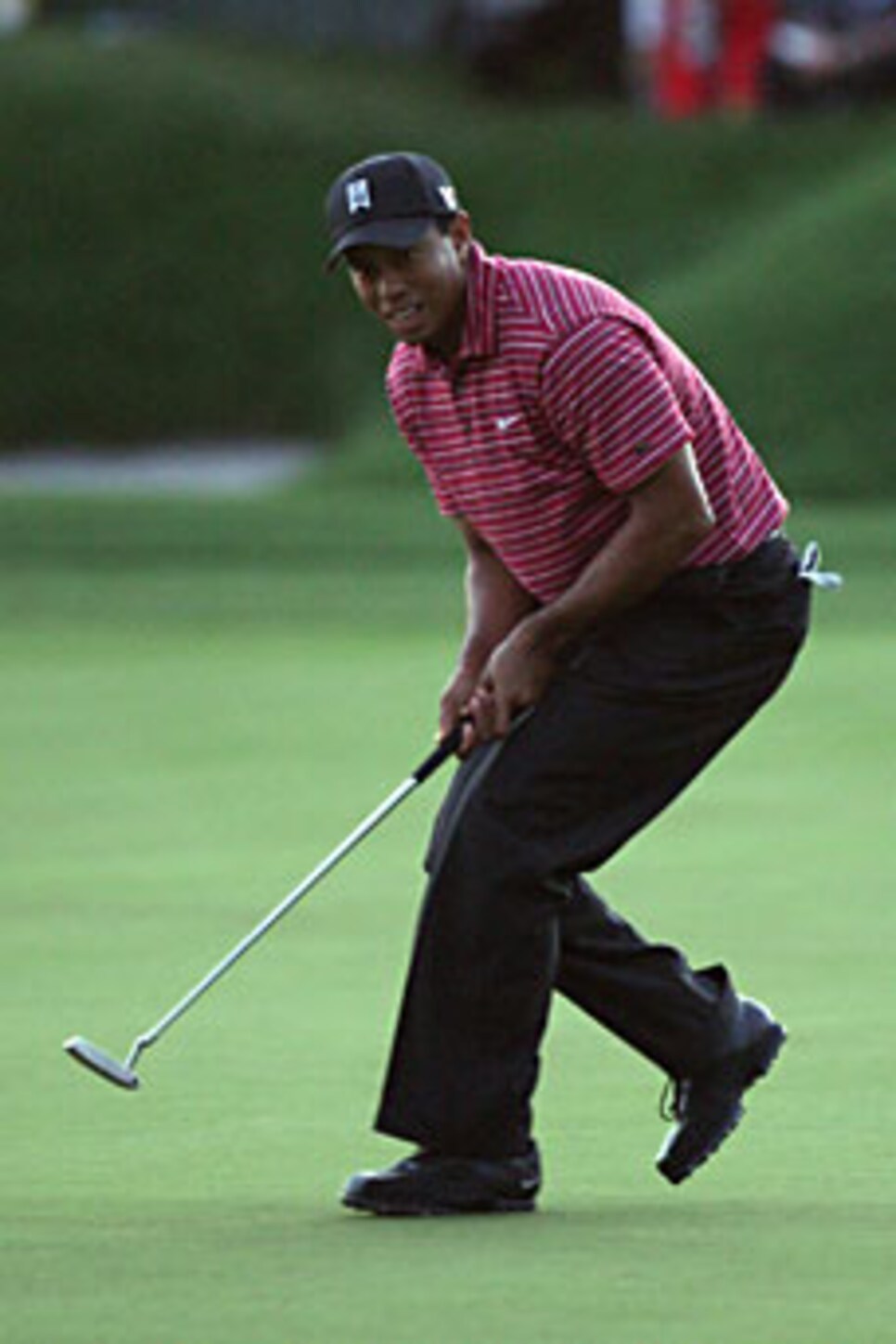 Tiger Woods' winning putt on Sunday was more than just a stroke in the dark.
ORLANDO -- We were in break up in Studio G, watching on a high-definition TV at 7:51 p.m. on Sunday, when a sound wave swept across the Bay Hill Club & Lodge. It wasn't quite like the sonic boom of the Space Shuttle clearing the atmosphere on Saturday, but there was no mistaking what it meant. Tiger Woods had made one in the dark again.
There was a delay on the television feed, as Woods had yet to putt. I remembered the same delayed reaction in the press tent at Torrey Pines, sitting in on an interview, as Woods began his incredible comeback with his second eagle on the back nine that Saturday. Knowing the ending still didn't take the fun out of it, nor did it kill the anticipation of what the celebration was going to be like with caddie Steve Williams. This was going to be a beautiful one, and it was, with Woods throwing all his weight on his surgically repaired left knee, getting his right knee up like a hurdler, and pumping that fist before bear-hugging his caddie.
Did I say it was dark? Believe me, it was dark. A lot darker than what you saw on TV, dark enough that the clock lights on the putting green behind the Golf Channel set were illuminated. So dark that Williams wondered how Woods was reading the green.
But Tiger had his night goggles on. He learned by putting in the dark at Heartwell Golf Course, the par 3 in Long Beach, or at the Navy Golf Course in Cypress, Ca. Plus, as Frank Nobilo pointed out, Woods had done this before, and when you do it before that many times, there is so much to draw on.
His quote from the press tent afterward was a rare peek inside the head of a genius. A year earlier he made another game-winner on this same green, on almost the same line as he had in 2001 to beat Phil Mickelson. But this putt was different, after Woods executed what Williams described as a shot that was exactly when was drawn up in their heads: a perfectly cut 7-iron from 164 to the spot between the two bunkers behind the green, into the bank with exactly the correct spin so the ball would release down the hill to its resting place, 15 feet from the hole.
For the second year in a row, Woods had hit his best shot on the 72nd hole of the tournament. Now he was about to hit his best putt, but first he had to read it. At his news conference, Woods offered a clear vision of what he was seeing, even in the dark.
"This putt was uphill," Woods said that night. "The other two were downhill left to right. This one was uphill; not only that, it was into the grain left to right. The other two putts were kind of similar, but this was totally different. I kept telling myself obviously with the temperature getting a little cooler, this putt is going to be a little bit slower because of that. On top of that, the putt is uphill into the grain left to right, make sure you hit it hard to get it up to the hole, and if anything, if you make any mistake, miss it -- over-release the blade and miss it left so at least it has a chance with all the dew on the ground with the grain that it could snag and come in. I hit a pure putt. I hit it really solid and it held its line all the way there."
This quote was relayed to John Cook, who was home at Isleworth after finishing ninth in the Champions Tour event at Cap Cana over the weekend. Cookie had already talked to Tiger, who was up for his morning workout and in the office already. As Cook said, "He thinks of all this in a split second, and he's able to process so quickly and precisely and execute, That's why he's so far removed from everybody else. You can see all that, know all that, but the normal person forgets all that. Then you put him in the position to make or not make. his success rate is so over-the-top to finish the deal or not, it's not even laughable anymore. It's mind-boggling."
What's mind-boggling in that this just isn't done in golf. Woods is four for his last four in this situation, starting last year at Dubai, where he beat Ernie Els, to this very same green at Bay Hill, to that lumpy Poa annua at Torrey Pines and back to night golf at Bay Hill. "I'm not shocked," said playing partner Zach Johnson. "But I am in awe."
To caddie Williams, it reminded him of the darkness and the pressure of the 2003 Presidents Cup, where Tiger had a must-make to tie Ernie Els and tie the matches. Heading home to New Zealand for a week, Williams took the time to take a call, and respond to what he could see, or not see, as Tiger examined the game-winner at Bay Hill from all angles.
"It's kind of difficult, you know yourself as well as I do, the chances were better than 50-50 to make the putt," Williams said. "It's kind of funny. When he backed off the ball, in my head it was more of a positive sign that he had a greater chance to make. To me it meant he had focused just a little bit more. You also know when he hits a putt he's got to make, it's always good speed. As soon as it left the putter, it looked good, but it's difficult in the dark. It's hard to see ball break in true life."
The putt against Els was 15 feet, and Williams said, "You can't see a thing, you can barely see the hole, and he makes it dead center. When he was over that putt, I was thinking you couldn't even see the hole." It was slightly lighter this time. Sunset was 7:43, but if Woods didn't make this putt, contingency plans were being made for a Monday morning playoff. NBC's Dick Ebersol, a dinner guest with host Arnold Palmer that night, was on his cell phone, making calls to New York, planning network coverage.
In the TV tower adjacent to the 16th tee box, overlooking the pond and the green at 18, Dan Hicks could sense the moment coming. Hicks has been in the booth calling Tiger game-winners since the U.S. Amateur at Pumpkin Ridge. "I made sure to look out the back of our tower to see if the 'real light' left because the irises in our cameras actually adjust to make it appear that there is more," he said in an e-mail Tuesday morning. "It's amazing what the cameras can do. I did it just as he hit his second shot at sunset and then before the putt because it got even darker during that time frame of just over five minutes or so."
Hicks' job, like Woods', is about raising your game to the pressure moments. He did this poolside, on the call for Michael Phelps' eight gold medals. He has to prepare himself to react to either scenario, then be spontaneous. This is what he was thinking:
"As he stood over the putt there's a tiny voice in the back of your mind saying to yourself, "C'mon, he's not going to do this again, is he? At some point, he's just not going to keep making these.' But I learned a long time ago to never,ever doubt him. Then, all the putts he's made always kind of flash through my mind... and it always starts with the one at 17 at Pumpkin Ridge when he won this third straight Amateur.
"Some people asked me if my 'expect anything different' call from the 72nd hole at last year's U.S. Open popped into my head and for some reason I didn't even think about it. Different time, different feeling -- although it certainly applied here. And I never think about what I'm going to say. I always just react. So when this one fell in, I simply said... 'Again!' It just seemed to fit another 72nd hole winner at Bay Hill."
Leaving the booth, Hicks told Johnny Miller, "I believe there isn't a single figure in sports who has been more entertaining to broadcast then Tiger." The ratings came out Monday: a 4.9 rating with a 10 percent share, the highest since the final round of the Open, where Ebersol was also greenside, in that case planning the Monday playoff that NBC broadcast and Woods won on the 19th hole.
"I told Johnny it is absolutely uncanny how many times we have had the privilege of calling these incredible clutch putts...so many," Hicks said. "Again, from '96 Pumpkin Ridge to '09 Bay Hill. They have really piled up. And I hope the putts just keep coming because I certainly don't 'expect anything different.'"
Neither does Williams. Neither does Cook. And from the sounds of it, neither does Tiger. Some day he'll miss a putt he has to make, but until that day comes, nobody is thinking he won't, day or night.
"Every victory is special," Williams said. "When we started out that week, our goal was to put ourselves in contention, so that if we did get in contention at Augusta, it was something we were familiar with. Winning was a bonus."
Winning was a big bonus to golf, going into the Masters, where Tiger has won early and late.