News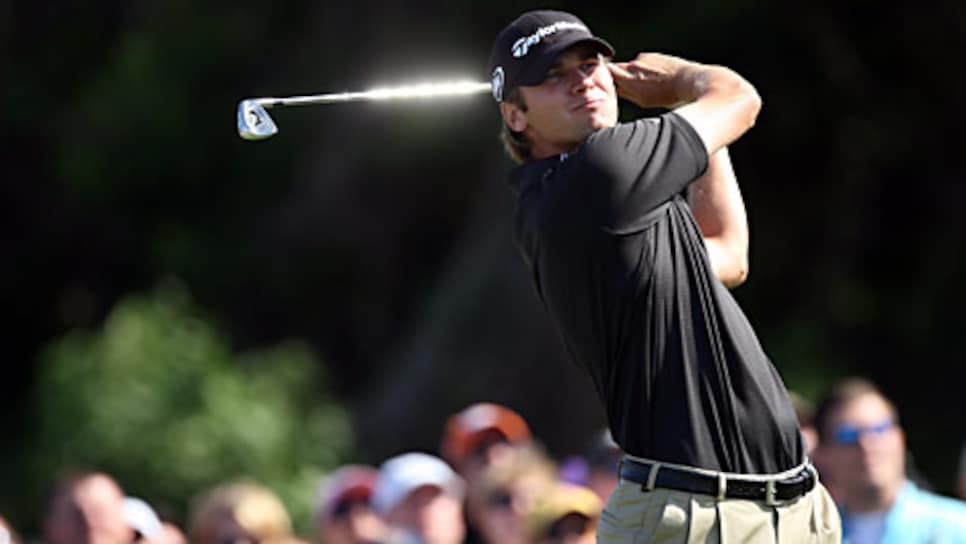 Sean O'Hair didn't lose the Arnold Palmer Invitational as much as he had it stolen from him.
ORLANDO -- Sean O'Hair didn't win the Arnold Palmer Invitational, but he didn't give it away, either. It took another superhuman performance from Tiger Woods on Sunday to prevent the 26-year-old from capturing his third PGA Tour title.
Even in a losing effort, O'Hair displayed plenty of grit and heart. Following front-nine bogeys at three and seven, many figured O'Hair would go south. He didn't. O'Hair kept scratching out pars and made Woods beat him. It's a small consolation, but consolation nonetheless.
While losing is always painful, O'Hair will learn from the experience. When he had to step up and hit quality shots down the stretch, especially at 17 and 18, he delivered. Don't be surprised to see him contend in two weeks at the Masters.
What it all means: O'Hair has played with Woods four times in the last group on Sunday and has never beaten him. He came close Sunday at Bay Hill Club & Lodge, and now knows he has the game to compete with the top player in the world.
"I just think people tend to get outside their game and almost watch him and not play their game," said O'Hair. "I mean, obviously if you're in the last group of a golf tournament on the final day, you're doing something right, and you have just as much of a chance to win the tournament as he does, and it's just a matter -- I just don't think people stay in their own little world. I think they tend to get too focused on what he's doing and almost watch him. I think some people try and beat him or try and play him, when in reality you're not playing Tiger Woods, you're playing the golf course. To me, it's about focusing on seeing your shots and trying to execute them as best as possible."
Shot of the week: Vaughn Taylor made an ace on the 191-yard seventh hole with a 6-iron on Friday. He followed with two straight birdies, shot 68, and earned a pairing with Tiger Woods on Saturday. It was the 13th hole-in-one in the history of the Arnold Palmer Invitational and the fourth overall for Taylor.
Runner-up: Keith Fergus holing out a 95-yard sand wedge for eagle on the 17th hole Sunday to lift him to victory on the Champions Tour.
Birdie of the week: Jason Gore, who had his best finish of the year, tying for eighth. In seven previous events this year, Gore missed three cuts and withdrew from another tournament, his best showing a tie for 44th at the Puerto Rico Open.
Runner-up: Mark O'Meara. He's still searching for his first Champions Tour victory, but O'Meara is getting closer. He closed with a four-under 68 to tie for second in the Cap Cana Championship, one stroke behind Fergus.
Bogey of the week: Hunter Mahan five-putted the 16th hole at Bay Hill on Sunday.
Runner-up: Teen sensation Ryo Ishikawa of Japan knocked three balls into the water off the tee at the par-5 sixth hole on Thursday, made a nine and shot 76. He missed the cut.
Quote of the week: "Have light, will play." Tiger Woods, on how much he will practice at his home course, Isleworth Country Club, this week for the upcoming Masters.
Tuning out: Nicholas Thomspon listened to an iPod and Sirius Radio while he practiced on the driving range and the putting green at the Arnold Palmer Invitational. It's his way of concentrating and relaxing. How long has he done it?
"A long time," he said. "As long as it's been out."
"Everything," said Thompson. "As long as it has words, I'll listen to anything. Rock, country, you name it."
"You don't hear ambient noises and people around you," he said. "It's also a good way to pass the time."
Thompson missed the cut by three strokes.
Busy Bob: Sports psychologist Dr. Bob Rotella was very visible at Bay Hill, working with eight players.
"I don't know how I do it," said Rotella, whose clients include O'Hair, Padraig Harrington, Ernie Els and Davis Love III. "I just make it work."
After a two-hour session with Harrington on Tuesday, Rotella has only onething on his mind, and it wasn't finding a spot in the shade or having a cool drink.
"Is there a driving range around here?" he said. "I just want to go and hit some balls."
Harrington is very appreciative of his time.
"I need to trust it a little bit more at times," said Harrington. "Bob, he's very important. You know, I can spend as much time as I like working on my game, but I need to get out on the golf course and play a bit. I hit a smooth 9-iron into 18 [first round at Bay Hill, playing with Tiger], and at times, I would be too anxious about the water if I hit it a bit hard, but at least I stuck to what I chose to hit. That's Bob. That's the difference between playing competitively and not. When you're spending a lot of time on the range, you don't speak to what you've committed to when you're selecting a shot. It's not necessarily trusting my instincts, but sticking to what you're intending to hit. There's areas where you just can't find those situations on the range."
Jake on the mend: Champions Tour regular Peter Jacobsen was at Bay Hill doing commentary for NBC Sports. He recently underwent rotator cuff surgery on his left shoulder and hopes to return to competition in mid-May.
"Tommy Roy (NBC producer) called and asked me to help out in the booth at Bay Hill, Players and maybe the U.S. Open," Jacobsen said. "I enjoy doing it, but I still want to play."
Looking ahead: A strong field has committed for this week's Shell Houston Open. Heading the list are Harrington, Phil Mickelson, Sergio Garcia, Paul Casey, Vijay Singh, Luke Donald, Fred Couples, K.J. Choi, Greg Norman, Camilo Villegas and Lee Westwood. All are looking to build momentum for the Masters, especially Garcia. In three PGA Tour starts this year, his best finish is a tie for 13th.
Chip shots: Nick Watney continued his fine play by tying for fourth. A winner this year at the Buick Invitational, Watney came to Bay Hill after finishing second at the CA Championship and tying for 12th at the Transitions Championship ... The pro-am field at the Arnold Palmer Invitational was two foursomes shy of being filled. Rumor has it there are 40 spots available at the St. Jude Classic ... Former NBA great Jerry West will become the new face of next year's Northern Trust Open ... Dialogue continues between the AT&T Pebble Beach Pro-Am and several courses about replacing Poppy Hills in the three-course rotation. The possible replacements: Cypress Point Club, Monterey Peninsula C.C. (Shore Course) and Fort Ord (Bayonet Course). Cypress and Monterey Peninsula have previously been used in the tournament and would help attract more quality players to the field. That said, next year's AT&T field should be strong since Pebble Beach will be hosting the U.S. Open in June ... Although most players raved about the condition of the greens at Bay Hill, they will be torn up next week and re-done ... After missing seven-straight cuts this year, Brad Faxon tied for 52nd at Bay Hill.
*Mark Soltau is a contributing editor to Golf Digest and editor of TigerWoods.com. *