News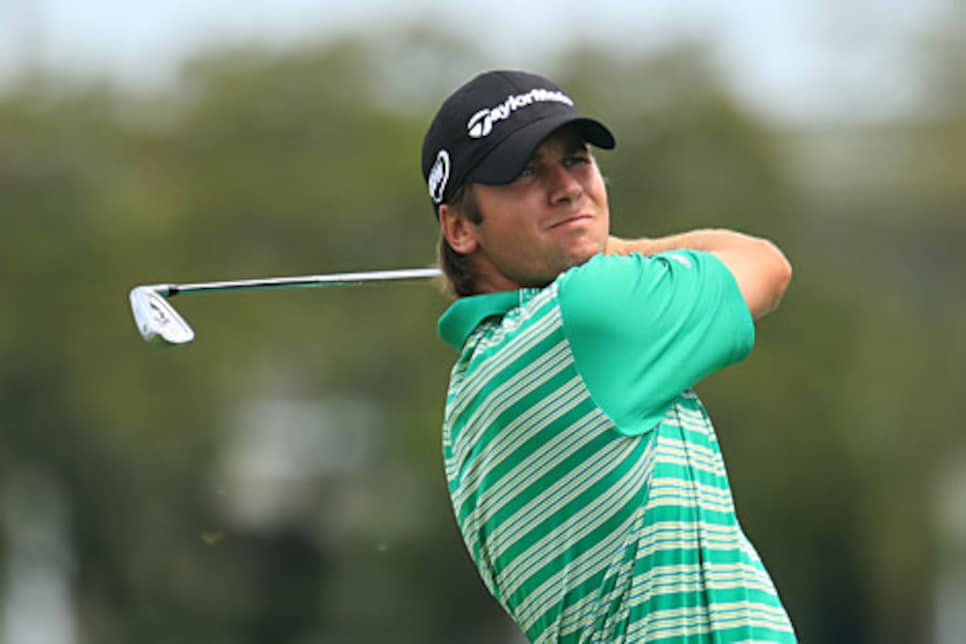 O'Hair was nearly mistake free with six birdies and only one bogey.
ORLANDO, Fla. (AP) -- Bay Hill was so penal Friday that most players figured it would be difficult for anyone to shoot a low number and separate themselves from the pack. Sean O'Hair apparently didn't get the memo.
O'Hair opened with three straight birdies and didn't drop a shot until his final hole, which gave him a 5-under 65 for a three-shot lead over Jason Gore heading into the weekend at the Arnold Palmer Invitational.
Tiger Woods remained in the mix for a sixth title at Bay Hill, courtesy of a short game that turned a mediocre round into a 69.
Woods chipped in for birdie on his opening hole for the second straight day, holed another birdie chip on No. 8, and kept his round together with two head-turning chips to save par. He was in fifth place, five shots behind.
"You can make bogeys in a heartbeat out there today because the greens are ... not accepting shots very well," Woods said.
O'Hair was at 8-under 132 and will be in the final group Saturday with Gore, who had four birdies and four bogeys for a 70.
Robert Allenby had a bogey-free round of 65 and was at 4-under 136, along with Ryuji Imada, who had a 66.
O'Hair's round was set up by his tee shots, and he figured if he was driving it well, he probably would swing the irons the same way. His first three birdies were all within 8 feet, and he had a putt at birdie on all but three holes.
It all sounded simple enough.
"The rough is very penal, but if you're in the fairway all day, you don't have to worry about it," O'Hair said. "The greens are absolutely perfect. You just give yourself some nice opportunities, and all of a sudden you're 8- or 9-under par."
Even so, O'Hair could relate with the grind that it became for Woods, and at times for double major winner Padraig Harrington, who shot a 68 and was at 2-under 138. And he could appreciate what happened to Davis Love III, who had a 74 and missed the cut, seriously damaging his bid to get to the Masters.
It doesn't take much to get going the wrong direction.
"You don't really even need to hit it sideways," O'Hair said. "Just a little bit off here and there, and you're giving yourself some pretty tough par opportunities."
Consider his final hole, the par-5 ninth. He hit what appeared to be a good drive, just a little to the left, and found a lie so deep that he felt his best option was to hack out short of the green. It went according to plan until he hit his wedge a little heavy and missed a 10-foot par putt to come one shot back to the field.
Those are the kind of shots that spared Woods.
He opened with two birdies in three holes to get his name on the leaderboard, then went 13 holes without another. He was in trouble on the par-5 sixth, with a plugged lie in the bunker that forced him to play sideways for his third shot, but he recovered with a skip-and-stop pitch to 4 feet for a par.
On the next hole, Woods was on the matted grass of the walkway, facing a 30-foot shot to a green running away from him. He hit a full flop that landed on the fringe and stopped 4 feet away for another par that was easier than expected.
After getting fooled by the wind on the next hole, Woods chipped in for birdie.
"Today was just kind of a grind-it-out day," he said. "The golf course is getting fast. The greens are really getting fast."
Vaughn Taylor was in the group at 138 thanks to a remarkable three-hole stretch. He hit 6-iron for an ace on the seventh hole, then followed that with consecutive birdies to reach 4 under. Taylor wound up with a 68.
"Bogeys are there to be made," Gore said. "The golf course is playing tough."
That much was evident not by the 21 players who remained under par, but the 13-shot differential between O'Hair at 132 and those who made the cut on the number at 5-over 145.
A week ago at Innisbrook, the differential was only seven shots.
Love could face an uphill road to Augusta National. He is No. 47 in the world ranking -- the top 50 after this week are invited -- and missing the cut will cause him to fall. Four of the next seven players behind him made the cut, including Louis Oosthuizen of South Africa.
Oosthuizen had a triple bogey and double bogey in a four-hole stretch Thursday and rallied with three birdies. On Friday, he fell to the cut line by trying to play a shot out of the water on No. 11 and leaving it in the hazard.
"I learned I'm not a fish," Oosthuizen said, although he had his rain suit, meaning he didn't have to pull a Henrik Stenson and strip down to his underwear.
He rallied with three more birdies and could be well on his way to Magnolia Lane.
O'Hair is more interested in Victory Lane at Bay Hill, which comes with a firm handshake from the tournament host, a silver sword and a blazer. But there is much work left, and plenty of players lurking -- including Woods, the defending champion.
Divots:@ Webb Simpson made a hole-in-one on the 17th hole. ... Ryo Ishikawa, the 17-year-old from Japan, had a 71 but still missed the cut by two shots. The Japanese sensation has missed two cuts in his three PGA Tour events this year. ... Brad Faxon shot a 72 and was at 2-over 142. It was the first time this year he has made the cut.