The Loop
'Batman' to the rescue for UVa's Rosen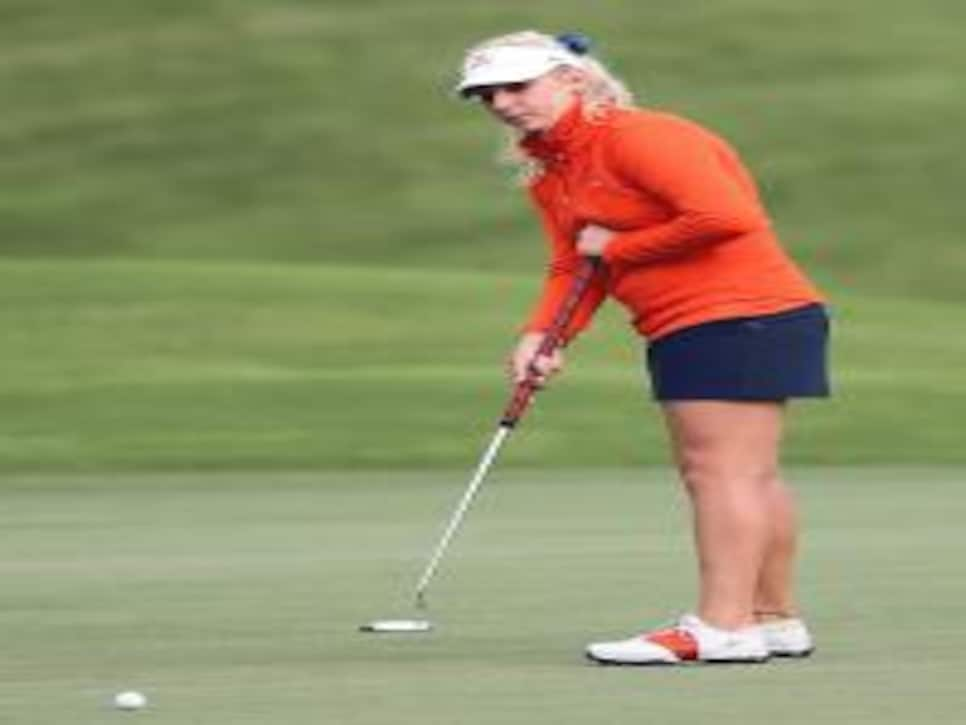 __FRANKLIN, TENN.--__Virginia sophomore Portland Rosen calls the newest club in her bag "Batman." It certainly seemed to have superhero powers during the first round of the NCAA Women's Championship Tuesday at Vanderbilt Legends Club.
With a six-under 66 on the North course—including a front-nine 29—the Sugar Land, Texas,  native set a school 18-hole scoring mark while grabbing the early 18-hole lead by two strokes over North Carolina's Catherine O'Donnell.
Rosen credited the impressive showing—which included six birdies and an eagle—to the new Odyssey belly putter she started using in practice last week. She had struggled all year with her putting, an issue that surfaced again at the NCAA Central Regional when she missed all 12 birdie tries she had during the tournament, finishing 101st with a 28-over 244 total.
From the moment she put the club in her hands, Rosen was convinced she was on to something. "It just felt good," said Rosen, who had shot just one round lower than 73 all season. "My dad says I have quick hands and coach was like I think you're going to like this because you uses your hands so much with chipping."
Indeed, Virginia coach Kim Lewellen also noticed an immediate difference. "As soon as she put it in her hand she significantly started to roll the ball better," said Lewellen, who was the one who gave the putter the nickname Batman because of the clubhead's similarity to the Batman logo. "With the shorter putter she would have a tendency to start it a hair left of her line. this one she starts on the line every time."
Rosen gave her putter a rest on the opening hole of the tournament. In the first group off the tee, she holed out a 5-iron approach shot from 171 yards for an eagle.
She then proceeded to make birdies on the fourth, fifth, seventh, eighth and ninth holes to turn in seven under. As the round progressed, Rosen said she started to understand what athletes mean by feeling in the zone.
"I always sing [on the course]," said Rosen, who finished opened with an 80 at last year's NCAA Championship, en route to a 102nd place finish. "It's something that I do. People tell me to sing if I'm not having a good day. Today I was singing country songs. I don't know, maybe because I'm in Tennessee."
Photo courtesy of Jim Daves/University of Virginia
Rosen's performance boosted the Cavaliers into first place as a team through the morning wave, UVa posting a NCAA school-record even-par 288, three shots than its previous best finish. This despite Elizabeth Brightwell being disqualified after signing for a 71 when she shot a 72 (incorrectly putting down a 4 instead of a 5 on the fourth hole).