The Loop
Barack Obama and Tiger Woods play first round of golf together
__By GolfDigest.com Staff
President Barack Obama's trip to Florida was originally said to center around sessions with two of golf's top teachers, Butch and his son, Claude Harmon III. It wound up including a playing lesson with the sport's biggest name.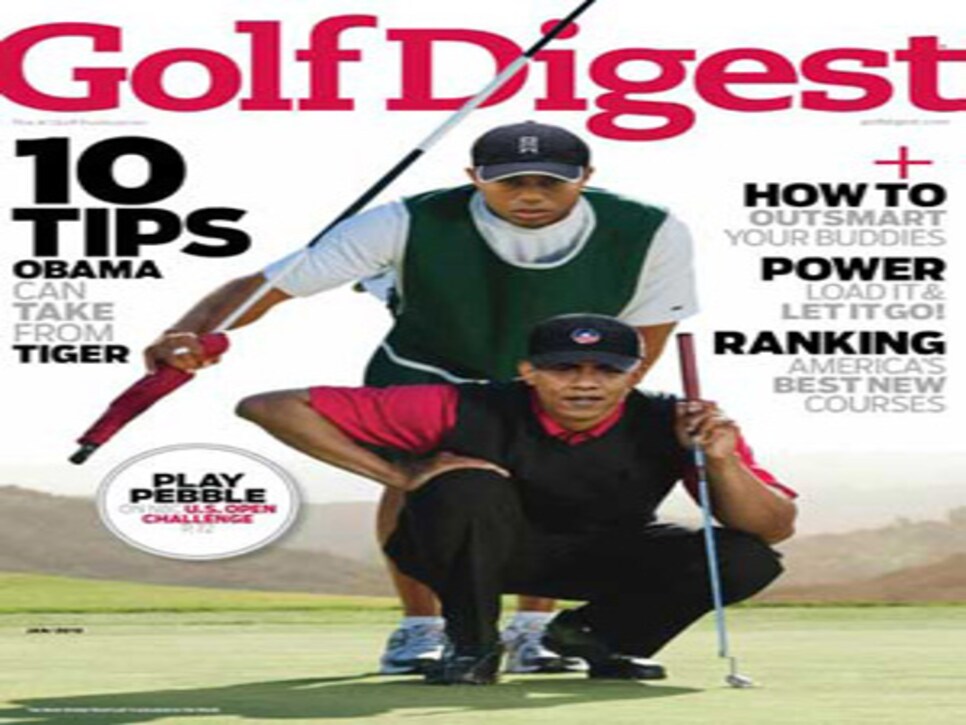 Golf World's Tim Rosaforte reported that Obama and Tiger Woods gathered for a Sunday round at The Floridian in Palm City, Fla. Although the two have met before -- Woods spoke at an event during Obama's inauguration weekend in 2009 -- this is the first time they played together.
(Photo: The January 2010 cover of Golf Digest was an illustrated imagining of Woods and Obama on the course together).
"The President is arriving at The Floridian range. Awaiting is Tiger Woods and club owner Jim Crane. Historic day in golf. Their first round," Rosaforte tweeted.
After an eight-hour session with Butch Harmon on Saturday in which he played 27 holes and hit balls in the instructor's golf studio, Obama was able to coordinate a round with Woods. The two were originally supposed to play at Woods' home club, The Medalist GC some 30 minutes away in Hobe Sound, but eventually opted for The Floridian, where the President has been based all weekend.
"Just to see the interaction between the two on the range was pretty neat," said Harmon, who was on the tee. "The President said to Tiger, 'The last tournament you played was fun to watch. It's good to see you play well again.' You could tell he meant it. It just wasn't a throw it out compliment."
The round, which also included U.S. Trade Representative Ron Kirk and Floridian owner Jim Crane, began with Woods holing out for birdie on the first hole, and continued at a rapid clip. With all four players playing from the third tees at 6,203 yards, they made the turn in a little more than two hours. After the first 18 holes, in which the team of Obama and Woods collected $15 for their three-way Nassau bet, Woods left the golf course, but Obama stayed on to play another nine. Neither Woods nor the President commented after the round, but Crane said the pair enjoyed each other's company.
"They had a nice camaraderie. There was a little ribbing going on, and we had a lot of fun," he said.
Said Harmon of Obama: "I like the fact he loves golf. Obviously he doesn't get to play very much. He said it was a real treat for him to come here with his best friends and have a chance to play. But he counts every shot. He doesn't like gimmes. He putts everything out. He counts all his penalty shots. He thinks about all his shots before he hits them. Some people might say to the President of the United States, 'Oh, just move it.' But that's not him. He loves the game and loves the game the way it's supposed to be played." The round with Woods is one of several high-profile rounds Obama has played since taking office. Among the 113 rounds Obama played in his first term was his well-publicized "Golf Summit" with House Speaker John Boehner in 2011; and a round with former President Bill Clinton later that summer that was said to have a role in Clinton playing a more pivotal role in the 2012 election.
(*__Update:__Rosaforte discussed the Woods-Obama round on MSNBC.)