Courses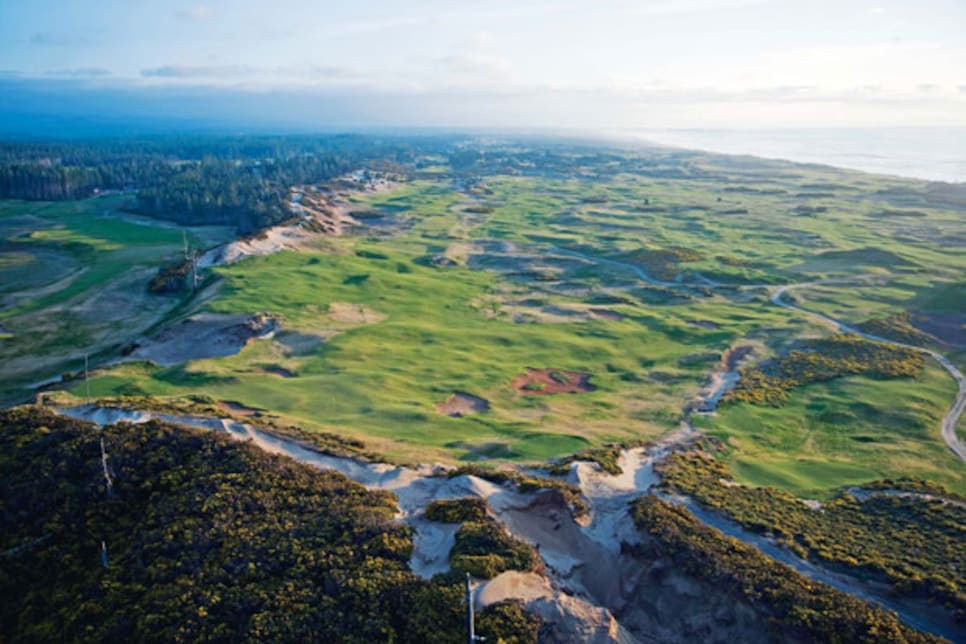 Old Macdonald, the fourth course at Mike Keiser's Bandon Dunes, will open on June 1.
Your ball has come to rest 50 yards -- not feet -- from the front of the green. Though your instinct is to reach for a club with some loft, your caddie knows better. He hands you the putter.
It's not that he dislikes your work with wedges. It's just that this is the smart way to play the tight lies and big greens of Old Macdonald
. "I tell people to put away the wedge," says Jim Urbina, co-designer of the new, fourth course at Oregon's Bandon Dunes resort.
"You can bump-and-run all day. It's just a different style of golf."
Urbina, who teamed with Tom Doak on the project, doesn't just mean Old Mac is different from the three other courses on the property -- he means it's different from anything the public golfer has seen in the United States.
Old Macdonald opens June 1. It's a tribute to Charles Blair Macdonald, the granddaddy of golf architecture in the United States and designer of the National Golf Links of America
in Southampton, N.Y., among others.
-- are all among the top 14 in Golf Digest's ranking of America's 100 Greatest Public Courses. With the addition of Old Macdonald, the resort has become "the epicenter of golf on Planet Earth," says no less of an authority than David B. Fay, executive director of the United States Golf Association.
Fay, one of the first to play Old Macdonald, places it and this summer's U.S. Open venue, Pebble Beach
, side by side. "If someone gave me tee times at Pebble Beach, Cypress
versus the same deal at Bandon -- four courses in two days -- it's no contest: I'd take Bandon hands down, and I think I've seen just about everything there is to compare it to. I love everything about the place."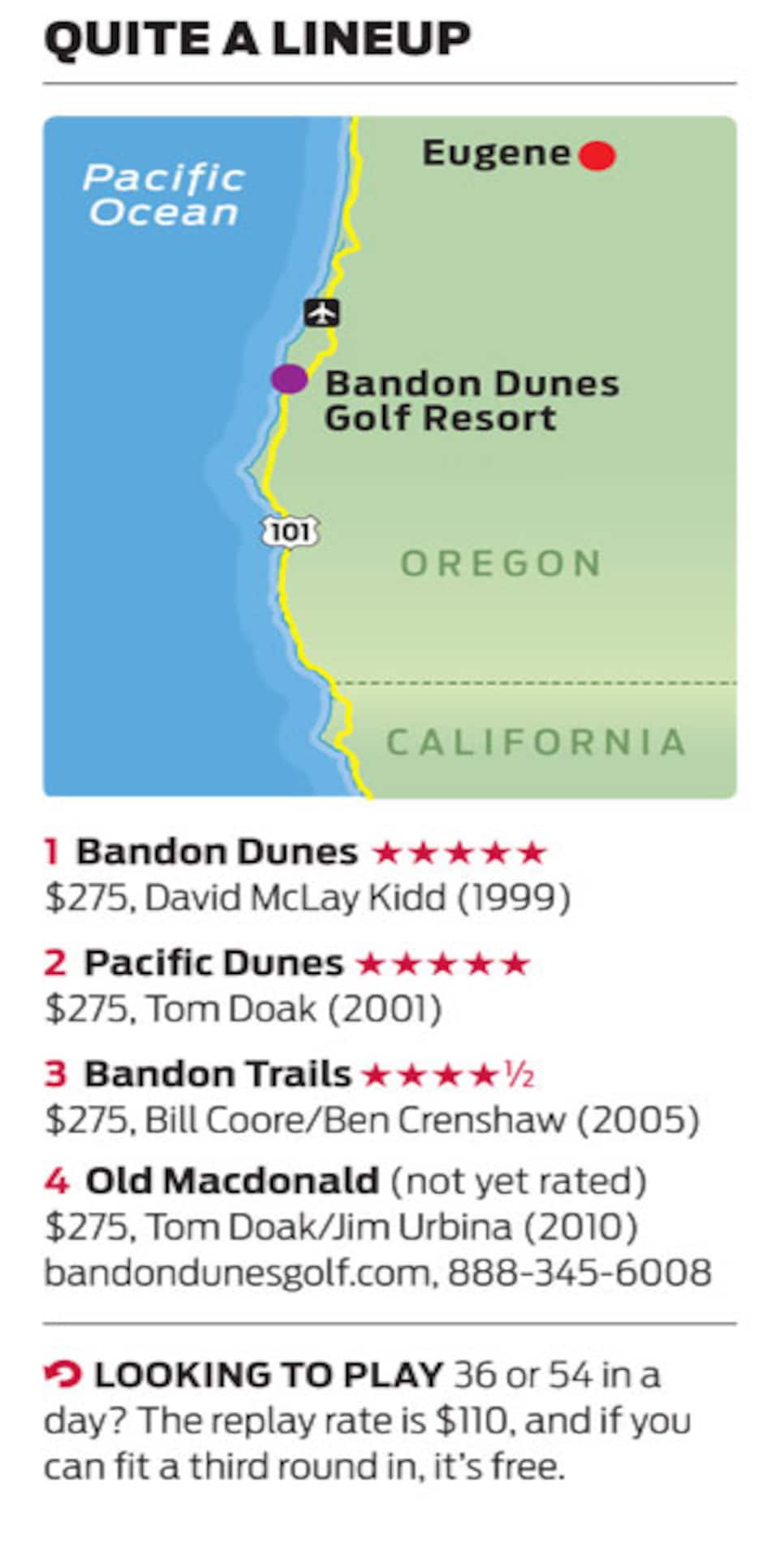 Bandon owner Mike Keiser built the new venue despite hitting into a three-club recession. He has his reasons: "From Day One, there was always that big open field just sitting there, wanting to be a golf course," Keiser says. "And when I finally decided, with George Bahto [a C.B. Macdonald historian] and Tom Doak, that it should be a Macdonald homage, I hoped it would be good for the resort, and if not a total revenue add-on, certainly an enhancer. I think it's a rare resort that would have a strong business case to build a fourth golf course."
I can vouch for the resort being busy: I was there in November, and the place was packed. And Keiser didn't just add a course. He recently built a fifth lodging option, The Inn, with 39 single rooms just south of Bandon Dunes' 18th green. Opened in 2009, it has all the amenities golfers love: space, a bed, a big showerhead and a flat-screen TV. Room rates range from $100 in the off-season to $340 during peak months (May to October). The choice for a spare-no-expense buddies trip is a four-room cottage ($1,200 to $1,800, depending on the season). Keiser also improved cell-phone and wireless reception. "The best way of communicating used to be two cans and a string," Fay says. "Now they've got very good service."
Much as I love Bandon, this is not an ideal destination for once-a-year golfers or anyone allergic to playing 36 holes a day. This is more for the hard-core clientele who play 36 rounds a month and only use carts when they are told they have to. Carts are allowed at Bandon Dunes if you bring a note from a doctor, but all-terrain pullcarts are available, as are good caddies (a single bag costs $55, and the minimum suggested tip is $25).
The other thing you should know about Bandon is, it's hard to get there -- though that is improving. United Express has added daily flights from Portland and San Francisco into the North Bend airport, which is 25 miles from the resort. And Keiser says the airport will be adding 500 feet to its landing strip in the next two to four years, which is what's needed to accommodate jets. In the meantime, golfers averse to prop planes can fly to Eugene and drive about three hours -- a winding trip that I suggest you do not take in the dark.
In Old Mac, a par-71 with tees that can range from 4,400 to 7,200 yards, you'll discover a course that's more user-friendly than the other three. Which isn't to say it's easy. When Macdonald "designed hazards," Bahto explains, "if you challenged them successfully, you'd be rewarded. For the lesser golfer, he provided an alternate route that was longer with a different approach to the green, but you could also still enjoy the round."
If you've been to the Old Course at St. Andrews, you might see some similarities. There are stretches that are flat and open: It will be nearly impossible to lose a ball. There's a Hell Bunker, a Road Hole and greens that are the size of some driving ranges. But Old Mac is no Old Course. Its Road Hole doesn't even come with a road, and there's too much elevation change throughout the round to elicit a direct comparison.
Old Macdonald, in the end, is one of a kind. Standing at the top of the third fairway or the fifth tee or the seventh green -- spots that offer some of the best views of the course and Pacific Ocean -- you'll find it hard not to agree with David Fay.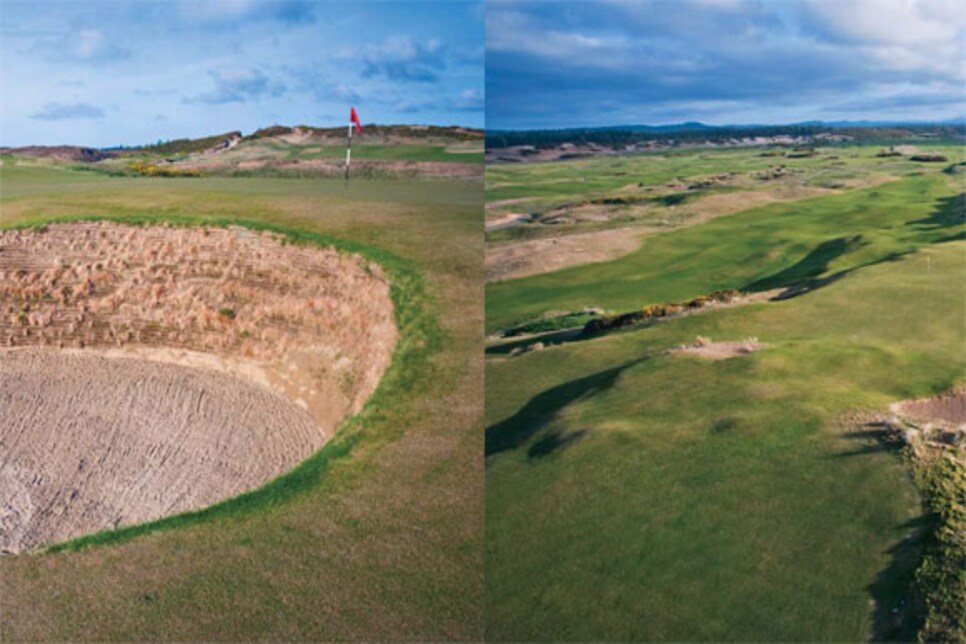 __The Road Hole bunker at the 11th (left); A view from above Old Mac's seventh green (right). __