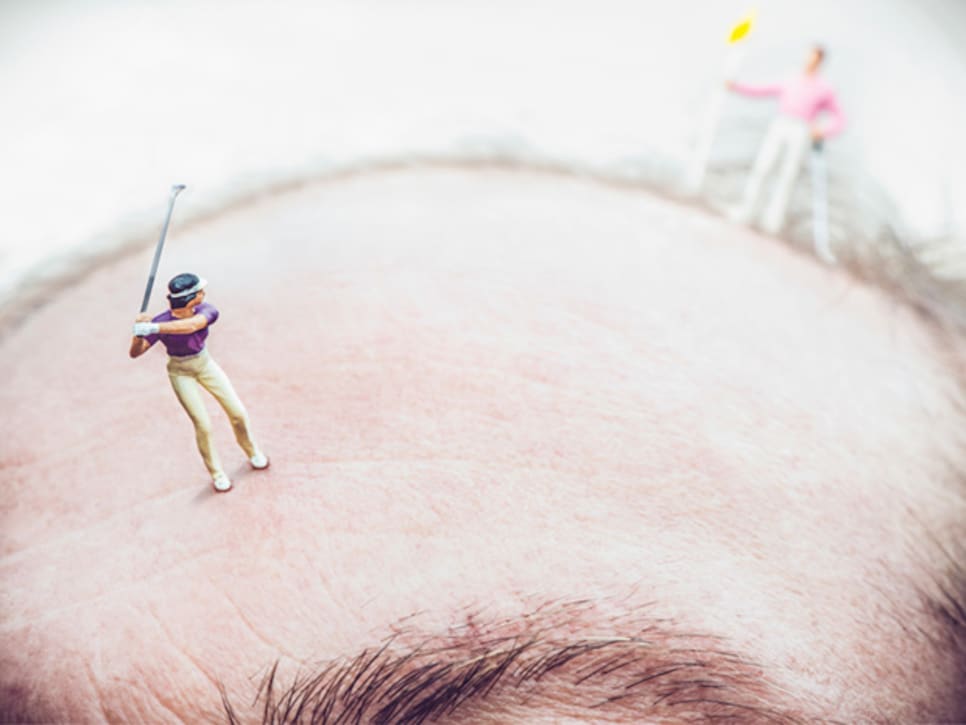 From Larry David to Tiger Woods, balding golfers vary in their care for hair.
As a bald man who happens to play golf, or a golfer who happens to be bald, I'll never know the pleasures of a golf visor. The visor is worn like an inverted tiara by Fred Couples and Bubba Watson and other fulsome-haired golf royals for whom those plastic combs, adrift in blue Barbicide, are waiting at the locker-room vanity. Those combs are as useful to me as a 1-iron. Compelled by TV etiquette to remove my cap at the end of a round, I'll often see my playing partner's eyes drawn upward, in barely concealed surprise, to my naked scalp. "Hey, buddy," I want to scream. "My eyes are down here."
That cap, of course, is UV-protective and leaves a tan line that makes my head—caramel-colored from neck to forehead but creamy white on top—look like a pint of Bass.
Stewart Cink removed his cap on TV at the 2014 Sony Open and revealed a similar chocolate-vanilla tan line, like Neapolitan ice cream. Screen grabs of it quickly went viral, and Cink had the good sense to laugh about it, for a sense of humor is essential to the bald golfer. Which is why it's such a joy to see Jordan Spieth as golf's Next Big Thing, the game's heir apparent without hair apparent.
Spieth is a supremely talented athlete with good looks, a beautiful girlfriend, a green blazer, more money than the Federal Reserve, international fame, inexhaustible youth and—least of all—a receding hairline. It would hardly be worth mentioning, except that Spieth enjoys calling attention to his incipient hair loss, either to pre-empt others' lame jokes or to point out that he is indeed human.
"If I wasn't balding before," he said at the 2013 John Deere Classic, "I definitely am after the playoff." A year later, at the Quicken Loans National: "I'm balding, and it's obvious I'm older than I really am." By the time Spieth was winning the 2015 Masters in a wire-to-wire 18-under-par master class, Nick Faldo said it perfectly: "Jordan Spieth's biggest concern at 21 is that he's losing some hair." We should all be so lucky.
And anyway, Spieth—like the rest of us—is powerless to do anything but laugh about it, because hair loss is like quicksand. The more you fight it, the worse your predicament becomes.
Those jocular golf visors with a crown of synthetic "hair" are hot, but only in the literal sense of that word. Toupees somehow still exist, but it's just as convincing—and for a golfer, infinitely more convenient—to wear a beaver-pelt divot on your head. And there's always the fear that someone, some day, will pull the rug out from over you.
Golf mogul Donald Trump sports an arrangement of hair that is less a comb-over than a 'do-over, a candy-floss confection of gossamer wisps that comes off as the clumsiest cover-up since Watergate. But in fact, when a wind gust at Turnberry last summer blew his hair up, like Marilyn Monroe's dress in "The Seven Year Itch," the Donald's hairline was revealed to be intact and fairly far forward.
As with other afflictions, some bald men will become chemically dependent. (To paraphrase Eric Clapton: If you wanna get down, down on the ground—Rogaine.) Sam Snead had perhaps the most stylish solution to the balding golfer: A snappy fedora that became his signature style, so much so that many never knew he was tonsorially bereft.
Because everyone from Sean O'Hair to Sean No'Hair wears a hat on the golf course, it can be difficult to tell in the heat of competition who's bald and who isn't. (Al Balding, who won four PGA Tour events in the 1950s, had a magnificent helmet of anchorman hair.) But the bald men who cling to their hats off the course, and even indoors, are accused of "misrepresenting themselves," in the words of Larry David. The comic actor and avid bald golfer has cataloged, on "Curb Your Enthusiasm," the various indignities visited daily on members of what he calls "the bald community," among them: "Can't go outside without the sunscreen" and "No convertibles." As David knows, the best solution to hair loss is no defense at all. Wear your baldness lightly, and with a self-effacing good grace.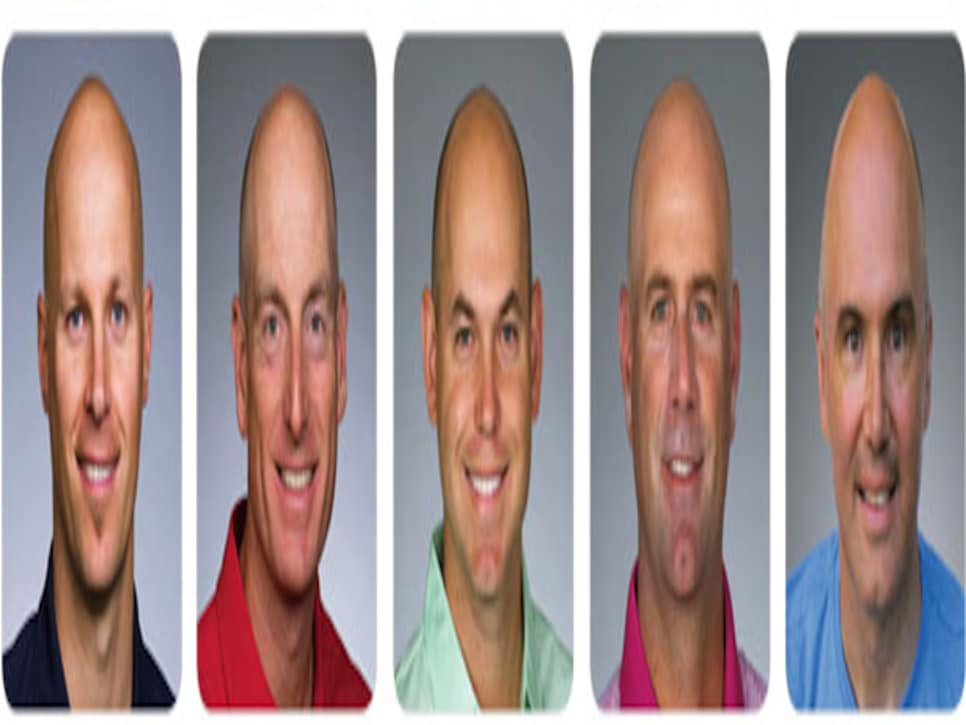 Dwight Eisenhower was our most esteemed bald golfer, a World War II general and the last bald president that bald-averse Americans deigned to elect—and then only because he ran against the even-balder Adlai Stevenson. Men as bald as a Pinnacle have reached golf's pinnacle—Jim Furyk and Roberto De Vicenzo won the U.S. and British Opens, respectively—and, like Ike, they owned their baldness. Some men become weaker with hair loss, some stronger. Who do you want to be: Samson or Sam Snead?
With this in mind, I will occasionally ask the guy wiping down clubs at the cart return to give my noggin a quick buff-down along with the driver. I've been accused by playing partners—while airing out my melon on a green—of trying to blind them while they putt. When you have been stopped in an airport and asked to pose for a photograph by a man who has mistaken you for Andre Agassi, you learn to carry yourself as a proud bald athlete.
In the Gospels, we are reminded: "The very hairs of your head are all numbered." And your numbered hairs, like your numbered days, recede daily.
Ask Tiger Woods, whose hair has been doing a slow fade for years now. Woods told Fox Sports last summer that he will probably shave his head at some point, as his friends Michael Jordan and Charles Barkley have done to great acclaim. "I have a nice skylight," Woods said—referring either to his bald spot or to his house or perhaps to both—"and if I don't wear a hat, I can feel the heat."
And so, for the first time in a golf context, I've beaten Woods to something, and have begun shaving my head. Shaving one's head—as Trump will surely appreciate—is man's way of telling his hair: "You can't quit, you're fired."