Courses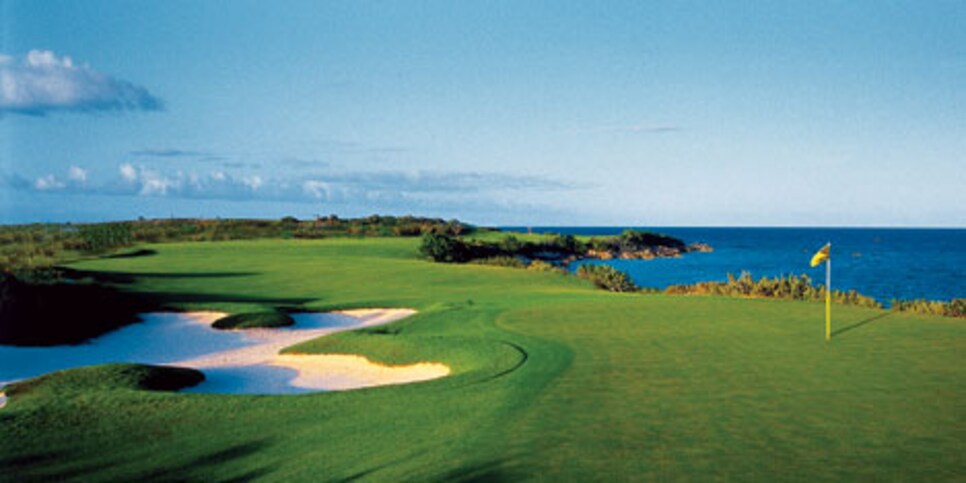 Stay right when you play the 572-yard 15th at the Four Seasons Golf Club on Great Exuma.
Need a break from shoveling snow? There are 700 islands that comprise the Bahamas chain, but for golfers short on time, you need to visit only two. Although Grand Bahama (60 miles east of Fort Lauderdale) has the most golf courses and is an easy flight from major U.S. airports, your first choice should be Great Exuma (300 miles southeast of Miami). Be sure to check out the new Four Seasons Golf Club Great Exuma at Emerald Bay. Yeah, we know, the name is about four words too long, but the Greg Norman design is one of the best additions to the Caribbean. The par-72, 7,001-yard seaside layout ($145 with cart in January) opened in the fall 2003 and has a terrific routing along the clear blue waters of the Bahamas. Its 140 Slope Rating from the back tees is evidence that Norman still hasn't gotten the concept of "resort friendly" so bring an extra sleeve of balls. On Grand Bahama, there are four 18-hole courses and one nine-hole course, but our pick is the Reef Course at the Our Lucaya Beach Golf Resort. (What's with all the long names?) The Reef, designed by Robert Trent Jones Jr. and opened in 2000, has water on 13 of 18 holes but is not a seaside course. Instead, it features wide fairways and massive bunkers and is a nice complement to the old-style Lucayan Course (Dick Wilson, 1962) next door.
Stay here: Rooms go fast at the Four Seasons (242-336-6990, fourseasons.com/greatexuma) Rates start at $495 per night in early January. You could also stay at the Club Peace Plenty and Beach Inn (800-525-2210, peaceandplenty.com) for $170 a night. On Grand Bahama, the lowest rate at the Westin at Our Lucaya is $199 per night, and the Sheraton at Our Lucaya is $179. Phone 877-687-5822 or visit ourlucaya.com
Eat here: Staying at the Four Seasons, there really isn't other food options because of its remote location, so inquire about the meal plan. It's cheaper than paying as you go, and the food is outstanding. You have to check out the Friday night barbecue at the Two Turtles in George Town. On Grand Bahama, Veronica Bishops has lobster for less than $15, and Sunset Village has 26 small restaurants and an ocean view.
Visit here: Gold Rock Beach on Grand Bahama is the kind of place where they ought to hand you a hammock and an umbrella drink on arrival. Lee Stocking Island off Exuma, accessible only by boat, offers bonefishing for those looking to sharpen their golf-swing coordination. If you have time for a third island, try Paradise Island (Nassau) and play Tom Weiskopf's Ocean Club championship course (242-363-6682).
Travel advisory: Hurricane damage from 2004 storms Frances and Jeanne has pretty much been repaired. Several airlines fly to Freeport on Grand Bahama, including direct flights from East Coast hubs such as Atlanta (Delta), Charlotte (US Airways) and Miami (American). To get to Great Exuma, American has propeller-plane flights from Miami. From New York, it's a six-hour trip with the connection.