The Loop
Bad weather doesn't spoil a good day for Dustin Johnson and Wayne Gretzky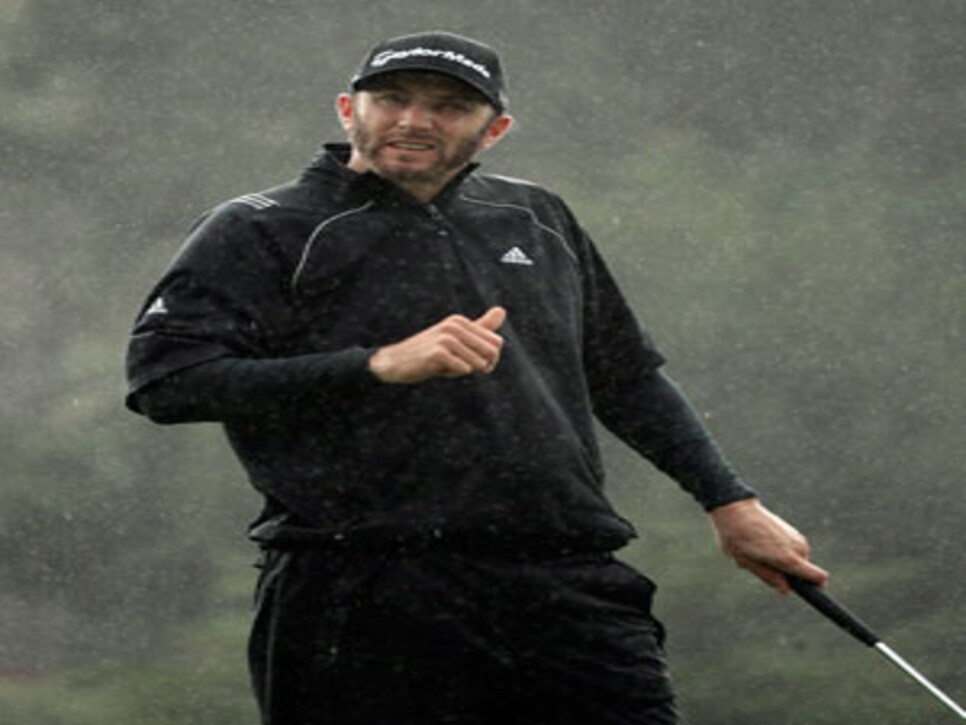 PEBBLE BEACH, Calif. -- It may be the AT&T now, but the weather is still pure Crosby. California drought? Help is on the way. It was raining before the sun came up Thursday morning and by 8:39 a.m., Ireland arrived. Meteorogically speaking, the Monterey Peninsula is a transformative experience. It also requires God's own amount of clothes. You don't layer when you play in the AT&T, you fire up the fat suit. You begin with standard issue rain gear and add a sweater. And another sweater. And a windbreaker. And gloves. Run the umbrella up the flagpole and when it gets blown inside out, it's time to halt play.
Wayne Gretzky, the Great One, warmed up before his round at Spyglass Hill GC by sitting underneath the eave of the pro shop and staying as close as humanly possible to his cigar, which was large enough to radiate sufficient BTUs to keep a table of four comfortable at a patio restaurant in Carmel. "I wouldn't play hockey in this weather," said the guy who had just been to an outdoor hockey game in L.A. a week or two ago.
When the siren blew to halt play, Gretzky and his son-in-law-to-be, Dustin Johnson, were on the second green at Spyglass, one of the dune holes that overlooks the Pacific Ocean, if it had been possible to see that far, which it wasn't. "I just made birdie. I'm not going in," said Gretzky as they all started walking in. Gretzky made four natural birdies in his round to help propel the team somewhere near the pro-am lead, for what that's worth on an opening day when not everyone could finish. "That's as good as I can play," said one of the finest hockey players ever to tape a stick. "I shot 96 up here last year. I was more happy for him (Dustin) that he shot four under today. I'm here for fun. He's here for work."
By the time play resumed at 11:30 a.m., the sun was shining and some, though not all, of the sweaters were back in the golf bag. It cooled off again, but the rain stayed away -- at least, for now. Fireplaces cut a swath of quaint through the B&Bs, restaurants and pubs in these parts. When the weather is nice, it's as civilized as a snifter of brandy. After mornings like this, though, if they ran out of gas for the logs, they'd burn their logos to get warm.