The Loop
Backstage with an unlikely golfer, Lewis Black
I don't remember how I learned that comedian Lewis Black -- he of the explosive rants and overly flexible index finger -- is a golfer. But as a fan of his bawdy, boisterous, and badass bits on life in modern America (politics, technology, entertainment, etc.), I couldn't let the opportunity pass. So I called his publicist and proposed sitting down for an interview about his game and whatever else was in his fertile, fantastical mind. And the good folks at Golf Digest have a better sense of humor than I might have suspected: They urged me on, saying that a Q&A would fit in -- somewhere.
A date was set to meet in our mutual hometown, New York City. When Lewis isn't on the road -- about a third of the year -- he lives close to the theater district, which makes sense as he began his career as a playwright, including a graduate degree from the Yale Drama School. The comedy came later, partly as a result of hosting revues on a small stage below a restaurant owned by a friend. We met in that same theater, chatting over a small table surrounded by upturned chairs as the photographer set up on the stage for the photo shoot to follow.
Among us we were able to pack an awful lot of work into a few hours: an extensive interview, photography both indoors and on the packed streets near Times Square, and a few minutes of video. Turns out he is not only funny but indefatigable, a good trait for a stand-up.
Before the interview, I'd only seen him on "The Daily Show" and his frequent HBO specials. So when the chance came to see him perform live, I jumped again. Just days before the June issue of Golf Digest -- with the interview -- hit the newsstands, I drove from NYC up to the Turning Stone Resort and Casino in upstate New York, not far from Syracuse.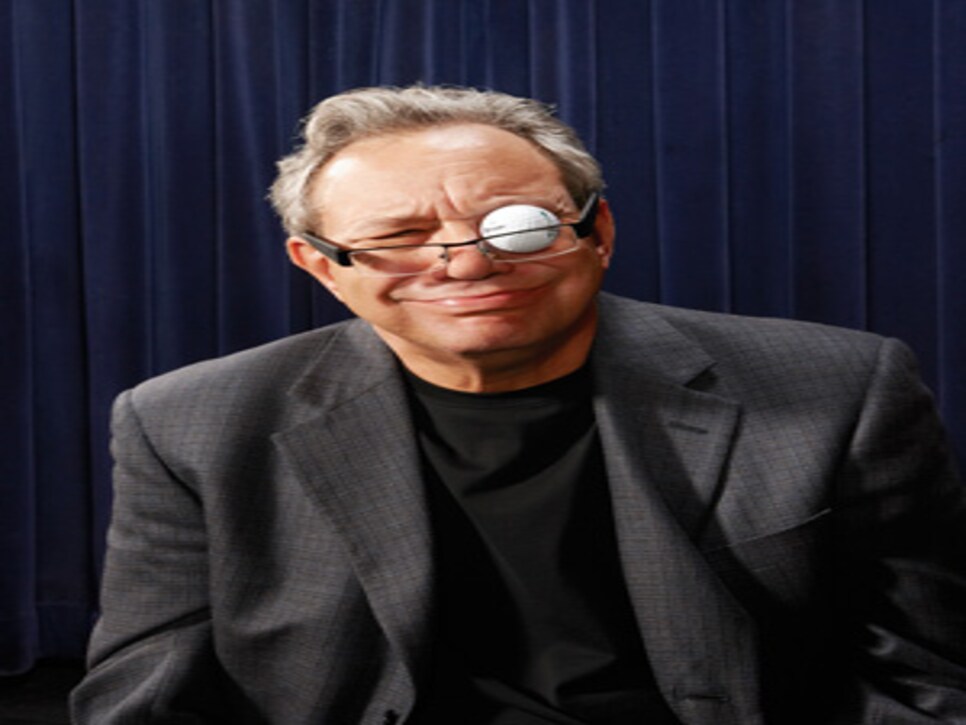 My plan was to see Lewis perform, stay over, and play one of the resort's terrific golf courses (there are five -- three 18s and two par-3s) the next morning. I even had a half-hearted "maybe" from Lewis that he'd tee it up with me if he wasn't too tired and didn't have to leave early on the tour bus and head east to Worcester, Mass., site of the next night's show.
His act was hysterical, although he didn't talk about golf. He did go on for about 90 minutes on everything else and had the packed auditorium of 1,500 hooting and hollering, especially when he gave it to politicians on both sides of the aisle. And there were a few of his trademark tirades, the index finger gesticulating madly, wiping his brow on his sleeve, sputtering and nearly losing it.
He made the hard work look easy, and certainly funny. He's still on the road -- somewhere out west, I think, heading to Vegas -- then the "Running On Empty" tour as he calls it takes a break before heading back on the road later this summer, crisscrossing the country into early next year. He told me he's planning to play some golf along the way, and when he gets to Phoenix he hopes to hook up with Peter Kostis, who has given him some lessons in the past. Lewis talks about Kostis in the interview, although it doesn't sound like the great teacher has been able to do much with that pupil. I'd like to see the Konica Minolta Bizhub Swingvision of that swing!
I strongly suggest you catch Lewis wherever and whenever you can: on the road, on the tube, and certainly in Golf Digest. As you catch his act, and his ever-ready-to-explode persona, remember: "This guy plays golf." Or so he says.