News
Back to school has different meaning for Tom Gillis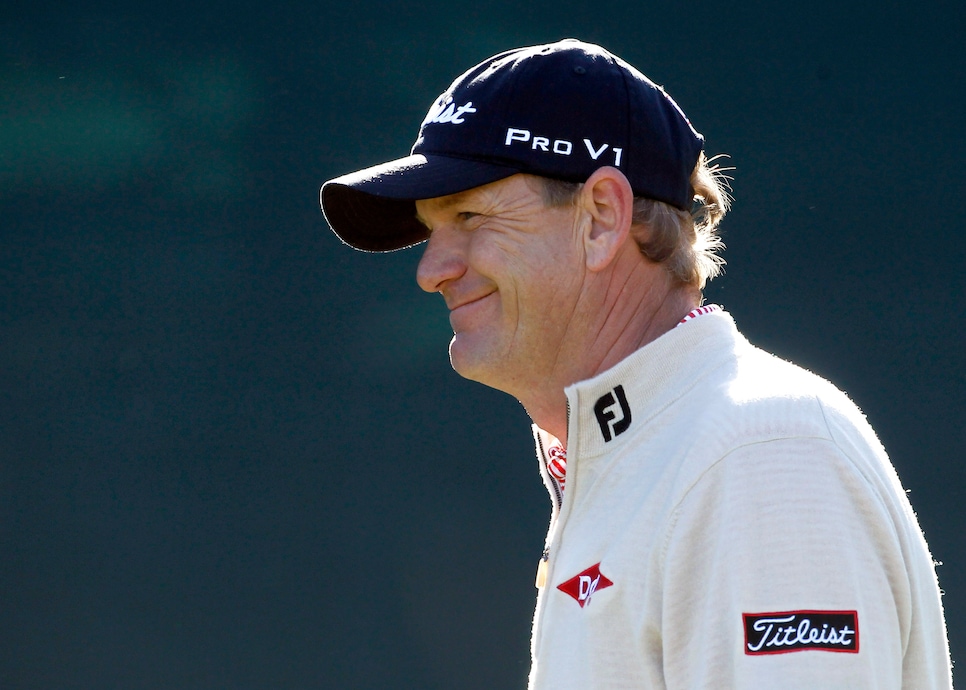 Photo By: Ross D. Franklin
Shortly after he finished tied for 57th place at the 2016 Wyndham Championship, Tom Gillis found himself sitting at home in Lake Orion, Mich., thinking about the past.
The Wyndham—played in Greensboro, N.C., in mid-August—had been the last event of the PGA Tour's regular season. Playing on partial status in the 126-to-150 category of the FedEx Cup, Gillis had gotten into 12 tournaments, made six cuts and had finished 208th on the points list—leaving himself a long way from being among the 125 players who qualified for the FedEx Cup playoffs.
"I was 48, and I had no status on the PGA Tour for this year," Gillis said. "I had partial status [as a past champion] on the Web.com [Tour], but that was it. I looked around and said, Where did 26 years go? It kind of jolted me for a minute.
"Then I thought about athletes in other sports who are finished before 40—often long before 40—and I realized I was lucky to play golf. I'd played in 28 countries and been on the PGA Tour for eight full years. I had a great time playing in Europe for a few years (1998 to 2002), too. I knew I'd get another chance to start over when I turned 50. That doesn't happen for athletes in other sports. But I'd come up two years short of staying exempt until 50. The question was, What do I do with the next two years?"
Even though he hadn't won on the PGA Tour, Gillis—who most recently was in the news for his involvement in a social-media spat with Ben Crane over the payment of a bet with another tour pro, Daniel Berger—had enjoyed some success. He'd come closest to winning in 2015 at the John Deere Classic, when he led on the back nine on Sunday only to lose a playoff to Jordan Spieth.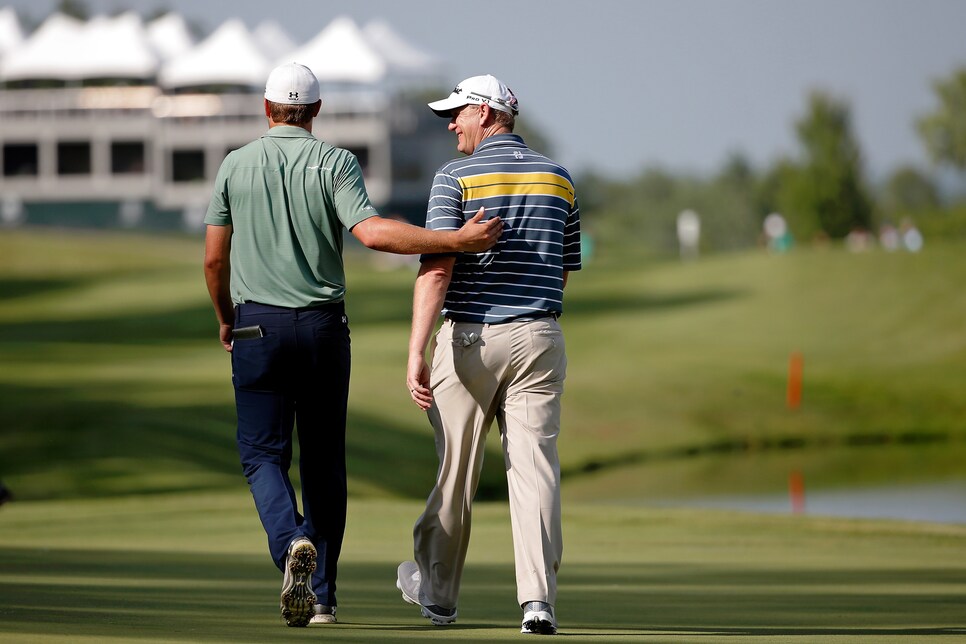 "I guess if you're going to tell people the closest you came to getting a win was when you lost a playoff to Jordan Spieth, that's pretty good," Gillis said, laughing. "At the very least, that'll get people's attention, right? Thing is, I had it, and I let it get away. I bogeyed the 16th and then on 17 [a par 5] I was 235 [yards] flag for my second and made par. It was there, I just couldn't finish.
"A lot of guys gave Jordan a hard time afterwards about it. They said, You couldn't let the old man have ONE? I told Jordan I'd have traded that [second place] $500,000 check for the two-plus years [exemption for winning], but I don't think he would have gone for it.
"There are certainly times when I think how different things would have been if I'd won but, in the end, I played well—really well—and it just wasn't meant to happen. Life is that way."
Instead of being exempt on tour through August 2017—not to mention getting to play in the Masters and other perks—Gillis' second-place showing allowed him to finish 142nd on the points list, granting him the partial status he played on last season.
So last fall, Gillis needed a plan. He could play in a few Web.com events, hope for an occasional exemption on the PGA Tour and perhaps attempt to Monday qualify some weeks. Or he could become an instructor at a private club and make some money that way.
"I did OK playing golf for living," Gillis said, earning more than $5 million in prize money on the PGA Tour, "but I have two sons and I still need to work."
He did get one piece of good news when Michigan-based Dow Chemical, his one longtime sponsor, re-upped with him for three years. "Local company, local guy," Gillis said. "I was grateful. I think they decided that, even if I wasn't on tour, I could still spend time with clients until I turn 50."
But it was Gillis's wife, Jenny, who came up with a way for him to make some money, keep his hand in golf and be ready when he turns 50 on July 16, 2018 to play the PGA Tour Champions.
"Jenny works at Notre Dame Prep," Gillis said. "She coaches volleyball and basketball. Our two boys [9 and 11] go to the lower division of the school. The school needed a golf coach. She suggested I try to get the job. She said she'd take care of all the logistics, be my assistant, and all I had to do was work with the boys.
"At first I didn't really want to do it, but she and the athletic director [Betty Wroubel] kind of kept after me. Finally, she said, 'Come on, this is something we can do together.' That sold it."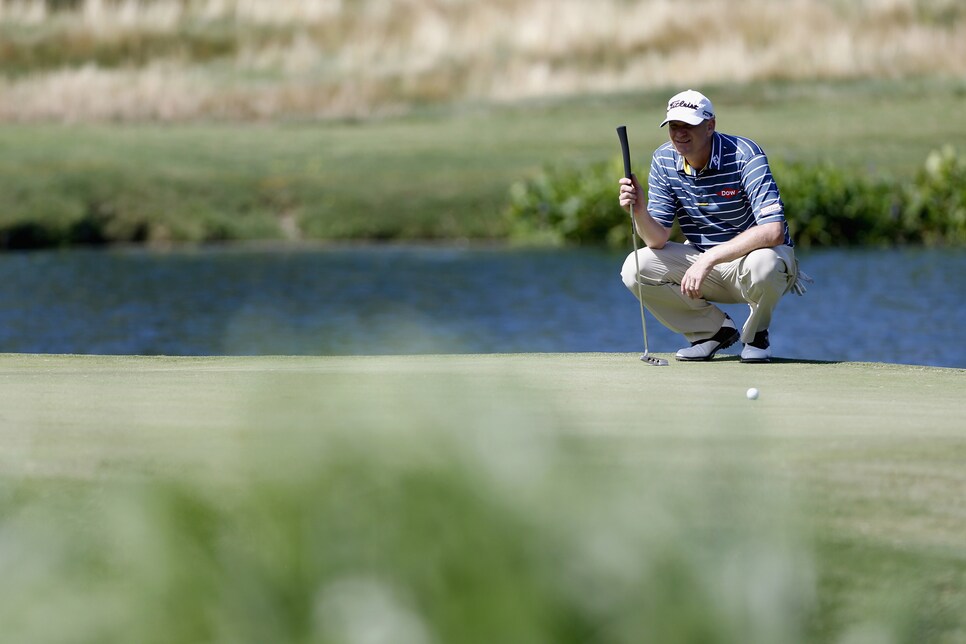 Of course, it wasn't quite that simple. Gillis couldn't just show up on the range in the spring and start working on golf swings.
"I had to take an eight-hour course on coaching that the state of Michigan requires," he said. "I mean, I had to learn everything—CPR, all the state laws on working with under-age kids, a lot of stuff I never even thought about. For example, there's a rule that a coach can't be alone in a car with an athlete. There was one example of a coach whose parents didn't show up to pick him up after a game, and he had to drive him home. He had to have his wife on speakerphone the whole time.
"At one point I said to Jenny, 'What in the world did you get me into here?' "
But Gillis doesn't have any regrets now. Notre Dame Prep is currently ranked No. 2 in the state in the smaller school division, and the new coach has loved working with his players.
"The hardest part was having to cut kids," he said. "We had 24 players come out and I could only take 18—varsity and JV. If I owned a golf course, I'd take 'em all. Why would I want to turn anyone away from golf? But we only have so much time we're allowed for practice, so I had to cut six kids. I hated that.
"But trying to help the kids has been amazingly gratifying. Several weeks ago, I spent 90 minutes on the practice tee on a Saturday with our number 5 man, a kid named A.J. Carlson. He's a senior, and he's about 6-foot-3. But he was swinging as if he was 5-8. I got him to stand up taller and lengthen his swing a little. The next day in a tournament, he finished sixth. First time he'd ever gotten a medal in a high school tournament. Watching him and seeing the look on his parents' faces gave me a kind of satisfaction I'd never had before. I've had people do that for me, but never the other way around. It was an amazing feeling."
Gillis told Wroubel when he took the job he would only guarantee her one year because he hopes to begin preparing for the 50-and-older tour next spring. But he is having second thoughts.
"I might do it again next year," he said. "I've certainly enjoyed doing it a lot. We'll just have to see what the future brings."
After all, as Gillis knows, some things in life are meant to happen.