The Loop
Azinger's loss at Muirfield: "As though night had descended"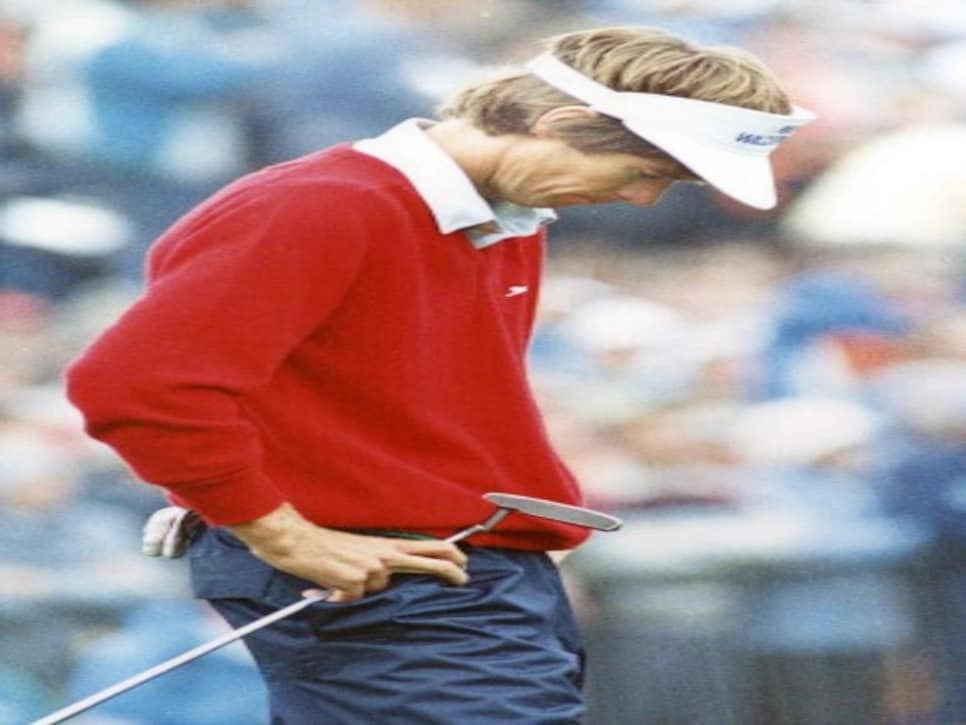 For me, Muirfield will always be the place where golf revealed its dark side.  I was there to cover the 1987 Open for Golf Digest and was living that week down the road in a rented house with, among others, John Redman, Paul Azinger's coach. Redman and I had recently created a cover story for Golf Digest - "Strong Grip, Strong Turn" -- focusing on the unconventional and (at that time verboten) Azinger grip, which was so strong that it required the fast, level hip turn that Redman, an accomplished if irascible and underappreciated teacher, advocated. Azinger's swing created low draws, a shot almost ideal for a links like Murfield. It was a weak of grim weather, a different rain each day accompanied by local newspaper story naming and explaining it. I remember one. It was "haar" and was the predominant wetness of the weak -- a foggy, misty miasma that left you feeling that you were wandering, -- against the wind, through an Agatha Christie novel.
We lived in our rainsuits and began each day, practice round and tournament, near the 11th hole where a tiny stand sold hot tea and donuts they created from boiling batter right there.
Related: Muirfield Hole-by-Hole As foul as the weather was, it was a fairytale week for Azinger, for Redman, and for this tips-writer who unabashedly rooted for the guy he'd done a story with. I was happy for Redman, who would have been the next Percy Boomer if Azinger could hold on. Zinger had never won a major -- he wasn't even Zinger back then -- but took to Muirfield like a native. And the natives took to him. Hearty Scottish crowds cheered him on. They loved his brisk pace, his somewhat homemade-looking swing, that linksy ball flight and his boyish demeanor.  He was so popular that local stories compared him to another adopted American son, a similarly built star from the 60s, Tony Lema. The ultimate compliment. On Friday Azinger took the lead for the first time. On Saturday he and Nick Faldo managed 71s in really foul conditions and so with one round left the American led Faldo (known, thanks to his final-round collapses, as "El Foldo") by a single stroke. Faldo was not particularly popular, but he was British, and he, too, had his following.
Related: 2013 British Open: The Hunger Games Redman and I were there for the first shot, following the two along the ropes -- I inside with armband, John on the outside. Azinger was tough, steady, matching Faldo shot for shot. Remarkably, with two holes to play, Zinger still led by one. His 3-iron to the long par-3 16th was a tremendous shot under pressure and his 3 there left him with only the par-5 17th and the par-4 18th to navigate. Not simple, but given the way he'd been playing for four days, par on those two holes seemed almost a foregone conclusion. The pressure was on Faldo to force the issue with a birdie at 17, we thought. Barring that, it was Zinger's. At this point I handed my inside-the-ropes armband to Redman so he would see Paul's play close up and be there for what promised to be a kind of coronation in less than an hour. Two holes -- holes that Zinger had played beautifully for three days. The galleries were huge around the final foursome and as John walked close to the action I watched from afar. How could it be any better than this?! Two holes to glory! Except that the dream collapsed. Zinger, who could have driven the ball as far right as he chose, into the concessions, into the car park for that matter -- some said he would have been told to do just that had he used a Scottish caddie -- drove almost perfectly down the right center of the fairway. But as the ball landed and took a hop to the left, it rolled into a kind of gathering depression and that depression fed into a fairway bunker.
Related: Major Championship Blowup Rounds Suddenly, everything had changed. There was no cushion to call on, there was only that single stroke separating him from Faldo. Now Azinger appeared to have spent it. He would have to play out sideways and rely on his wedge game to make par after hitting the green in four. He couldn't do it. Faldo made his 17th straight par and they were tied. It was not only the golf match -- for that's what it was at this point, a match -- that had been transformed with that tee shot, but the mood of the place itself.  For Paul Azinger, John Redman and, OK, me, it was as though night had descended. I felt the huge, vocal crowds changing alliance. The polite, good-natured Scots were, it turned out, just as drawn to disaster as Nascar fans. They were buzzing. They could see, suddenly, Faldo's breakthrough and his first major; they were backing their Brit. I swear, and of course I'm biased, I heard not a single cheer for Zinger as they went to the 18th tee.  The huge grandstands at 18 were all Faldo. I remember staring past them at the big yellow scoreboard. This was a home game, I was reminded, and Zinger, for all his appeal, was the visitor. I thought of Redman, who I couldn't see. I prayed for Azinger. But as any golfer knows, wounds suffered on the 17th hole inevitably infect you on the 18th. Zinger was reeling. The crowd was roaring for Faldo. And now, after Faldo had avoided calamity with his 18th tee shot, Zinger had to keep his hook out of a hazard. He couldn't.
Related: How Muirfield got its revenge In retrospect, given his wonderful short game, Azinger might have made par on both of those holes. But in that moment bogeys were pre-ordained. You knew there would be no playoff. He was done. When it was over, I was sadder than I've ever been on a golf course, before or since. John Redman, who was to fly with me to Ireland for a few days of vacation golf, begged off. Only Paul seemed to hold it together. He gave a gracious, professional interview and praised Faldo, the Scots, and the tournament. Honestly, I still don't quite know how he pulled that off.   Golfers who so easily call the game "genteel" and "gentlemanly" miss its savage side. It took a Sunday like that one in 1987 to reveal that part of itself to me. To teach me that the rewards and glory of professional golf come at grave cost to those who don't quite achieve them. "It could have scarred me," Azinger acknowledged to the media recently.  "But I didn't recognize the magnitude of what I was losing as much as I knew I could make history if I had won. And I didn't know 20 years later I was still going to be asked about it." And this week, as I watch golf's most wonderful championship, a few of us will be remembering its other side.