Courses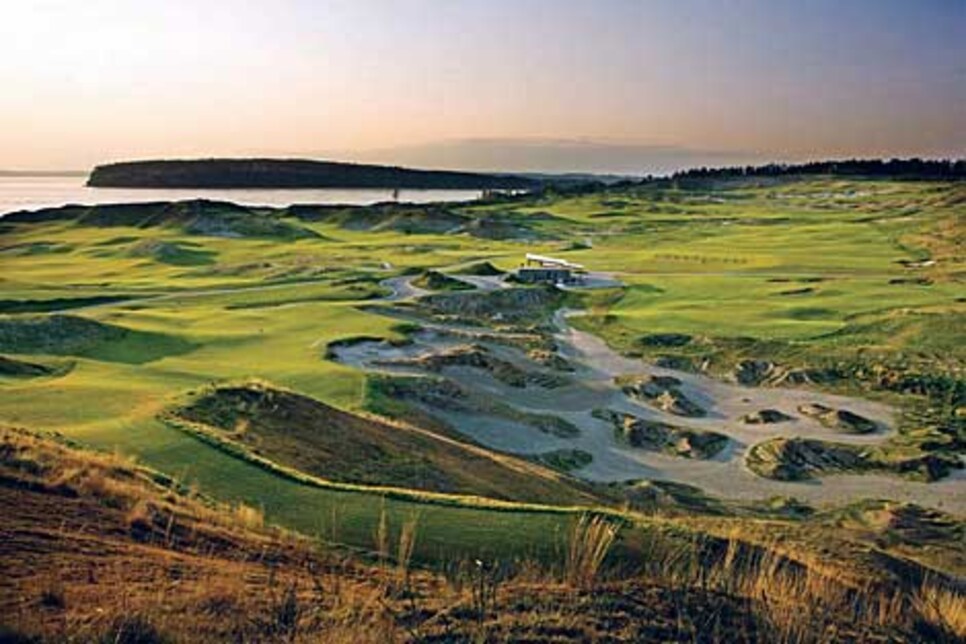 I was recently standing in a huddle of golfniks -- folks who read about and know all things golf. The topic of conversation: Washington's Chambers Bay. "Is it as remote as Bandon Dunes?" "What airport do you fly into?" "Where do you stay?" There were more questions that stumped the unstumpable. "Is there other good golf nearby?"
Let's start with the man behind the plan. It's uncanny how much John Ladenburg resembles former Dallas Cowboys coach Barry Switzer. Ladenburg is the county executive with a budget big enough to produce golf's latest prodigy outside Tacoma, Wash.
[Ljava.lang.String;@674a8954
In a move unprecedented in golf's modern era, the USGA awarded Chambers Bay, only a year old in June, a U.S. Amateur in 2010 and a U.S. Open in 2015. Ladenburg deserves the credit for landing such a quick commitment. He looked at a big bowl of sand in an old rock quarry and saw a championship. Ladenburg wanted a links-style course for walking only. He considered 56 designers but went with Robert Trent Jones Jr., impressed by the strength of the architect's assembled team.
"Jones said he needed a lot of land for a links-style course," says Ladenburg. "I told him we had 900 acres. Jones said he needed wind. I reminded him that this was where a bridge blew down [the infamous Tacoma Narrows Bridge collapse of 1940]. Jones said he needed to move a lot of earth. I told him he was in a giant sandbox, and we had a mining permit. Then I told him what I needed from him. I told him to build me 18 perfect holes, and tell me how much it costs."
After a recent visit to Chambers Bay, I returned impressed and bearing answers to the golfniks' water-cooler inquiries. Your trip begins with a flight into Sea-Tac airport, serving the greater Seattle area. You'll want to stay in downtown Tacoma, an easy 20-mile commute south from the airport. Tacoma has lived in Seattle's shadow, but in large part because of Chambers Bay -- and the fanatics eager to play an Open-worthy venue -- this city's golf future has traction.
I stayed at Hotel Murano, which opened in March and has 320 rooms. Sleek and modern, the hotel features a tribute to famous glass artists (I didn't know there was such a thing) on every floor. Peak season is June to October. Rooms start at $159 a night. The hotel is a short walk or a three-minute drive from a great steak at El Gaucho (outstanding with a side of sweet corn). For seafood, go to the corner of the block to Sea Grill (get the "wicked shrimp" appetizer). If you're looking for sports, big flat screens and a good selection of local beers, walk a block to the Varsity Grill.
For better and worse, Chambers Bay reminded me of Shaquille O'Neal when he played college basketball at LSU: He was big (it looks like you could fit Bandon and Pacific Dunes in the space that houses Chambers Bay); he was a little raw (there's no significant rough yet); and he had some flaws (the greens are hard and shaggy). But it was clear O'Neal would have a dominant pro career. And so will Chambers Bay. Its high season is May through September. Green fees range from $155 in the week to $170 on Fridays and weekends.
The course evokes the best of golf in Scotland. From the ninth tee, I thought of the view from the hotel at Turnberry, over a sweeping course and across the neighboring Puget Sound. Trains roll past, as they do at Prestwick. And just like the local park that is St. Andrews, you'll share Chambers Bay with walkers and joggers, kids and dogs, all using the public footpath that surrounds the 7,585-yard course. Come 2015, USGA officials will have all the room they need for merchandise tents, trailers and the 45,000-plus daily galleries.
Critics thought Ladenburg was crazy to plant grass in a sandbox for 21 million. "I told them, 'I'm not building a muny. I'm building something to attract tourism and a course that's worthy of an Open,' " he says. Chambers Bay has that Open, and the buzz that comes with it: Ladenburg estimates 40 percent of the course's play is from more than 200 miles away. Tacoma now casts a shadow of its own.
ROUND(S) OUT THE ITINERARY
My other favorite area courses: Olympic Course at Gold Mountain (inland, it winds through thick trees), Washingtona National (four strong finishing holes) and the Home Course (a former site of an explosives plant with tee markers shaped like sticks of dynamite.
54 HOLES IN A DAY IS NOT ADVISED
Chambers Bay caddie Bill Heikkinen, 63, once had three loops in a day, then had to call his wife from the garage to help him out of his car. Take a caddie for 35 plus tip, but players should think twice about 54 holes in a day.
PEACE OF MIND, BODY AND FEET Next door to Hotel Murano is Savi Day Spa. If golf has got you down, skip a round and treat yourself to the "Gentleman's Retreat." It's 4½ hours and 290 of stiff-swing therapy. Catered lunch is included.