Courses
The 396-yard 16th hole at Pasatiempo. Alister Mackenzie said it's "the best two-shot hole I know."
As most people do, I enjoyed an epic golf trip to Monterey. It takes a pile of piggy banks and months of planning to pull it off, but recently I hit the best attainable daily double in public golf: a morning round at Pebble Beach and an afternoon round at Spyglass Hill. That's a "Lord, you can take me now" kind of day.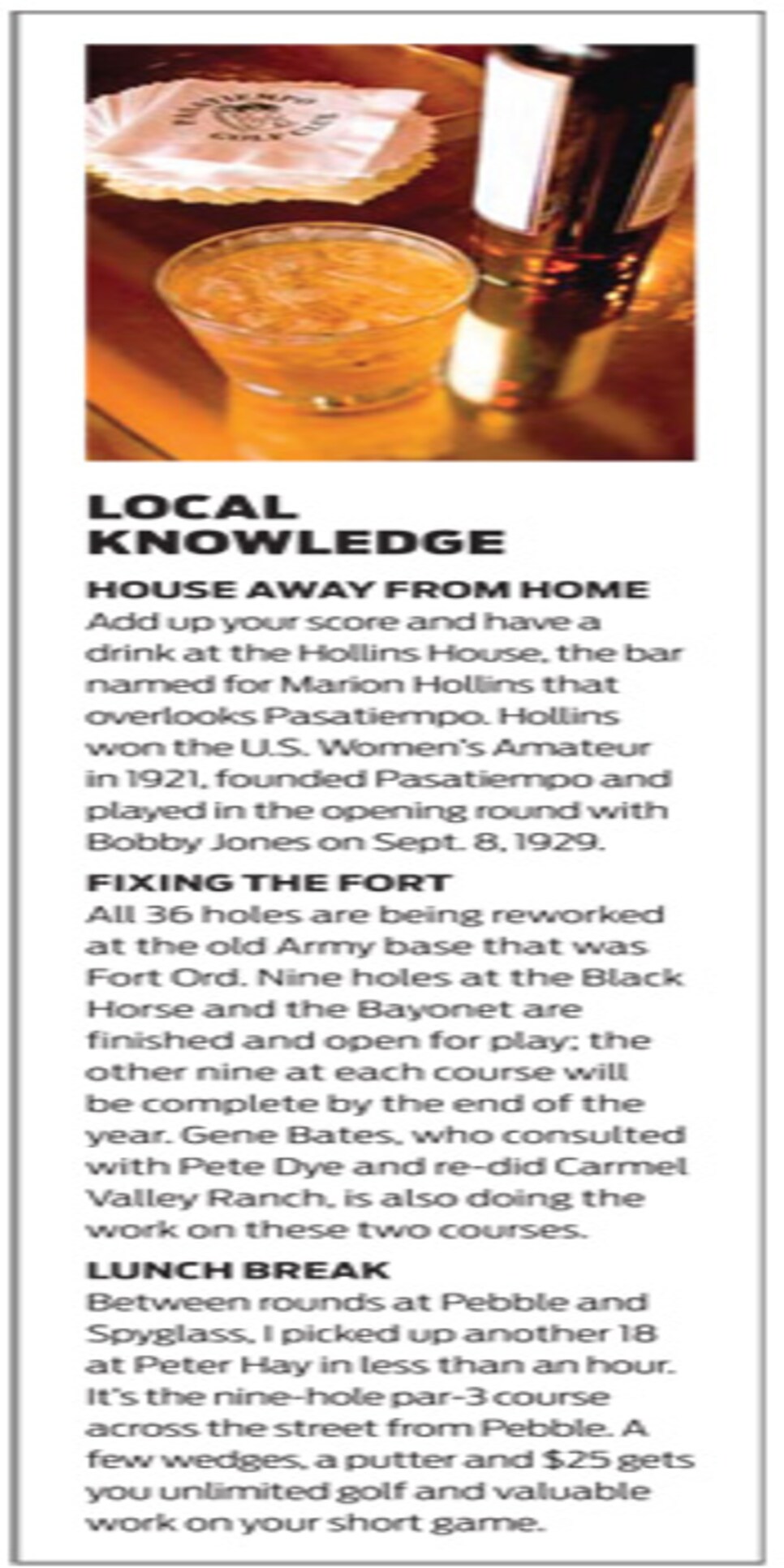 All rankings say Pebble Beach is the greatest public golf course in America. It features seven of the most scenic, history-drenched golf holes in the world (Nos. 6-10, 17, 18). But I'm still debating which is the better golf course from start to finish: Pebble or Spy. If it's as close as I think it is, shouldn't the difference between their green fees ($495 for Pebble, $330 for Spyglass) be the tiebreaker?
Debate it all you want, but the one I can't wait to play again is Pasatiempo in Santa Cruz. For $200 and a $100 replay rate, 36 at the Alister Mackenzie course, which opened in 1929, feels like a steal. It's No. 30 on our list of America's 100 Greatest Public Golf Courses, but now that Tom Doak has finished a 10-year restoration, putting bunkers back where Mackenzie had them, clearing trees that had taken over the course and reshaping some greens, Pasatiempo is on my short list of the best public golf in the country.
Doak, who studied photographs taken when the course first opened, worked on one hole at a time so the course could remain open during the project. "For me, Pasatiempo has special meaning because it was Dr. Mackenzie's home for the last few years of his life," Doak says. Mackenzie asked that his ashes be spread around the golf course -- which is a fun fact considering this is the guy who also designed Augusta National and Cypress Point. (Be sure to stop at the plaque near the cartpath next to his old house, 100 yards from the sixth green.)
Mackenzie's daily involvement in Pasatiempo "meant the greens there are some of the most severe he ever built," Doak says. But the greens are only part of the challenge. There's 300 feet of elevation change and no breaks for your brain or your game. Anytime you're between clubs on a par 3 and the two clubs are 3-wood and driver, don't press any bets. On the third hole, 214 yards uphill and into the wind, I hit the 3-wood, came up short, and raked in my 5.
On this trip I split my time between two resorts. To play Pebble you are required to stay at the Pebble Beach Resort unless you want to walk up as a single. (The day I played, we went out as a threesome.) The Lodge was booked, so I stayed at the Inn at Spanish Bay for $580 a night. My room overlooked the Links at Spanish Bay, a course I'm not a fan of (too tight and generally too windy), but it's a great piece of property. The resort has a low decibel level and a high level of comfort and service. The food, spa, gym, tennis courts, view and fire pit where guests can huddle and cuddle are all terrific.
I spent another night at Carmel Valley Ranch, which has the only Pete Dye course in Northern California. At a cost of about $12 million, the clubhouse, golf course and a portion of the resort have all been renovated in the last two years. The front nine is still flat, short, tight and not especially memorable. The back nine is cut into the hills, with round-stopping views of the valley. Elevated tee boxes and blind shots to elevated greens leave you wondering how these two nines can be on the same scorecard.
The spacious suites, the updated atmosphere and the food are the real reasons to stay at Carmel Valley Ranch, which can be less expensive than Pebble Beach Resort. The restaurant, Citronelle, absorbed a lot of the time and expense. During the renovation, it was closed for a year, then reopened in January with a modern motif and an evening scene that is drawing the attention of picky locals. The presentation of the meal makes you want to take a picture. Don't leave without trying the apple-tart dessert.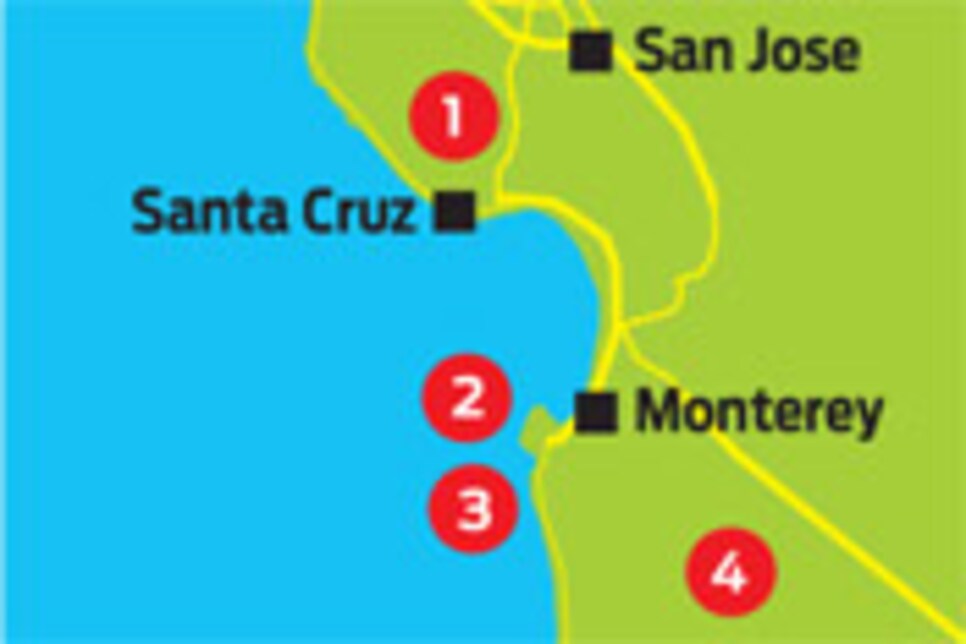 Star listings from 1 to 5 are derived from readers' Best Places To Play ratings. For more information click on underlined course names above.