Courses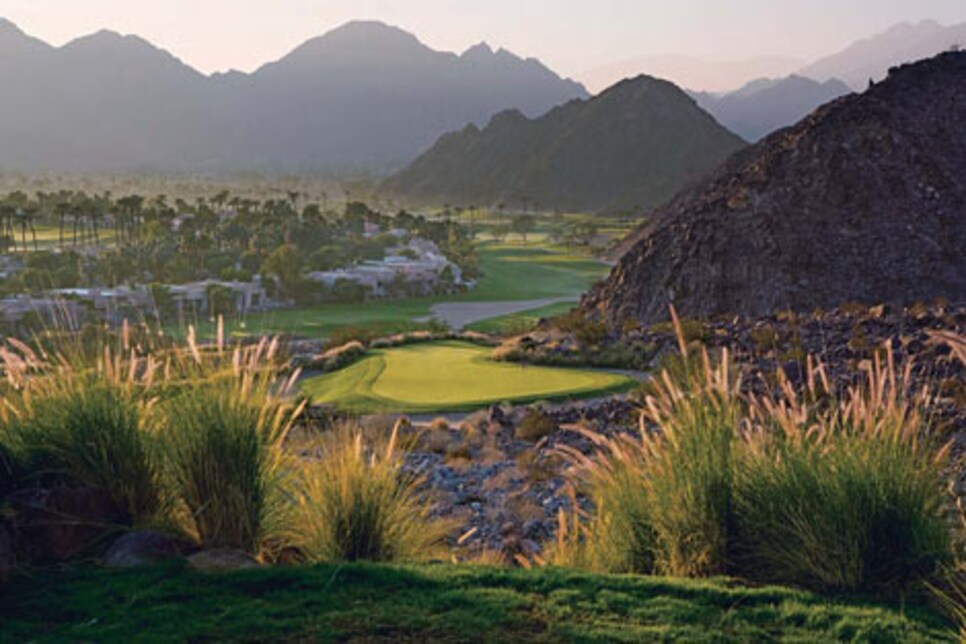 The green on the Mountain Course's 157-yard 16th.
His name is Jim Mahoney, but he could easily be called Mr. Palm Springs or Lord of La Quinta. Wearing a bright green sweater, yellow pants, a green glove and green-and-yellow golf shoes, he is roaming the La Quinta Resort & Club's practice area puffing a giant cigar. He'll play this morning and again tomorrow -- and the next day, and the next. "This is heaven down here," says Mahoney, a 79-year-old retired PR man who has represented everyone from Gable to Sinatra to the Stones. "It doesn't get any better than this."
He makes a great point. Guests at the club (laquintaresort.com, 800-598-3828) can choose from five courses, two of them on-site and three only a 10-minute shuttle ride away at the affiliated PGA West resort. The story goes that when Pete Dye designed the Stadium Course, ranked 89th on Golf Digest's list of America's 100 Greatest Public Golf Courses, he was asked to create the toughest course in the world. He came pretty close (it's fourth on our list of America's 50 Toughest Golf Courses). The Stadium Course also has hosted the final stage of PGA Tour Qualifying School and has three finishing holes that are among the most difficult you'll play. Players have come to that stretch two shots under the cut line to get their tour card and have gone home having missed it by eight. Woody Austin achieved instant legendary status by going birdie-birdie-birdie in 2002 to get his card back. Amateurs are more likely to go sleeve-sleeve-sleeve.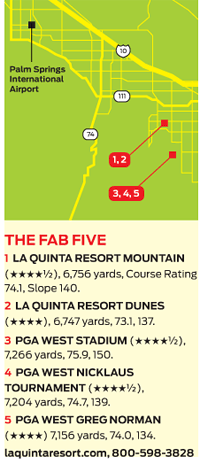 There is much debate over La Quinta's next-best course. In truth, all of them are strong. The Mountain Course is another Dye design that takes you through and around the Santa Rosa Mountains. The Nicklaus Tournament Course has also hosted Q school. The elevated greens require hitting approach shots from the correct position of the fairway. The Norman Course is more open, with less undulations than the Nicklaus Course, and is best played when conditions are hard and fast so you can hit shots that roll onto the greens. The Dunes Course isn't the typical diabolical Dye design. It's the sort of course where you can bring kids or other less-experienced golfers.
The courses of La Quinta and PGA West have undergone a $7.5-million renovation. At the Stadium Course, for example, workers have removed thousands of bushes originally placed as wind buffers. But the courses might be just the beginning of the face-lift. "We're looking at every inch of the property," says Davis Sezna, president of La Quinta Resort and PGA West.
Green fees at all the courses are $185 on weekdays and $205 on weekends, except for the Dunes, which charges $140 and $150. Same-day "replay" rounds cost just $49, including cart.
Bandon Dunes might be a better option for four to eight flat bellies who want to play 45 a day, but if you're looking for a full-service destination with great golf and perfect weather, La Quinta is the place. Rooms range from casitas (starting at $229 a night in the spring) to suites ($699 a night). Located 30 minutes from the Palm Springs International Airport, the resort has a Jim McLean golf school, 41 heated outdoor pools, 23 tennis courts, seven restaurants, nine boutique shops, horseback riding, hiking and desert Jeep tours. Mahoney warns not to visit in July or August, unless you want to squeeze in a round before 9 a.m. Otherwise, you're looking at triple-digit temperatures that will melt your soft spikes.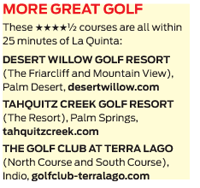 The Adobe Grill restaurant is one of seven dining options at the resort. It's a great choice for authentic Mexican food and features a massive margarita. It's the size of a small bathtub, so buyer beware -- if you drink two, the bathtub is where you might sleep.
Among several unique treatments offered by the spa is the "PGA West Golflexology" ($135), a 50-minute focus on areas most affected by golf (neck,
Be sure to make reservations at Arnold Palmer's (arnoldpalmers.net) just down the street from La Quinta. Save room for the banana split -- and save time to see the shrine of images and memorabilia from the King's career. This is where he eats when he's in town, so have your camera phone ready.