Courses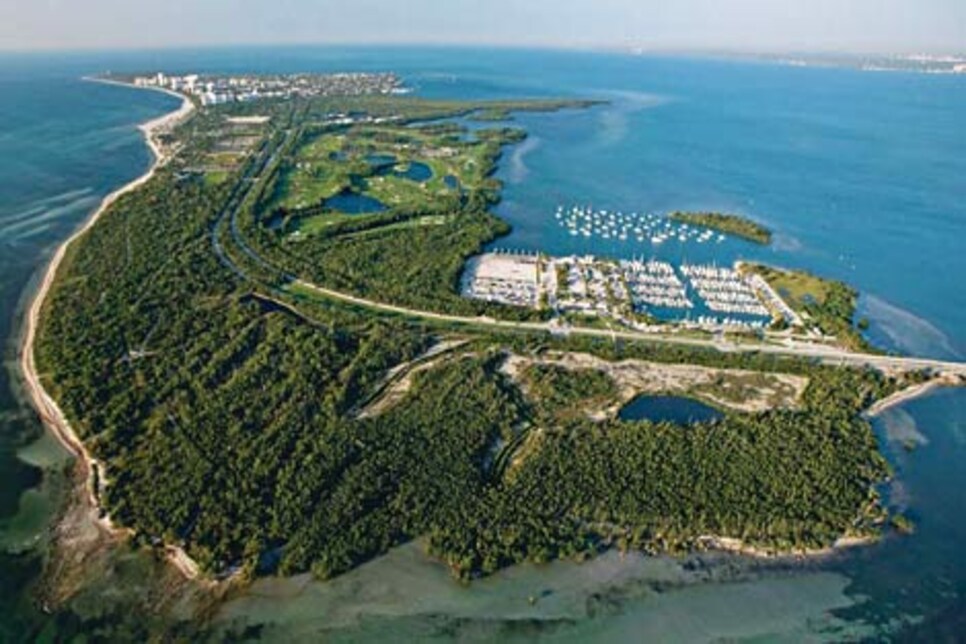 A bird's-eye view of Key Biscayne from the north.
Ponce de Leon came to Florida looking for eternal youth and along the way discovered the island of Key Biscayne. I went to Key Biscayne and found a youthful golf partner.
I recently spent three days with the legendary photographer Walter Iooss Jr., who has a house on "the Key." If Iooss isn't photographing athletes and swimsuit models for Sports Illustrated or golf and golfers for Golf Digest, he's playing golf. He picked up the sticks late in life, but now, at 65, has a boyish passion to break 80.
Crandon Golf Key Biscayne, former site of a Champions Tour event, is Iooss' home course. This is different from most Florida golf. Out here, 15 miles from Miami International Airport and over the Rickenbacker Causeway, there are no houses, no pools or barbecue pits, no fences or porches with nets butting the rough. It's a series of good holes, exotic wildlife and a great view of downtown Miami if you look across the bright blue water from the 18th fairway. Some consider it one of the best public courses in Florida. I would agree.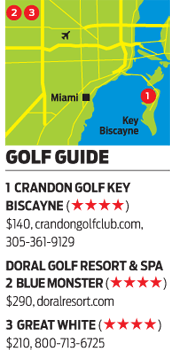 I stayed at the Ritz-Carlton Key Biscayne. With 402 rooms, it might not offer the individual attention of a destination like the Lodge at Sea Island Golf Club, but there wasn't a line at the suggestion box. It's pricey ($450 per night), but so is every other nice lodging option in Miami during peak season (Nov. 1-April 1). The tennis facility, the biggest at any Ritz in the world, has one hard court and 10 clay courts. In March, this is where Serena and Venus Williams practice during the Sony Ericsson Open, often referred to as tennis' fifth Grand Slam event. There are two heated outdoor pools, a 20,000-square-foot spa with more than 60 treatments, 1,200 feet of beach, catamaran cruises, windsurfing and three restaurants. Don't miss having a meal at Cioppino prepared by superstar chef Ramon Guerrero.
A golf trip to South Florida wouldn't be complete without visiting Miami's most famous golf resort, Doral. Iooss anticipated typical Miami traffic, so we gave ourselves an hour from the Ritz, but we made it in 40 minutes.
We played the Great White first, named for its designer, Greg Norman. Locals told us Michael Jordan played the White course a few weeks earlier, booking 90 minutes of tee times before and after his to ensure some privacy with playing partners Charles Barkley and Charles Oakley. The 493-yard, par-5 first hole, which plays into the wind with an elevated green, was a good early indicator that this was yet another tough Norman track.
Our afternoon round was at the much-anticipated Blue Monster, home of a World Golf Championships event in March. It never gets old to play where the pros play. We hired a caddie ($95 per bag, plus $25 tip) on the White Course, and he joined us on the Blue Monster. He was conscientious, ran from green to tee instead of riding on the back of the cart and had a theatrical delivery of fun facts before the start of every hole. As we approached No. 18, he announced: "Now we come to a serious hole -- the 467-yard par 4. It had a higher scoring average than all four of the par 5s last year."
My number was above the average. From the greenside bunker I launched my ball across the lake and into the yellow flowers that spell out "Doral." Iooss topped his approach but managed to get up and down for a 4.
Though he didn't break 80 (neither of us did), Iooss was exultant. "I made a par on two of the three hardest holes on the PGA Tour," he said. "Just don't put in the story that we played from the white tees."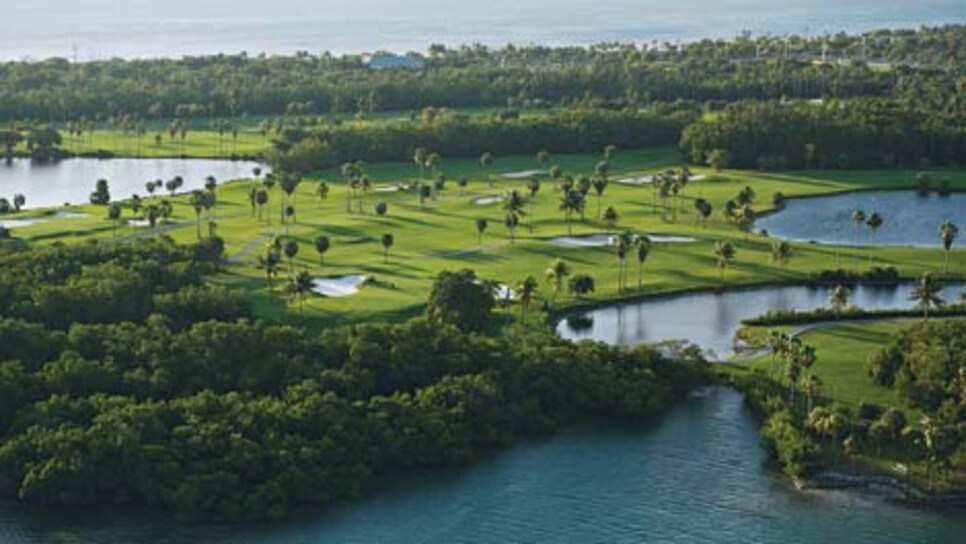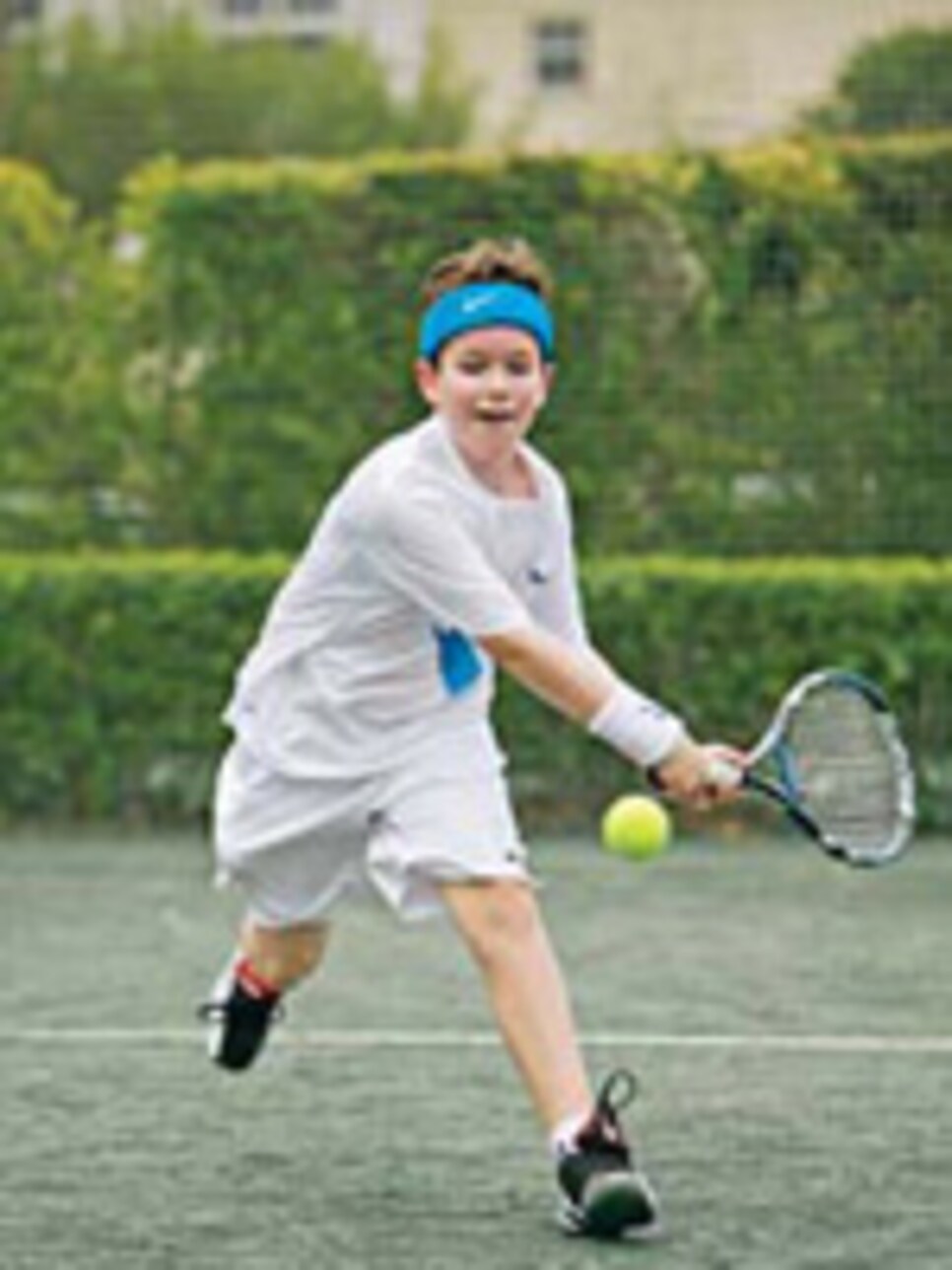 The Ritz Kids program has arts, crafts, board games, tennis, basketball and karaoke for kids 5 to 12. From 9 a.m. to 3 p.m., it costs $90 per child. Half a day is $50 a child in the morning or in the afternoon. Saturday evening is kids' night: dinner and a movie from 6-9 p.m. for $60 per child.
Off the lobby of the Ritz is the RumBar, a dark room with leather furniture, vaulted-ceiling fans and black-and-white photos of old Havana. Sample one of 52 rums, cachacas and piscos from 18 countries. A four-piece Latin band plays Thursday through Saturday night.