Courses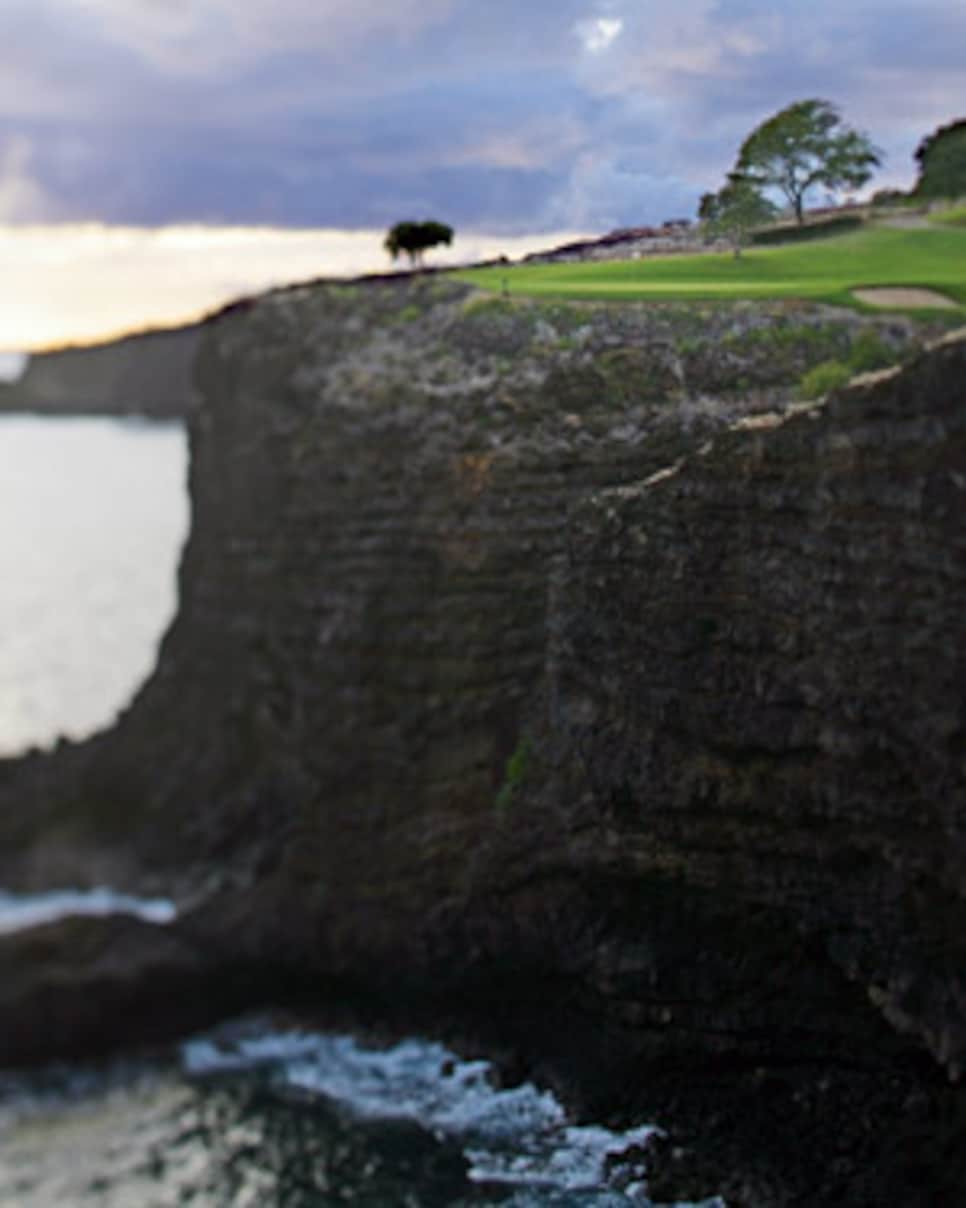 Almost two miles of parallel zip lines (tours start at $130 per person) are among the many new attractions at Kapalua. In January 2008, the Ritz-Carlton, Kapalua finished a $180 million "transformation," the most expensive makeover of any Ritz property in the world.
The five-star resort renovated all 463 guest rooms (starting at $395 a night). It fixed existing dining options by giving them a "contemporary expression," enlarged lanais and improved views, and it added a sushi bar and a lobby bar. Adjustments were made to the 10,000- square-foot, three-tiered pool by updating the cabanas (now with flat-screen tele-visions and refrigerators) and adding a children's pool. A new 17,500-square-foot spa with 15 treatment rooms opened in June, and there's Jean-Michel Cousteau's Ambassadors of the Environment, an education program that allows guests of all ages to explore tide pools, snorkel, participate in underwater photography and whale watch. The other lodging option is the Kapalua Villas: 260 one-, two- and three-bedroom units that start at $339 per night.
Kapalua opened in 1975 as one golf course. Although golf now shares the spotlight with these other amenities and activities, it's still the star of the show.
The Bay Course hosted an LPGA Tour event for the first time in October. It tips out at 6,600 yards and was the original golf course on the property. With several oceanside holes, it's an above-average resort course, but it's no longer why serious golfers bring their clubs to Kapalua.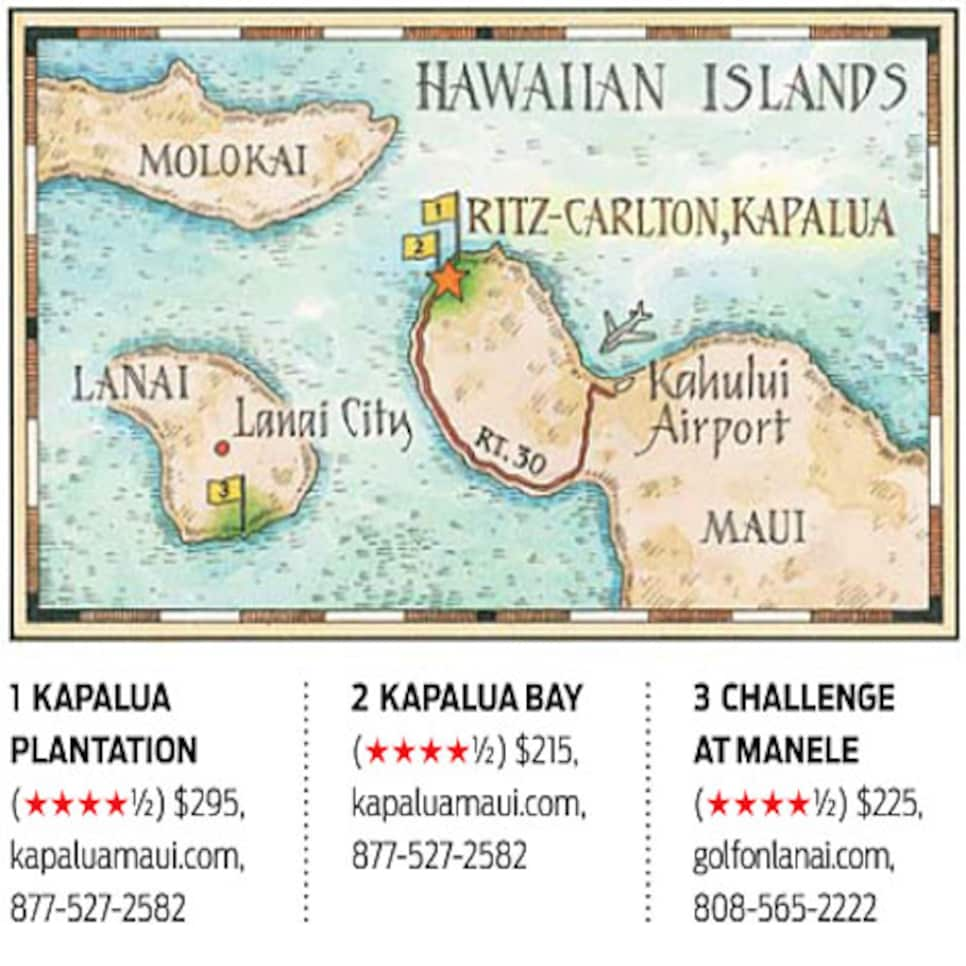 The Plantation Course is the main attraction. It's No. 33 on Golf Digest's list of America's 100 Greatest Public Courses, and in January it will host the start of the PGA Tour's season for the 11th year in a row: the Mercedes-Benz Championship. Granted, with Tiger and Phil not playing, the firepower playoffs such as Woods over Els in 2000 have been replaced by last year's playoff between Chopra and Stricker. Names like those hurt TV ratings and attendance but have no effect on you and me, the travelers. It's still a must-get-to course before you die, with ridiculous views of neighboring islands Molokai and Lanai. The front nine is underrated and often overshadowed by two of the most famous and fun to play back-to-back finishing holes in the game. The 17th is a 486-yard downhill—and usually downwind—par 4. The 18th is a 663-yard downhill—and usually downwind—par 5. Even shorter hitters can roll it out to 300 yards off the tee.
When I played the Plantation in July, the typical 20-mile-an-hour wind didn't blow, which left the course vulnerable. I played from the Championship tees (7,263 yards) and shot my best round of the year—six birdies for an even-par 73. I figured "it" out, if for only one round in 2008. The rest of the rounds were more reflective of my 8-handicap (and, on some days, 18).
As good as the views are from the golf course, another terrific view is from Jerry King's hitting bay at the golf school at Kapalua. King is a six-time teacher of the year in Hawaii and appears in the instruction pages of this magazine. His "office" is a rather romantic spot to hone your skills. King and his staff offer group and individual instruction. The half-day golf school is 7:30 a.m. to 12:30 p.m. ($345 per person plus lunch).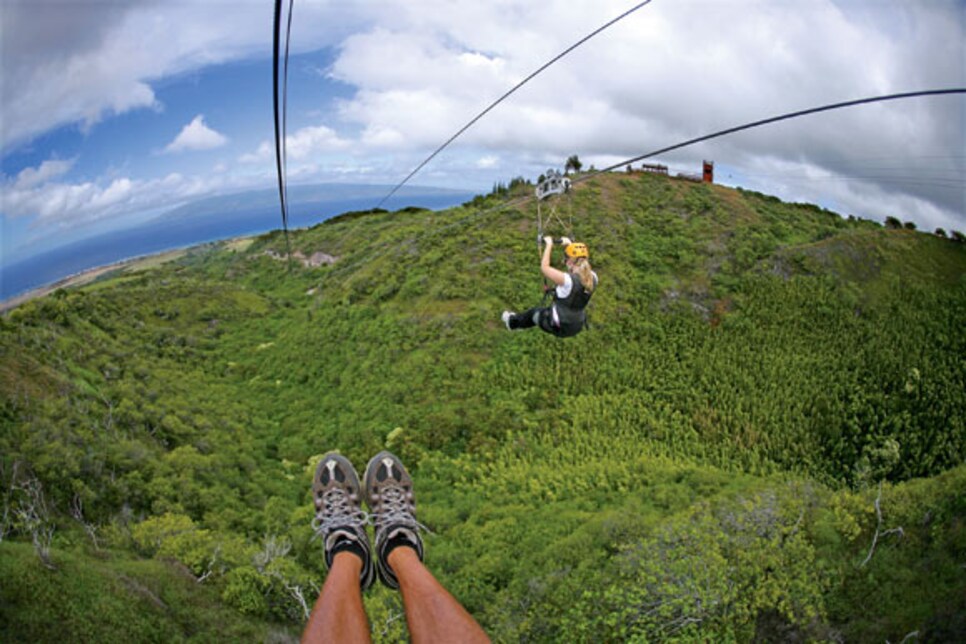 Kapalua Adventures includes two suspension bridges, ropes-challenge course, four-station climbing tower, giant swing and eight parallel zip lines.
Trumping even King's view of the Pacific abyss—a little less romantic, a little more traumatic—is the resort's most scenic spot, at the top of the property. This is where I rested comfortably in a suspended seat hanging from a thick cable. Well above the tree-filled valleys, you can go as fast as your thumping heart desires. Instructors will ask you to put your feet on either side of a railing before they'll give you a countdown: "Three . . . two . . . one . . . " Like a bull bursting into the ring of a rodeo, they'll throw open the gate and yell: "Zip away!" You're free and feel as though you'd like to take that ride all the way to the ocean. The view gets even better if you remember to open your eyes.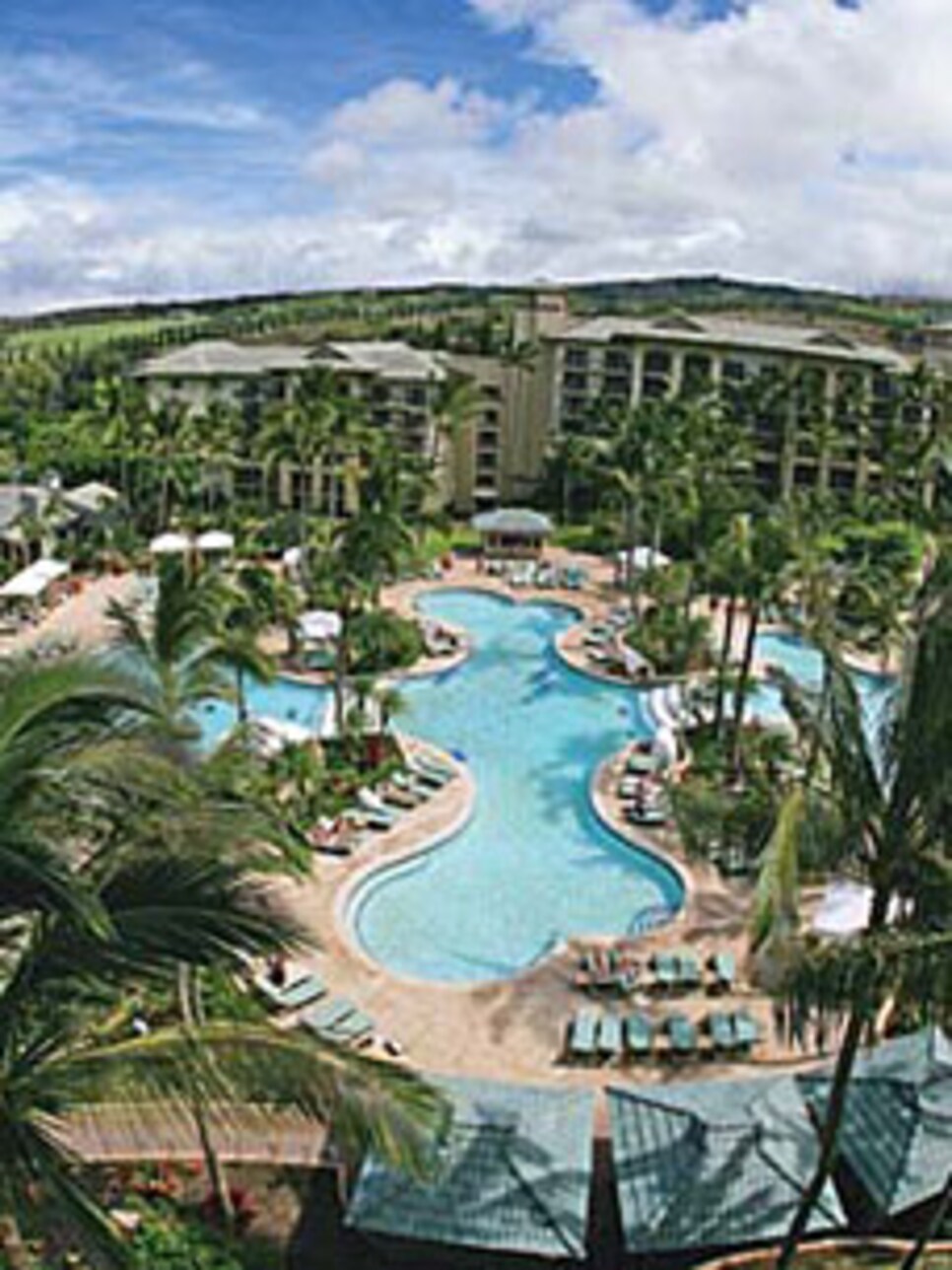 The award-winning signature restaurant of Kapalua is the Banyan Tree. It features Pacific cuisine with a casual poolside setting and a new outdoor bar and lounge. Ask for Robert to be your waiter. Robert loves his job, and you'll appreciate his complete knowledge of the menu and wine list as well as his charming presentation.
Once you've mastered the Bay and Plantation courses (or not), book a day trip by ferry in the morning from Maui to Lanai ($60 round trip, go-lanai.com). A shuttle will take you to and from the Challenge at Manele, which is a Jack Nicklaus Signature Course, ranked No. 34 on Golf Digest's list of America's 100 Greatest Public Courses, and offers gut-check shots over and around steep ocean- front cliffs.
There's only one 18-hole private golf course on the island of Maui: King Kamehameha. But not for long. Coming soon (Kapalua's not giving a definitive date) is the Tom Fazio-designed Mauka Golf Course on the site of what used to be the Village course at Kapalua.