Courses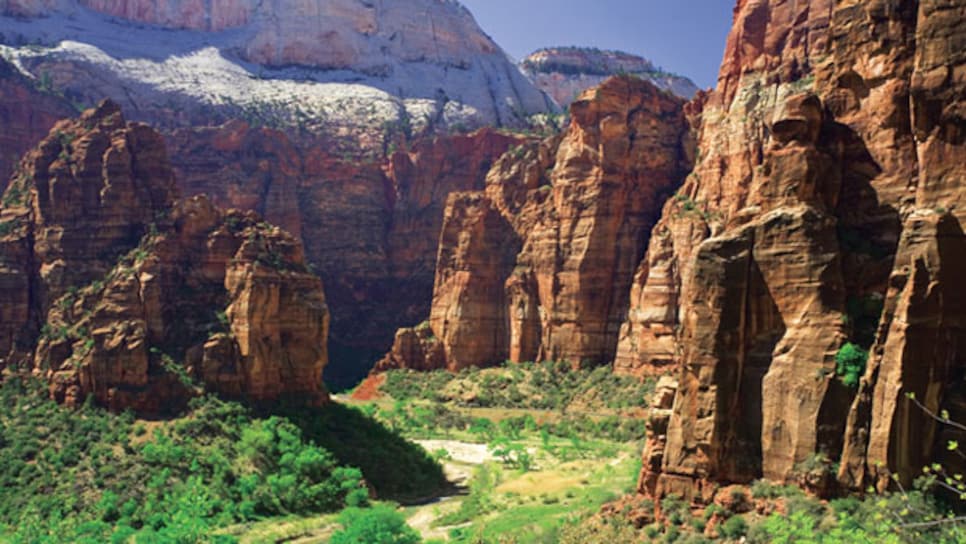 Zion Canyon at Zion National Park.
? Nine of the top 10. See where this is going? It's not a prerequisite, but apparently a big helping of H2O makes a golf course more desirable. You won't get that in Southwest Utah. Instead of breakers, you're treated to waves of color: orange, pink, brown, beige, purple, gray, vermilion.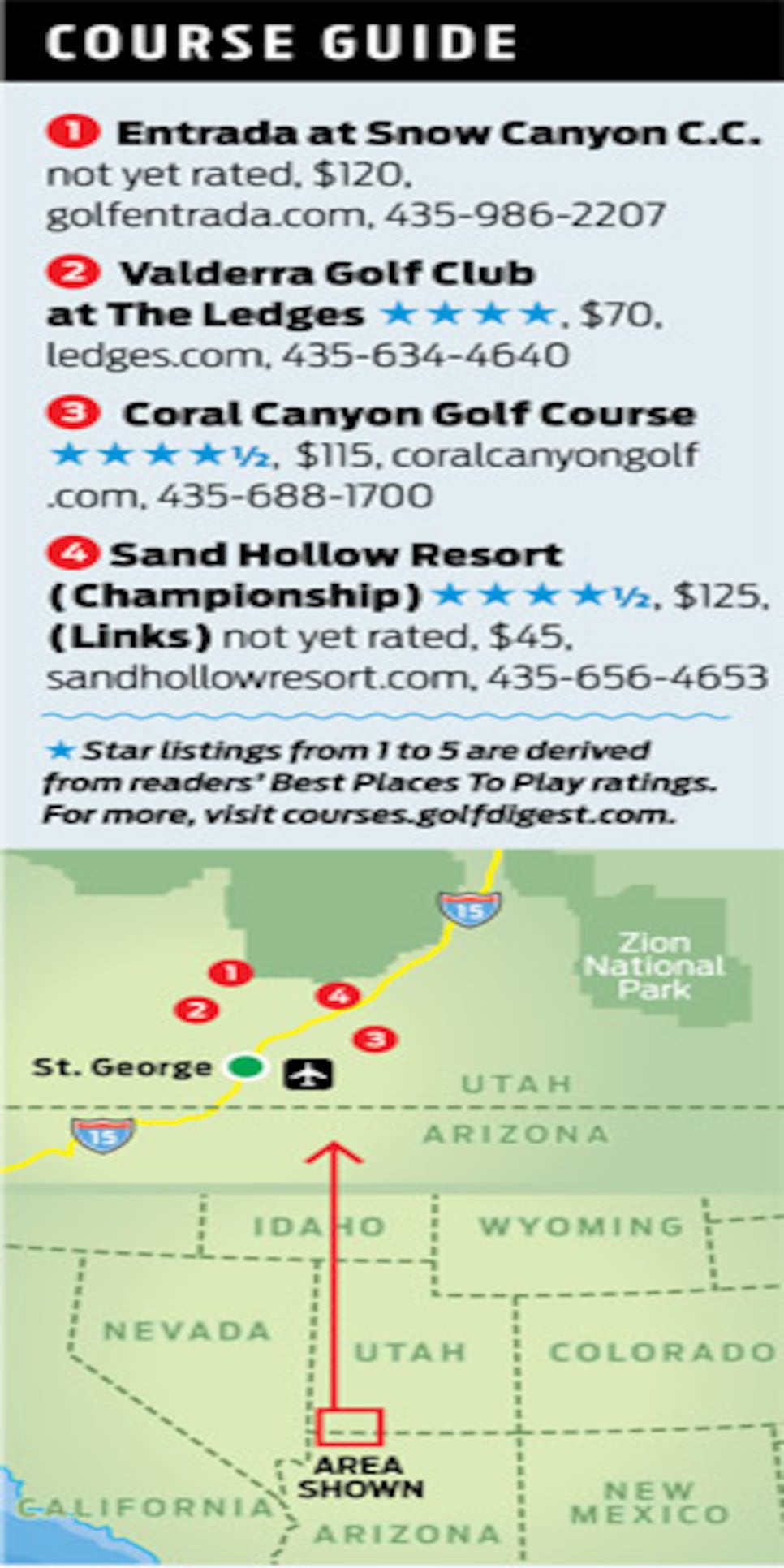 The tones alternate up and down mountains, boulders and buttes and offer a stunning contrast to an unrelenting azure sky. It's so amazingly beautiful that the ocean will be the farthest thing from your mind. Many of America's most incredible landmarks—the Grand Canyon, Bryce Canyon and Zion National Park, to name three—are within a few hours' drive of the courses around St. George, Utah. Some are even visible from the tee boxes.
If you haven't already gotten the vibe, let me spell it out: This is a golf destination like no other. And if you're lucky enough to go, just remember to pack a camera, sunscreen and a tub of moisturizer. It's very pretty, very sunny and very dry. It's playable nearly year-round. While much of the country was blanketed by a massive winter storm last March, it was shorts weather in St. George. The average high in September is 92, and it's a very inviting 78 in October. And despite its Mars-like terrain, getting here doesn't require rocket fuel. You can fly into St. George, or, for more direct-flight options, Las Vegas is about two hours away.
Your lodging choices are chain hotels (Marriott's TownePlace Suites was more than adequate), some very plush accommodations at The Inn at Entrada (studios start at $179 a night in September) or the vacation villas at the Sand Hollow Resort.
. Clumsy name, but a fun course from the proper tees. (It's par 72 and 7,145 yards from the tips.) With the exception of a few holes on the back nine, you can navigate it with a rusty swing. The front is mostly flat, has little rough and offers you the chance to hit all kinds of approach shots. You can even putt near the green if chipping off tight lies freaks you out.
After playing the brutish 233-yard 10th, you go through a tunnel and are transported to the type of golf you'll see frequently on this trip. Holes 11 through 17 play next to Snow Canyon State Park and are hilly, scenic and surrounded by massive rocks and desert sand.
It's hard to pick a favorite from this group, but the 16th might get the nod. If you're skilled enough to carry a tee shot 250 yards or more over a ravine, you're rewarded with a chance to get home in two on this 600-yard, downhill, dogleg right. Think getting home in two on a 600-yard hole is a departure from reality? Perhaps, but keep in mind that most area courses are about 3,000 feet above sea level. The air is thinner, which means you'll have more pop on your drives.
(par 72 and 7,315 yards). The town is named Hurricane for a reason. I played in gusts that had to be factored into shots and putts. The back nine plays along a ridge a few hundred feet above the Virgin River and across the valley from Signal Peak (10,365 feet). Holes 12 through 15 will get your attention. They're like the X Games for golfers. The first is a 443-yard, uphill par 4 where if you miss left, your ball vanishes into the abyss. And if you slice, you pray for a pinball bounce off the massive orange rocks on the right side of the fairway.
The next three holes offer similar consequences but aren't as penal. You can drive the par-4 13th with an accurate 260- to 280-yard tee shot. On the downhill 14th, you might hit the longest drive of the trip—or your life. From the 410-yard blue tees, I parred the hole with the following club selection: driver, putter, putter, putter.
(par 36, 3,687 yards) with greens so big, there are sprinkler heads in the middle of them.
(par 72, 7,029 yards), which was the toughest round of my visit thanks to many forced carries over desert and native vegetation. If your ball doesn't land on grass, it's a coin flip as to whether you can advance the next shot. On a positive note, if you hit it in the desert, you might see some jackrabbits and roadrunners. (Yes, it's a real bird.) Two large eagles circled over me for a couple of holes on the back nine. (Did I look wounded?)
The front at Coral Canyon is the better nine. It's routed on an elevated part of the property with the drivable, 385-yard fifth offering impressive views of the region from its tee box. You could hit a 5-iron off the tee and only have a short approach shot. But what fun is that? Unsheathe your driver and aim just right of the green. The pitch-and-putt par-3 sixth and uphill, dogleg-left seventh (480 yards from the back tees) complete a great stretch of holes.
Most courses in the area are embracing the brown-is-the-new-green approach to irrigation, letting fairways get firmer and faster, but you'll still get plenty of lush lies at Entrada at Snow Canyon
. This course is a must-play if only for the holes routed through black lava flow. One minute you're in the Utah desert, and the next you're playing a resort course on the Big Island of Hawaii. It's a bizarre experience but a nice surprise to an otherwise well-groomed, country-club course you might expect to find in Scottsdale.
To play the par-72, 7,062-yard layout, you have to stay at the Inn, but that's not such a bad thing because its spacious casitas are perfect for foursomes. Entrada and Coral Canyon will let you walk, as will Sand Hollow on its Links course, but I wouldn't recommend hoofing any of them unless you do it regularly and are in decent shape. If you walk Entrada, befriend the course ranger. With any luck, he'll be there to pick you up when the round is done: It's a grueling uphill march back to the clubhouse. If it's dinner time for local wildlife, have a 5-iron handy. Kidding.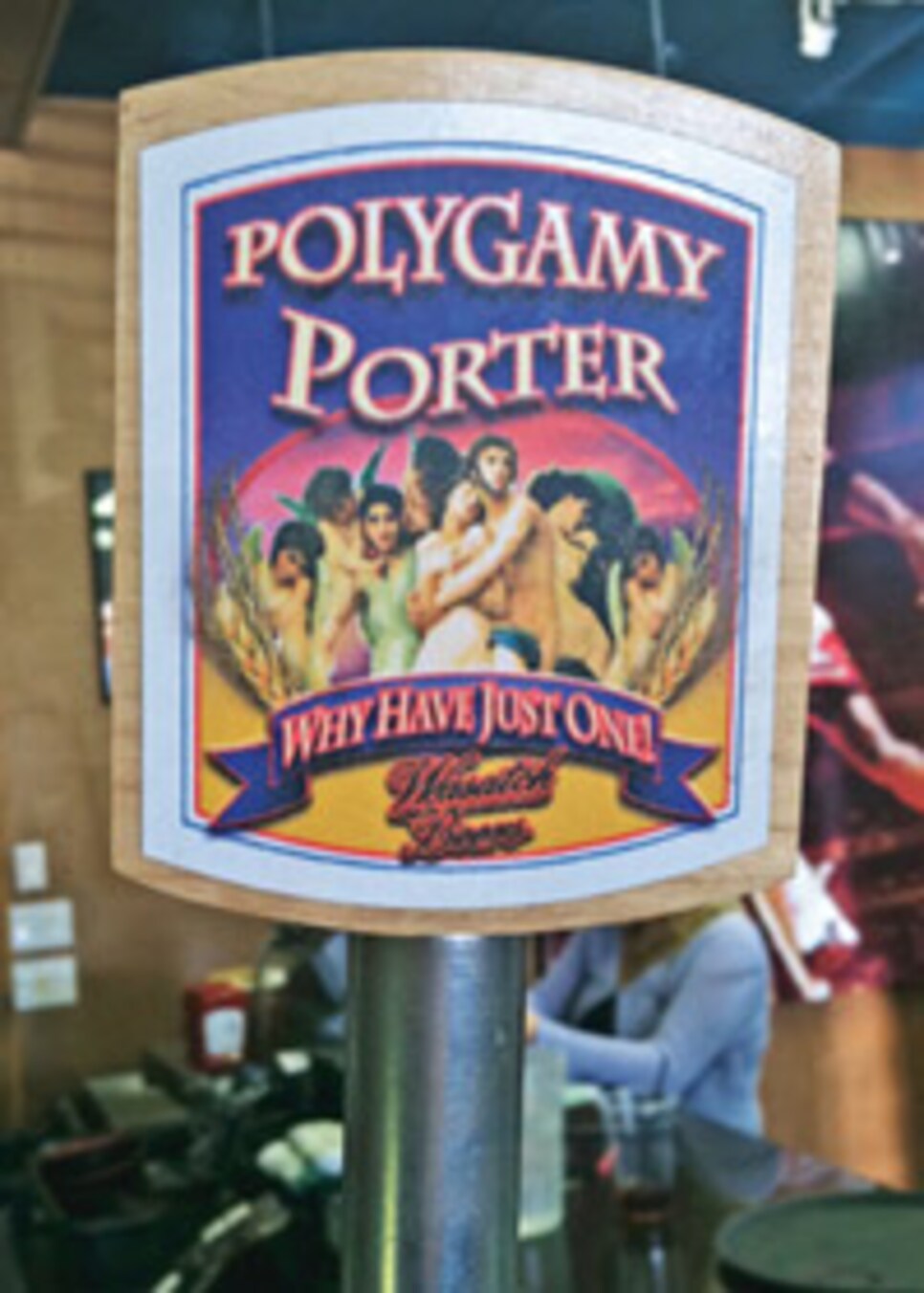 Utah has some unusual laws, particularly when it comes to alcohol. You can't have a drink in most restaurants without ordering food. And if you're a fan of spirits, be prepared for "metered" pours (no more than 1.5 ounces per drink). Most beer has reduced alcohol content.
Interested in having someone else arrange the trip? St. George Utah Golf Packages can handle all of the details, and its owner, Brian Oar, promises he can save you money by bundling the trip. You can set the parameters for your visit online at stgeorgeutahgolf.com
or by calling 435-216-1179.
Less than an hour away are the casinos of Mesquite, Nev. Make the drive down I-15 in daylight, and you'll get spectacular views of the Virgin River Gorge and its towering canyon walls. Keep in mind that the casinos in Mesquite lack the glitz factor of those on the Las Vegas Strip.