Courses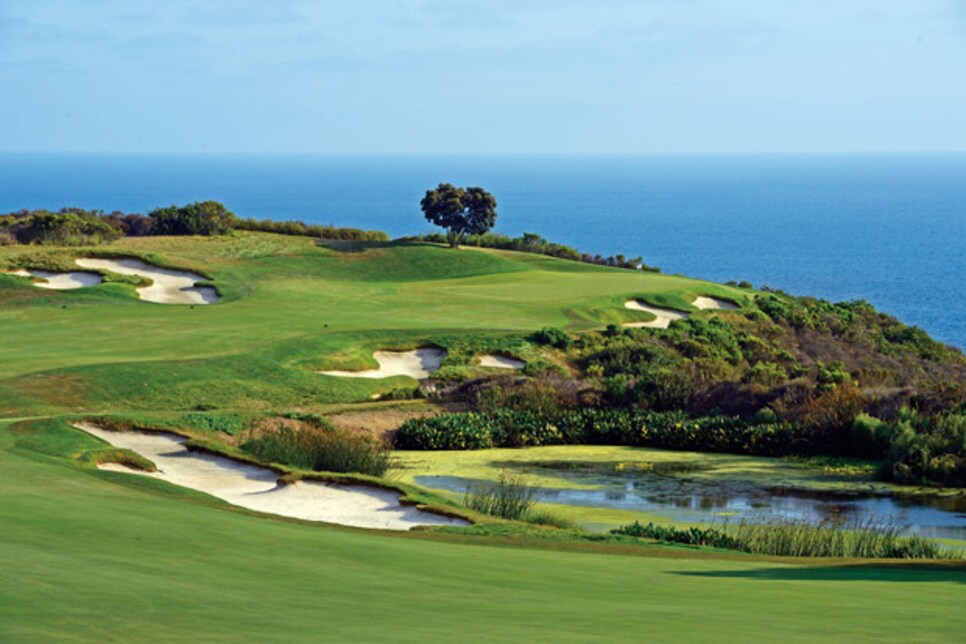 The downhill, 540-yard 17th at Pelican Hill's Ocean North Course.
See that big house up there--the really big one?"
I turned and gazed at a massive, three-building compound on a ridge high above the Resort at Pelican Hill in Newport Beach, Calif.
"That," said my caddie, "is owned by the guy who invented Hot Pockets!"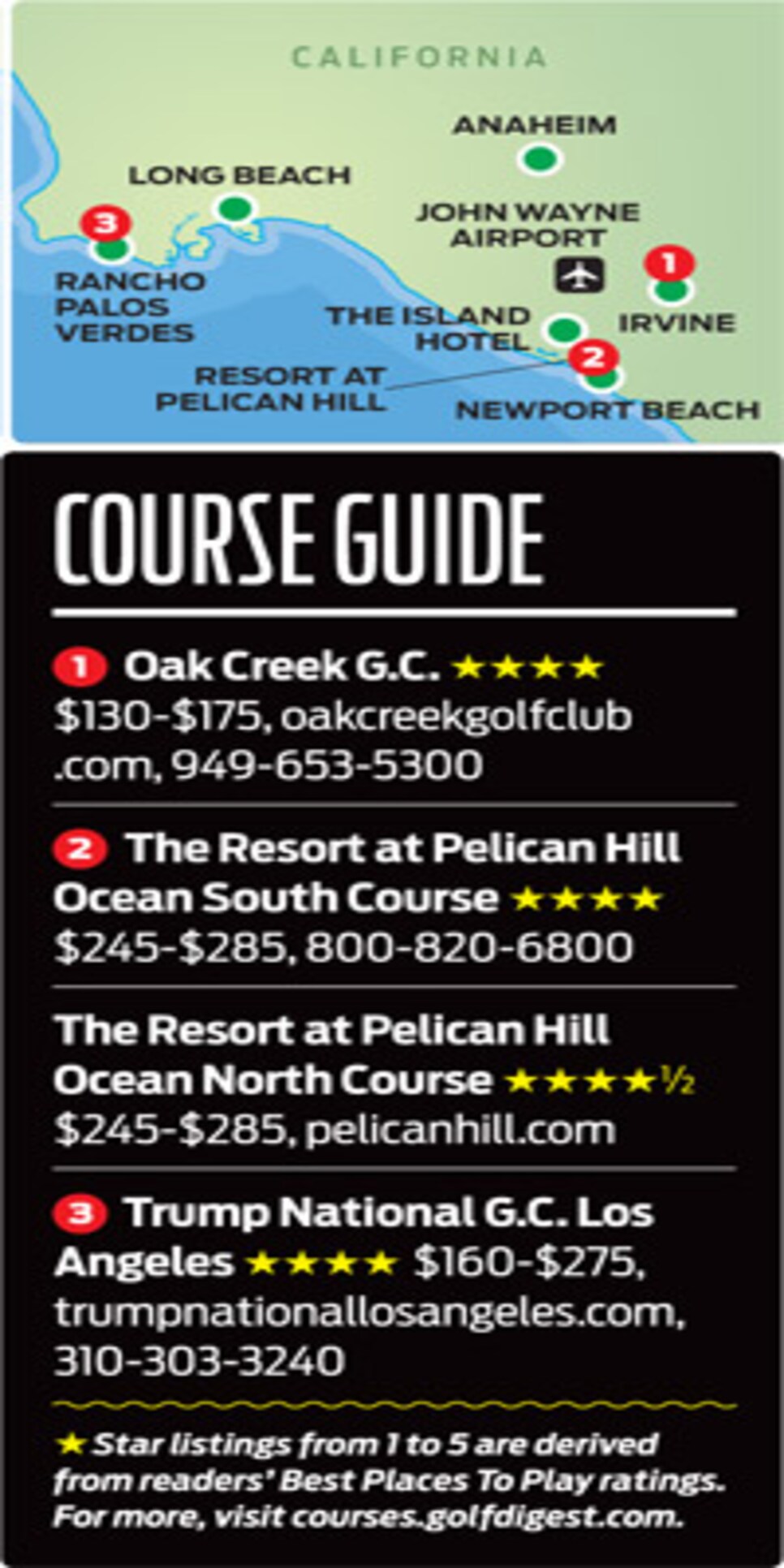 OK, so maybe Orange County isn't the most glamorous corner of Southern California. In these sun-kissed suburbs an hour south of L.A., perhaps you're more likely to cross paths with a guy who made millions on microwavable snack food than, say, an Academy Award winner. But here's the thing: Come here on a golf trip and you'll leave feeling like a big shot, no matter what business you're in.
I played three Orange County courses on a recent visit: Oak Creek Golf Club and the Ocean South and Ocean North courses at Pelican Hill. I also drove about 50 miles up the coast to play Trump National Golf Club Los Angeles, in Rancho Palos Verdes.
Oak Creek was a great place for a warm-up round. Set 10 miles from the coast in Irvine, it's a not-too-punishing Tom Fazio layout with wide fairways and big greens. Though Oak Creek is surrounded by homes and industry, the course has done an artful job of blocking all that out. If it weren't for the sunny skies, mid-70s temperature and the fragrant eucalyptus trees lining its perimeter, you might forget you were in Southern California.
At the two Pelican Hill courses, by contrast, there's never any doubt where you are: overlooking the Pacific Ocean. These are extraordinarily beautiful courses, in premium condition and with all the bells and whistles you would expect from a top-dollar course ($245 for resort guests, not including caddie tip). Both were designed by Fazio in the 1990s, and both got thorough makeovers in the late 2000s when the Resort at Pelican Hill was built.
The South is the more dramatic of the two and gets you closest to the ocean. Its 11th hole dips under the Pacific Coast Highway and runs right along the coast, followed by a memorable pair of back-to-back short par 3s at Nos. 12 and 13. I had plenty of time to soak it all in. The day I played, a midweek morning in the early summer, the pace was glacial. Our group's caddie said Pelican Hill usually aims for 4¾-to-five-hour rounds. We finished in 5½. Plan your day accordingly!
The North course is farther from the surf, but it doesn't lack drama or sensational views. Nos. 17 and 18--down and then back up a steep slope to finish in the shadow of the resort's massive "coliseum" pool--were among my favorites. Our readers give the North ½ to the South's . If you forced me to choose, I'd say I preferred the South and its closer proximity to the water, though only narrowly.
My lodging on this trip was split between the Island Hotel in Newport Beach and the Resort at Pelican Hill. The former was once a Four Seasons and is now managed by the Irvine Co., developer of basically everything in the surrounding area. It has the cool, detached air of a top business hotel, with rooms starting at $279. "Meet me at the Island Hotel. It's a little safer," was among the things a former No. 1-ranked golfer allegedly texted one of his mistresses a few years back. They stayed in Room 905, if you must know.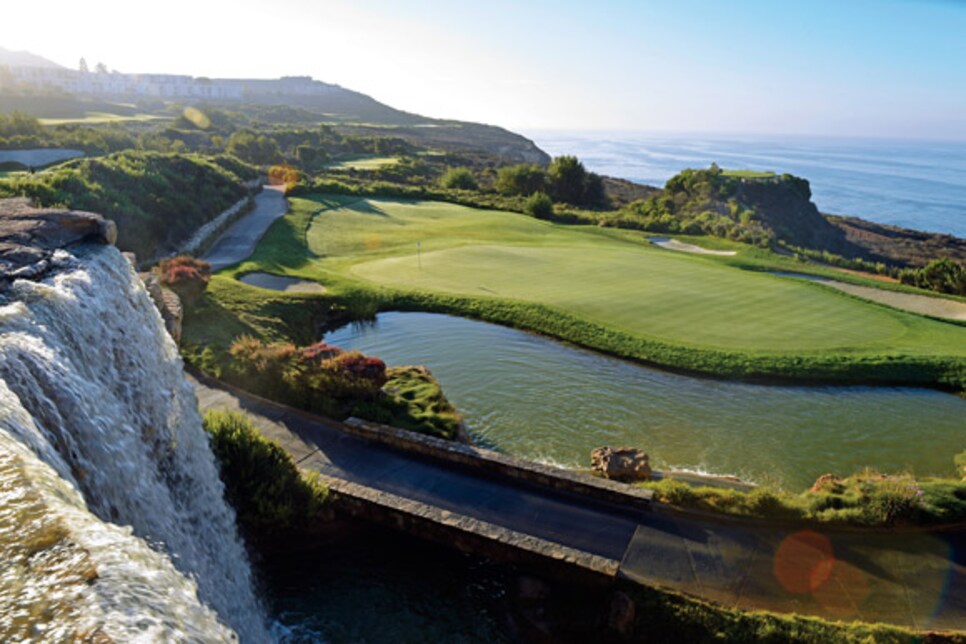 Pelican Hill is clearly designed for the vacationer--and in particular, the vacationer looking for luxury. Voted the No. 1 resort in the mainland United States last year by Condé Nast Traveler readers, it has 204 bungalows and 128 two-to-four-bedroom villas with butlers and personal chefs on request. The smallest bungalows go for $395 a night and the villas $695.
The morning after playing Pelican Hill's courses, I budgeted two hours to get up to Trump's place, assuming the worst of California traffic. Happily it took only an hour, which gave me plenty of time to warm up. Not that it did much good. I'd seen pictures of Trump National L.A. and was dazzled by the way it hugs the coast, but I had no idea it was so hard. This course will wear you out.
That's not to say it was a "bad" round. The course was in A+ condition, I was paired with a couple of pleasant guys, and the staff could not have been friendlier or more welcoming. The setting is superb (though you might wonder, as I did, about The Donald's decision to build not one but two big waterfalls, at the first and 17th greens). Just bear in mind that 15 of its holes run parallel to other holes, most of them separated by gnarled, impenetrable tangles of brush. If you aren't hitting it dead straight, you're going to post a big number to go with your big green fee.
I spent the rest of the afternoon by the ocean, driving up the Pacific Coast Highway and stopping for dinner in Manhattan Beach. Here, at one of the many restaurants with open-air tables, is a great place to sit and take in the Southern California parade of tourists and well-toned beach bods. For some reason I had a craving for Hot Pockets, but they weren't on the menu. –Peter Finch
Foodies have no need to go off-campus at either hotel I visited. The Island's Palm Terrace specializes in locally grown "California Coastal" cuisine, plus an over-the-top dessert menu. You can pick from three first-rate restaurants at Pelican Hill (below).
In the market for golf gear? Swing by Roger Dunn's in Santa Ana, a 63,000-square-foot "supermarket" in every sense of the word. Maybe another retailer has a larger selection, but I've never seen it. This place carries more left-handed clubs than most shops have in total inventory.
If you bring young kids on your trip, they'll probably want to visit that famous theme park with the mouse, the castle and the roller-coaster rides. Disneyland is easily reached. It's just 30 minutes up the road from Newport Beach, in Anaheim.