Courses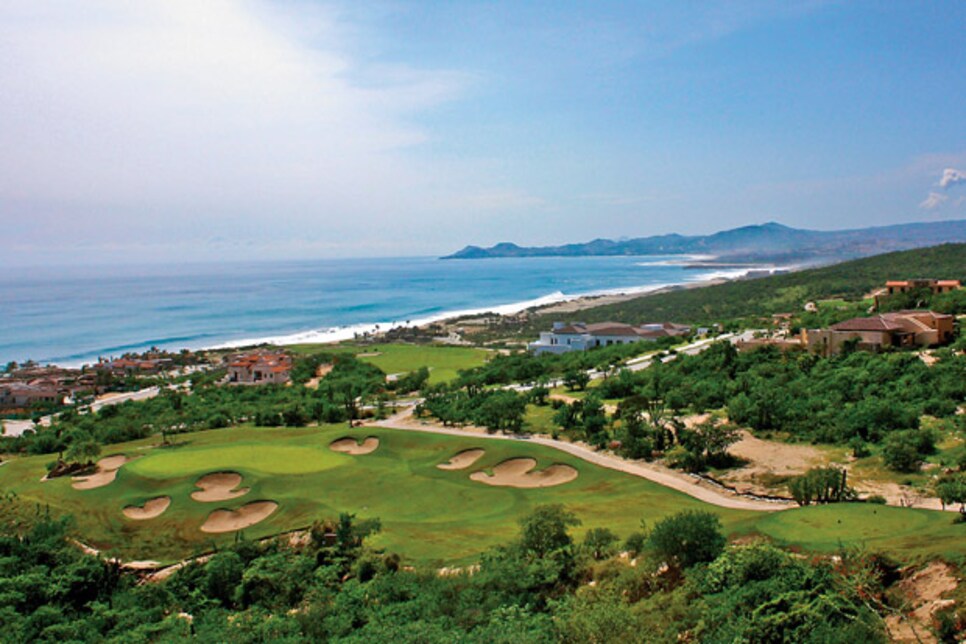 At Puerto Los Cabos, the beach views are grand.
I was already slightly nervous about visiting Mexico when, within minutes of booking airline tickets, I got an email from Golf Digest's parent company with the message: "This trip has been assigned a High/Extreme Risk Rating." Unless I clicked a link affirming that I understood the dangers, my tickets would not be purchased.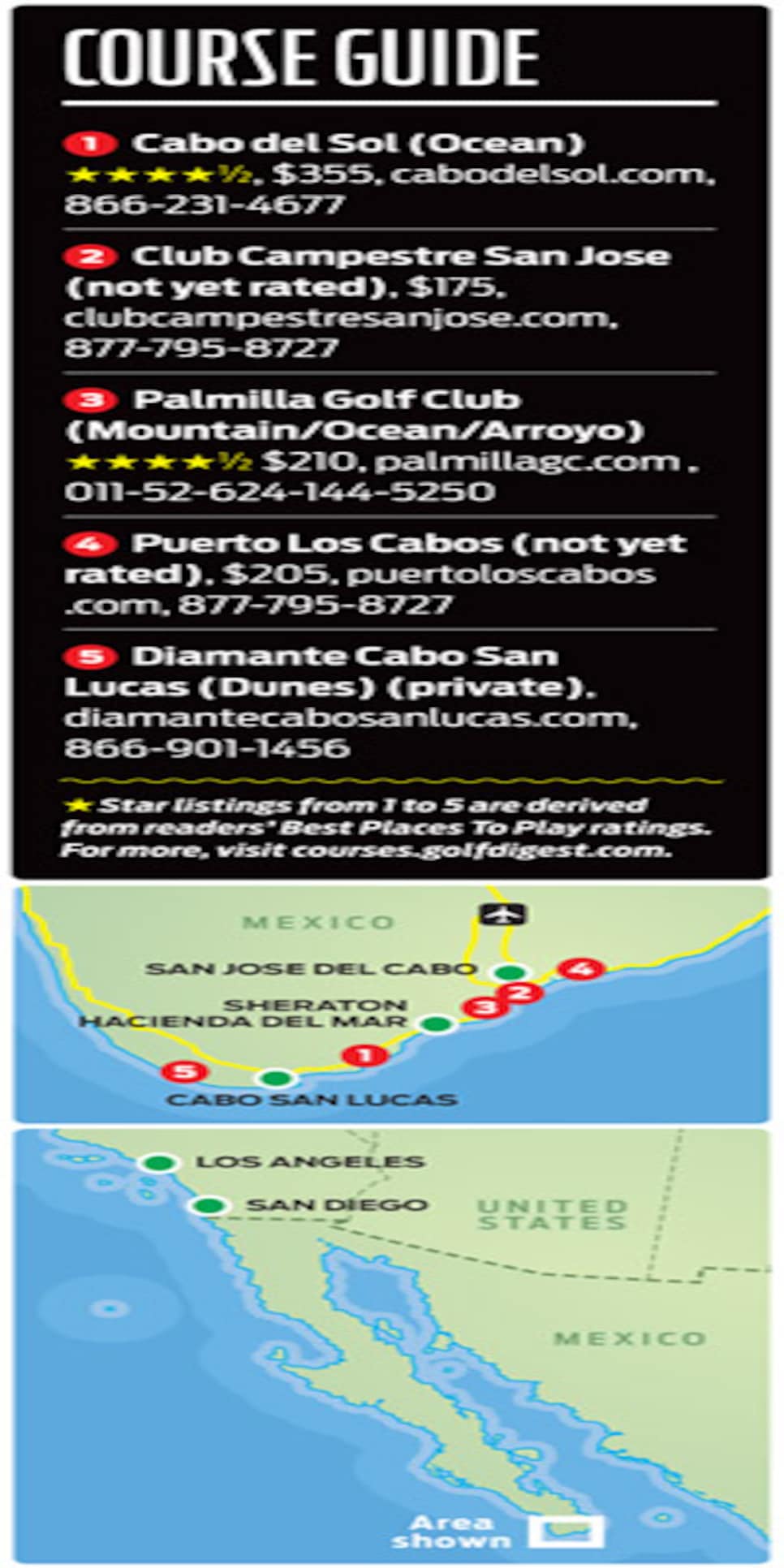 I understand. Mexico has been the scene of some nasty violence lately. In a few cases, tourists have been targeted. But can it really be that bad if, as tourism authorities will tell you, more than 20 million foreign tourists visit Mexico annually?
If the week I spent in Los Cabos earlier this year was any indication, I'll take High/Extreme Risk anytime. I stayed at the Sheraton along the main highway between San Jose del Cabo and Cabo San Lucas, playing five rounds and happily motoring my rental car among various tourist destinations. Even when my limited Spanish skills comically got me directions to an out-of-the-way "library" for locals instead of the tourist-district "bookstore," never did I feel in danger. Another thing I found surprising about Los Cabos: the prices. Green fees are still higher than you're likely to pay at home, but in the past couple of years the economy has forced most area courses to become pretty reasonable by resort standards. The best deal is offered by Questro Golf, which sells a three-round "pass" to its Cabo Real, Puerto Los Cabos and Club Campestre San Jose courses for $399 in peak season (Dec. 26-May 31). A separate offer for foursomes teeing off after 11 a.m. runs $111 to $135 a person for 18 holes, depending on the course.
The area's newest public course, Puerto Los Cabos, is on the east side of San Jose del Cabo, about a 40-minute drive from my hotel. The master plan calls for 36 holes, but at the moment it's a front nine designed by Greg Norman and a back nine by Jack Nicklaus. Spectacular ocean views abound, led by holes 5, 6 and 7. From this high point you can see all the way to the Palmilla Resort, about nine miles down the coast. Note: Food and drink (including liquor) at a pair of on-course palapas are included as part of the green fee. Drive carefully! The knock on Puerto Los Cabos is that its greens are a bit severe, but I found the putting at its companion course, Club Campestre, even nuttier in spots. Don't get me wrong. Campestre, lying in the shadow of a convention center built to host the recent G20 summit, is a lot of fun. Shorter and a few strokes easier than Puerto Los Cabos tee to green, the Nicklaus Design course gets its revenge on the putting surfaces. Greens 3, 4 and 5 are the most extreme, so at least you get them out of the way early in your round.
Just down the highway from Club Campestre you'll find Palmilla
, with 27 holes designed by Nicklaus in the early 1990s. Though the rack rate is $210 a person, many of the area hotels have deals with the club that can get you out for $180 or less.
The Ocean nine is Palmilla's most calendar-worthy, with six holes near the water, yet Mountain and Arroyo are more popular with repeat visitors. One of their charms is they take you up and away from the resort, so you feel you've broken off from civilization. (Some nervous travelers might view this as a negative.) My favorite hole was the 399-yard fifth on the Mountain nine, with its "island fairway" surrounded by deep arroyos and its recessed, bowl-shape green.
. It remains as good as ever, helped in part by a Nicklaus-led makeover of the Sea of Cortez-hugging fifth, sixth, seventh and eighth holes. The all-new No. 7, the second of back-to-back par 3s, is a fun little hole that requires a 120-yard shot across a portion of the beach. Land in the sand, as director of golf Gregory Tallman did, and you'll have a fun second. "Just jab it out of there," he explained after finding the green with his recovery. "Don't even try to follow through."
Unlike many of the other resorts in the area, Cabo del Sol largely resists discounting, continuing to ask a bull-market $355 for its Ocean Course and $230 for its Tom Weiskopf-designed Desert Course on peak-season mornings. Tallman points out that there are price breaks for twilight and off-peak rounds. The "premium rate" charged at the Ocean Course attracts fewer golfers in the current economy, he says, but those willing to pay it get "a world-class course in more leisurely environs."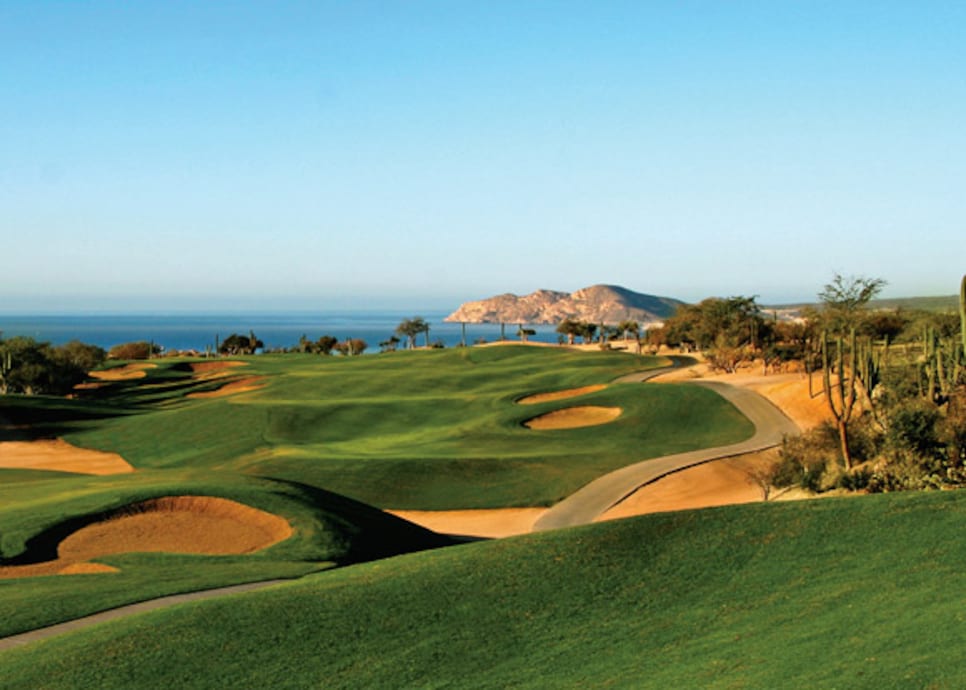 Photo: Courtesy Of Club Campestre__
Diamante Cabo San Lucas has the same high-end demographic in its sights. The difference is, there's no resort. Five miles from downtown Cabo San Lucas, Diamante is a high-end private club, though it's not too difficult to get on if you show an interest in buying a membership ($150,000) or property (starting at $300,000).
It's worth the effort. Diamante's Dunes Course, Mexico's new No. 1 in our Planet Golf rankings, is among the more ruggedly beautiful layouts you'll ever see. Framed by towering sand dunes, nearly half of its holes run along the Pacific Ocean--and the rest aren't far off it. On a truly blustery day, it would be unplayable. There was only a gentle breeze off the ocean when I visited. That, combined with a very high level of service (including caddies and "comfort stations" with food and cocktails on both nines), made for an afternoon to remember.
Developer Ken Jowdy imagines the Dunes Course as part of a 1,500-acre community that will have three courses with 375 members each. (Rumor has it that the designer's initials for the second course are TW, but Jowdy isn't saying.)
What about the widespread feeling among Americans that Mexico is, well, peligroso? "If you take Mexico as a country, sure, there are dangerous places," Jowdy says. "You can pick neighborhoods in any city in the world and say it's dangerous. But I've spent a lot of time here, and I feel as safe as anywhere in the world."
Before I went, I'm not sure I would have believed him. I do now. It'll take more than a High/Extreme Risk Rating to keep me from going back.
"Los Cabos" describes a tourist-rich area with San Jose del Cabo (below, left) on one end and Cabo San Lucas on the other. San Jose is typically the quieter, more relaxed of the two cities. Cabo is younger and more raucous.
If I were visiting Los Cabos with a few buddies who weren't that into golf but wanted to play a round or two, I'd lean toward Club Campestre. The course is among the least expensive in town, it's easy to reach, and it had the most relaxed vibe of the courses I played.
My best meal all week was at a tiny eatery on San Jose's main drag called TEO. It advertises burgers and salads, but owner/chef Alfredo can do a lot more than that. I had a fresh tuna sashimi salad and delicious grilled parrot fish. Along with vegetables, drink and tip, it came to $20.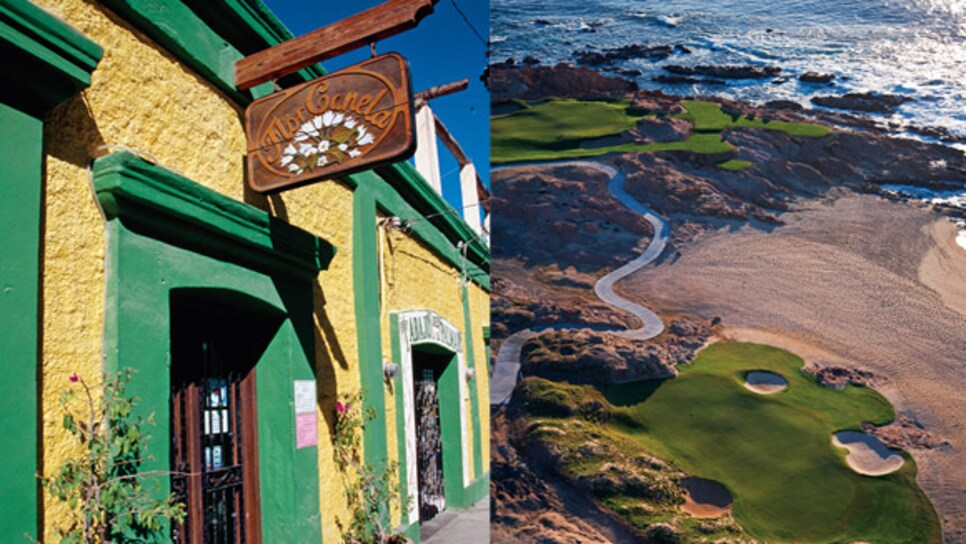 Photos (left to right): David Peeves; Larry Lambrecht