Courses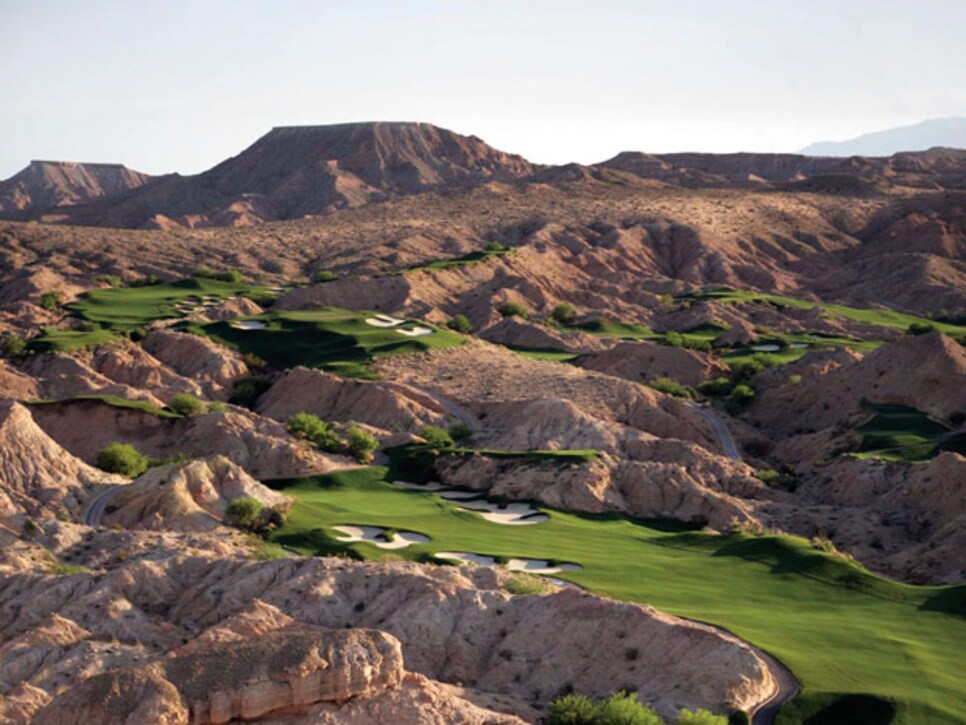 An elevated tee tempts you to cut the corner at Wolf Creek's 429-yard second.
Buddies take trips to Las Vegas for the same reason surfers go to the ocean--to chase a wild ride. But if you want your trip to be mostly about golf as opposed to washing up in the debaucherous whitewater of Sin City, head to Mesquite. Which isn't to say this dusty town doesn't offer big steaks, high stakes and the potential for scandalous nightlife. But to put it in surfer terms, none of that breaks like it does on The Strip.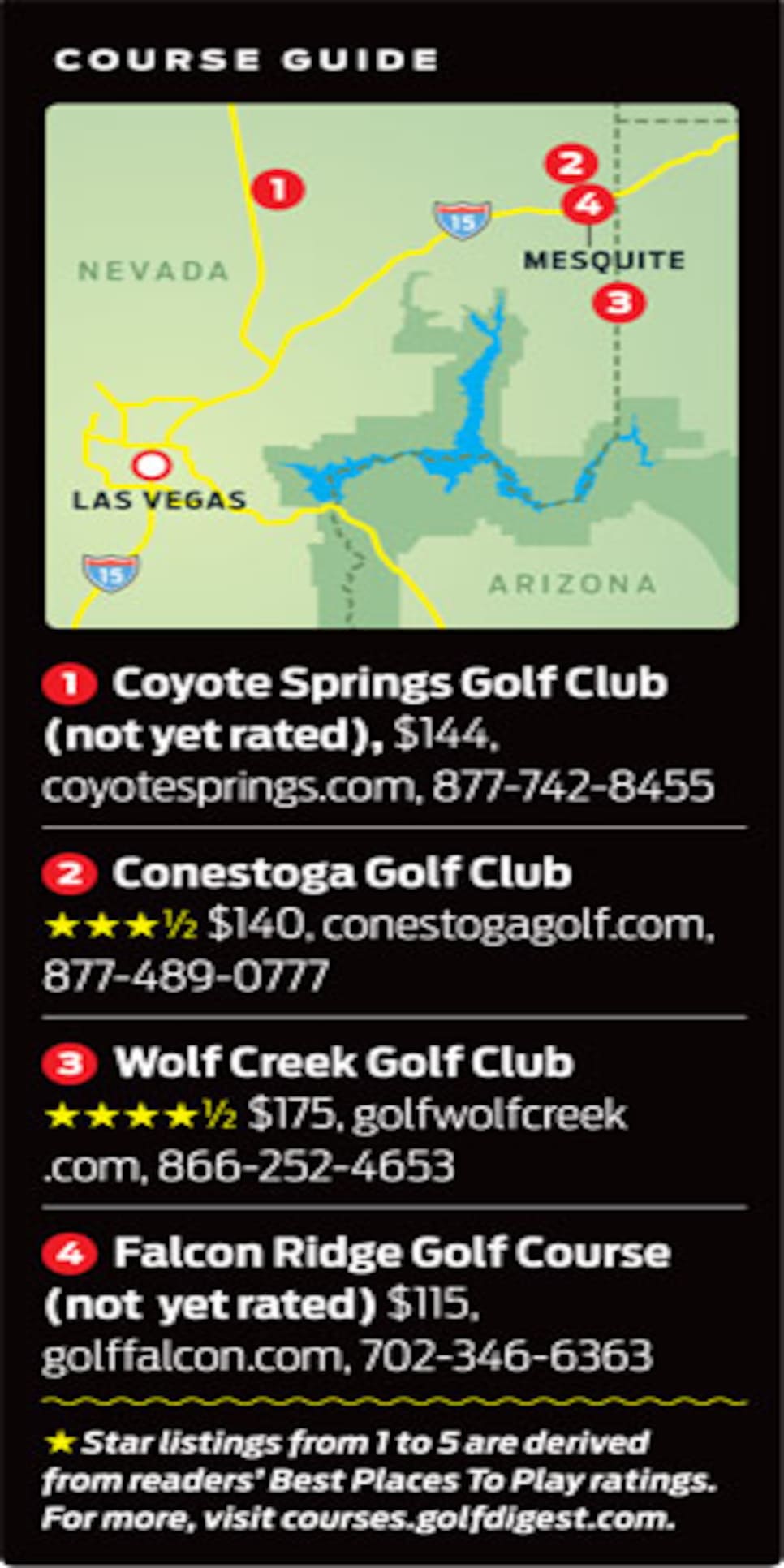 However, the golf in Mesquite can be more affordable and is just as good as many of the accessible courses in Vegas. And in terms of getting from where you're staying to where you're playing, Mesquite is cheaper and more convenient. One local told me: "A traffic jam here is three golf carts at one tee box."
Mesquite, population 15,000, is a 70-minute straight shot northeast of Vegas on Interstate 15. (Beware of speed traps.) I checked into the recently renovated Eureka Casino Resort, which is as nice as it needs to be. There are clean rooms, comfortable beds, coffee machines and a new massage service in the "relaxation suites." (Weekend room rates in peak season--basically October through May--are $69 to $99 a night.) Like most visitors to Mesquite, as soon as I dropped my bag and hung a few shirts, I went to play Wolf Creek
This course is often described as a mythical layout in which you play from extremely elevated tees to elevated greens, with death-defying drops in between. I'd use the word unique. To have a course distinguish itself not only from others in town, but what is offered in Las Vegas, the United States and beyond, is hard to do. "Wolf Creek changed everything for Mesquite," says Robert (Bubba) Smith, a former city councilman and avid golfer. "It opened our eyes to what we could become."
The price for Wolf Creek's unique architecture is polarization: Opinions are split about the course's spot in our rankings, even within the halls of Golf Digest. It's No. 28 on America's 100 Greatest Public
), so clearly our course raters approve.
Even this fan of minimalist golf design had fun cutting the wacky and cavernous corners of Nos. 2, 4, 5, 13 and 16. You'll lose a lot of balls and drain your phone battery taking pictures. Plus you'll either never want to return, or want to go right back out. The latter reaction is why Wolf Creek, in part, is considered a success. It leaves enough avid golfers wanting more Mesquite that this desert destination is now a legitimate golf getaway.
"Without golf, we would dry up," says Smith, who gets credit for making sure Mesquite courses stay affordable. In 2010, he got the water district to agree to distribute a combination of river water runoff, irrigation and potable water to the seven existing courses in Mesquite for a reasonable price. The leaders of Mesquite know that golfers will continue to make the trip if it's convenient, friendly, unique and picturesque, but not too expensive (which remains a relative term).
There are six other courses within a short drive of Wolf Creek. The Palms, built in 1989, was the original. Combined with CasaBlanca and the two courses at Oasis, those four make up the less dramatic, just-off-the-freeway, cheaper and easier golf in town. I played Wolf Creek, Conestoga
Conestoga is Wolf Creek with a little less wolf. It's flatter and smaller but still offers some spectacular desert-golf scenery. You'll leave with a lot of sand in your shoes if you start hitting it off line; the par 3s can be especially adventurous. Managed by Troon Golf, the course was in great shape. The service and food, especially my pre-round burger at the spacious clubhouse, were excellent. Like Wolf Creek, Conestoga is a must for any Mesquite buddies trip with above-average golfers.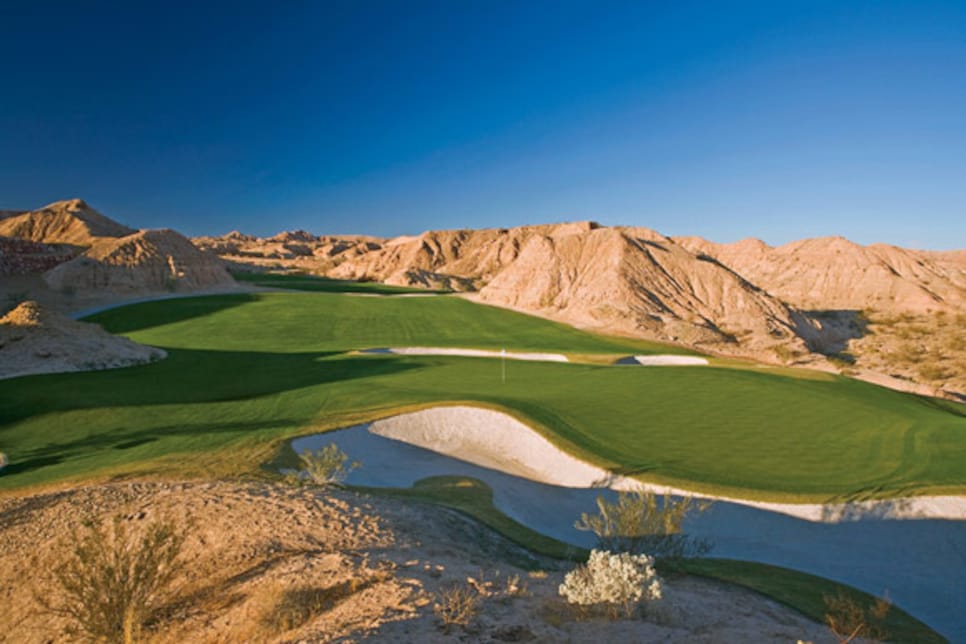 The 515-yard sixth at Conestoga.
Falcon Ridge's layout--a little easier than Conestoga and set within some clusters of houses--also has architectural twists on desert golf, such as the boomerang design to the 394-yard 13th and the double fairway on the 404-yard finishing hole. With the lowest Slope Rating of Mesquite's Big Three (135 from the 6,196-yard tees), it's the course that works for all skill levels.
Unlike the false reality of Vegas, the sun eventually goes down on Mesquite, and when it did, I ate most of my meat at Wolf Creek, which is open for dinner on Friday and Saturday (try the ribs), and Gregory's, the main steakhouse in town, off the casino at the Eureka.
Any buddies-trip alpha-planner knows the benefits of parking the car(s) after golf and before evening activities. The Eureka offers one-stop shopping on all of your various needs for lodging, food and fun, and the casino has the only poker game in town. The Eureka is offering several stay-and-play packages this fall. You can spend three nights and play four rounds (including Wolf Creek) for $615 per golfer, based on double occupancy. (You can get an extra night for $35 a golfer.)
I made a deal with myself when I became Golf Digest's Travel Editor: no fish when I'm too far from a large body of water. But I did venture off the property for fresh sushi and the hibachi-style delivery at Samurai 21, which is about 10 minutes from the Eureka. Then I went up the street and beat some colorful locals at Stateline's shuffleboard table ($20 a game). I backpedaled to my car in fear of being forced into the ear-splitting karaoke.
Mesquite is not trying to compete with Las Vegas. It knows its weight class in this wrestling match for the avid golfer's dollar. There's an assortment of golf options, and courses with different owners are working together to make Mesquite attractive to a variety of visitors who play golf (see golfmesquitenow.com). The Mesquite service might come in the form of a dusty red carpet, but it also comes with a lot of smiles. Not only is everyone happy to see you, they're committed to making sure you come back.
Sound familiar? Not far from The Strip, Mesquite is a small version of The Grand Strand. It's mini-Myrtle, sans the beach.
) is Oct. 16-25. The annual tournament of titanic tee shots is at the Mesquite Sports and Event Complex. Last year Carl Wolter hit a 459-yard drive in the semifinals en route to the title.
on my way back to Vegas. This Jack Nicklaus original, off the beaten freeway, was the beginning of a major development until the economy collapsed. Now it's good golf somewhere between Vegas and Mesquite.
If you like the scenery at Wolf Creek and you want to take a break from golf for a few hours, rent an off-road vehicle at Mesquite Extreme PowerSports (mxpatv.com
). You'll be blown away by the views from the "Flat Top Mesa Loop" and have a blast behind the wheel. It's $35 a person for two hours or $50 for four hours.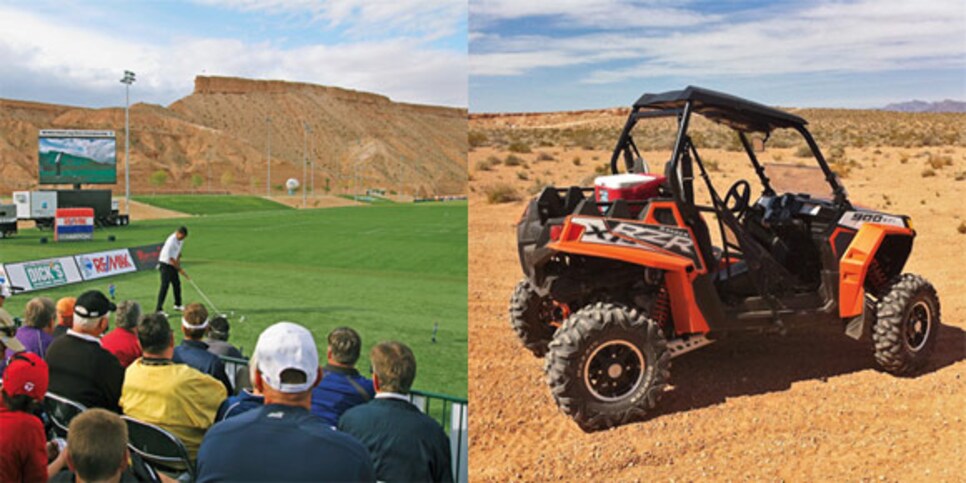 Photos: Courtesy of ReMAX WLDC; Matt Ginella.