Courses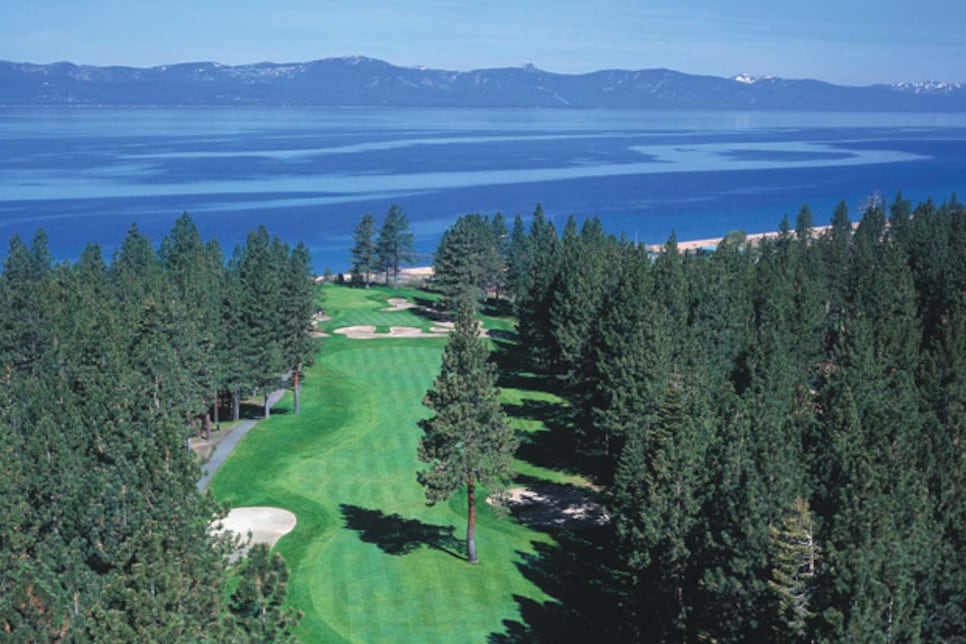 Edgewood's 547-yard 16th.
The 547-yard 16th is my favorite hole at Edgewood Tahoe Golf Course. Like a boat ride in shallow water, you're forced to go slow to avoid unforgiving obstacles. The green is one of the few in the area that's adjacent to Lake Tahoe, which is surrounded by the Sierra Nevada mountains. I wish I could bottle the oxygen and save it for a day when I'm pinned down by Manhattan traffic.
Clean air, casinos and Edgewood, No. 65 among America's 100 Greatest Public Courses, have attracted golfers to South Lake Tahoe on the California-Nevada border for decades. Built in 1968 by George Fazio, Edgewood has been updated a few times by his nephew Tom. The younger Fazio's tweaks have improved the sightlines from the tees and the bunkering, but there are still some turf issues. I like the last five holes, the views, the history and the fun factor, but a more reasonable price is the weekday resort rate of $140 through June 2, not the peak-season rate of $240.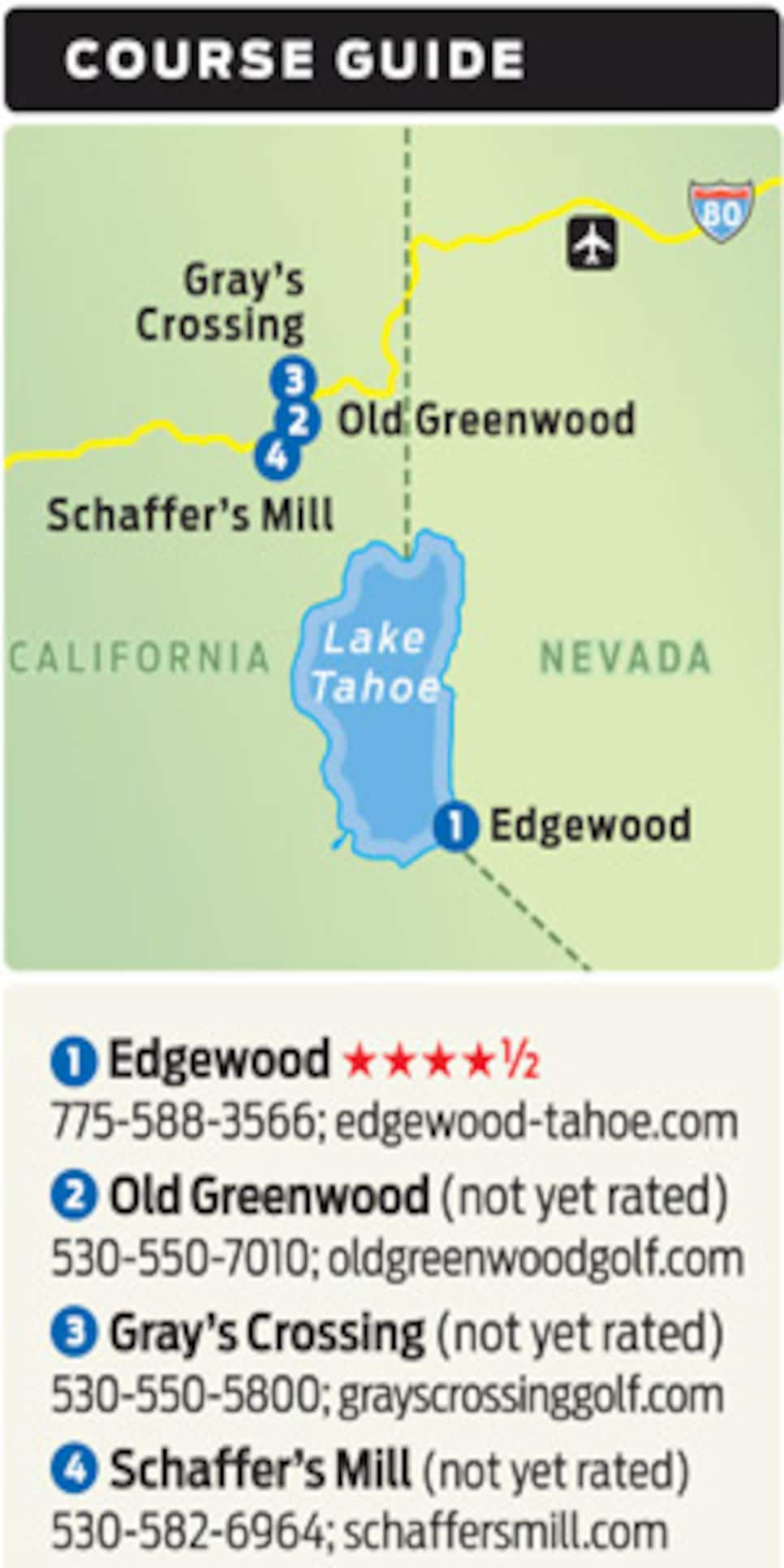 I started my trip last summer at Edgewood, and after my round I continued 30 miles to Truckee, Calif., which reminds me of the golf landscape in central Oregon: The avid public player is benefiting from an oversupply of private clubs, many of which have had to alter their business models and provide tee times to nonmembers.
"Tahoe exploded," says Annika Sorenstam, referring to the abundance of golf options in the area. Sorenstam has watched the destination grow since she bought her Incline Village house in 1995. "Of all the places I've traveled throughout my career, we still go back to Tahoe for one month in the winter and one month in the summer." Before Sorenstam was a world-beater in golf, she was a competitive skier in Sweden, so Tahoe is a perfect fit for her and her growing family.
, a Jack Nicklaus Signature course. I stayed in the Old Greenwood community, which is ideal for couples, buddies or a small family. Guests can rent two- to four-bedroom condos and cabins from $289 to $550 a night (tahoemountainlodging.com)
. Within the community there are a variety of outdoor activities, including tennis, sand volleyball, bike paths and hiking trails, two pools and several dining options. Everything is near the golf.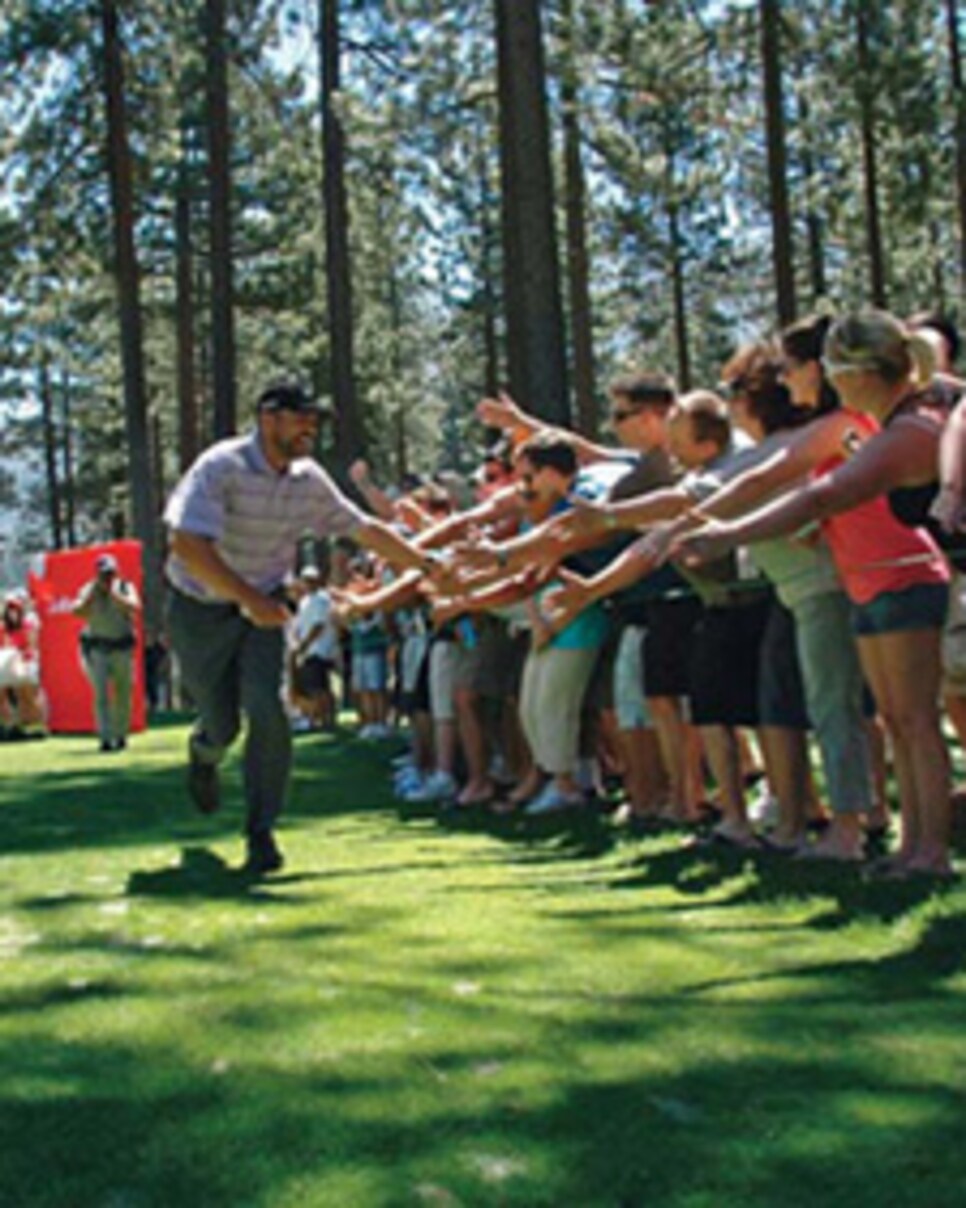 My back deck overlooked the 578-yard sixth and 187-yard seventh holes at Old Greenwood, No. 77 among America's 100 Greatest Public. Both are good holes on a course that gives even first-timers a fair chance of scoring better than their handicaps. Some say it's an unusually friendly version of a Nicklaus Signature design. That might be, but only if you can avoid the especially deep bunkers. The best backdrop for the classic golf-trip group photo is anywhere along the 16th and 17th holes, which overlook a tree-choked Martis Valley. Old Greenwood staggers green fees throughout the day, from $185 for prime-time slots to $75 for twilight rounds.
As much as I enjoyed Old Greenwood, Schaffer's Mill was my favorite all-around golf experience on this trip. It lacks a clubhouse -- its new owners promise a permanent club and golf shop in 2012 -- but otherwise it has that private-facility polish, with well-manicured grass from tee to green. The bright-white sand bunkers and the lush, tree-lined fairways can give a golfer with blurry vision the impression he's playing Augusta National. I can't say I'm sorry that the members have to share their club with guys like you and me. For the third-straight season, Schaffer's Mill, which opened in 2008, is accepting "promotional play." The green fee is $150, $95 after 3 p.m.
It's not that I didn't like the golf course at Gray's Crossing, but I'd be more inclined to go back for the setting, amenities, service and the breakfast burrito on the back deck, which has a nice view of Mount Rose. Gray's ($185, $100 after 2 p.m.) is a sister course of Old Greenwood. I feel the same way about the course as I do about the designer, Peter Jacobsen: I like him, but sometimes he can be too silly for my taste. My biggest nitpicks: the 589-yard double-dogleg finishing hole, and the few places where the course is exposed to the sights and sounds of the highway. I rarely get the opportunity to document a drive that goes over the green of a par 4, which is what happened at the 274-yard downhill, sixth hole -- with a 3-wood, no less. Credit the breeze at my back, the hard and fast turf conditions, and the altitude, which can give you an additional 15 yards of carry.
I finished my trip back at Edgewood for the 21st Annual American Century Championship, the Masters of celebrity golf tournaments. I was there to caddie for Mike Shanahan in 1995, just after he became head coach of the Denver Broncos. It was one of the greatest weeks of my hyper-spoiled life as a sports fan. I tended the flag for Michael Jordan as he swished a 40-foot birdie putt from the front edge of the 15th green. I also recall an animated conversation with Digger Phelps over a ruling. The ex-Notre Dame basketball coach wanted a favorable drop on the wrong side of a yellow-staked hazard, and I, the righteous college kid, wouldn't back down. Ernie Banks broke up our horn raking with an arm around my shoulder and inquiries about my love life: "Hey man, how's your girlfriend?"
Last summer on Edgewood's range, I shared laughs with Shanahan as I refreshed his memory of Phelps' tantrum. The invitational is fan-friendly for the face-painting autograph seeker who likes wearing a jersey to the course and stepping on the Softspikes of celebrities. It's an especially good event for kids, and more to the point, it's an excuse for a trip to Tahoe. Local favorite Charles Barkley kisses babies by day and closes down the karaoke scene at night. The mythical Michael Jordan is the largest draw with the longest swing. His Airness smokes a big cigar, but it's no match for Tahoe's pine-fresh air.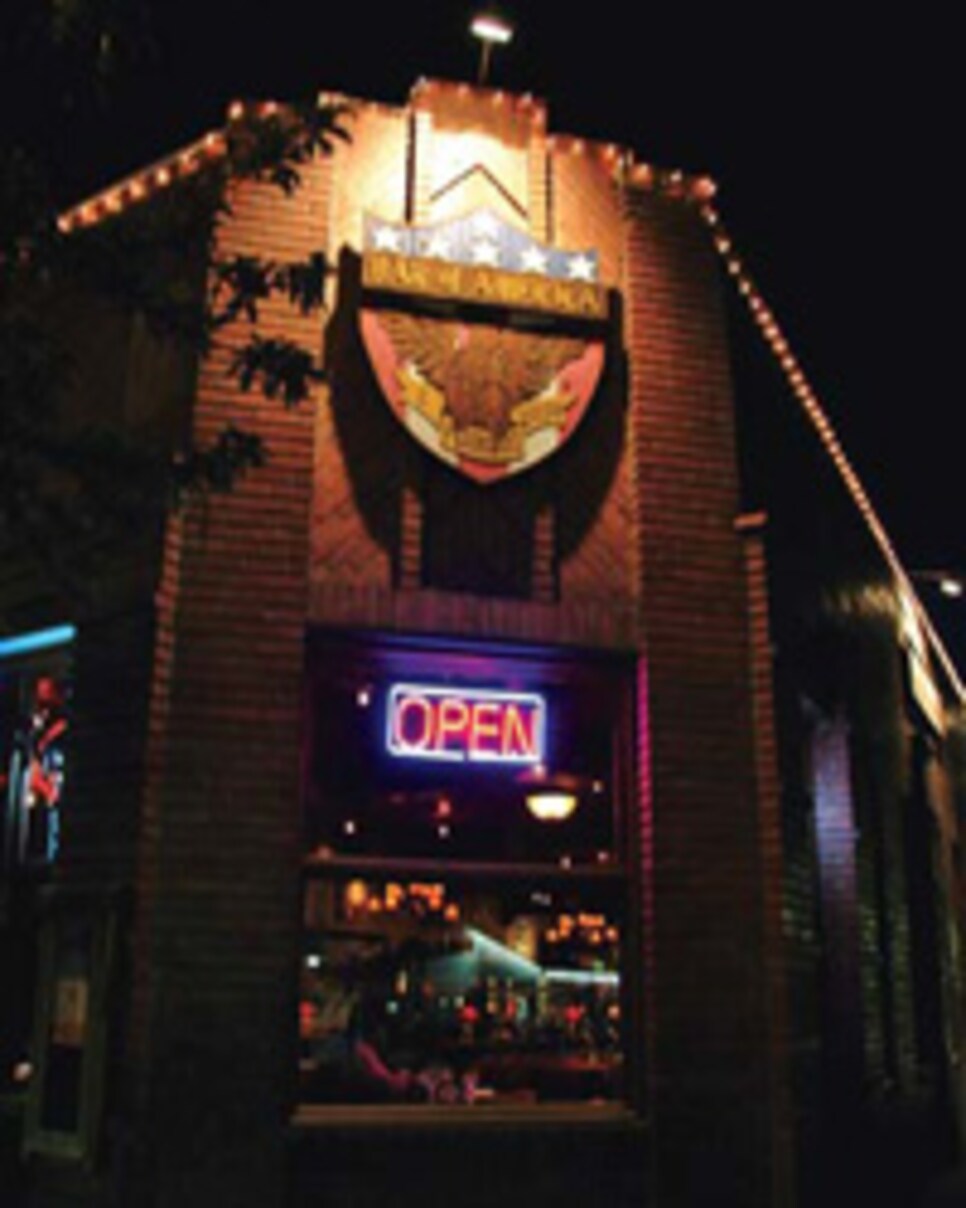 Stargazing: The 22nd annual American Century Championship is July 12-17. It will include an all-star game's worth of NFL quarterbacks: Aaron Rodgers, Matt Ryan, Drew Brees and Tony Romo. Go to tahoecelebritygolf.com
Game Improvement: From July 12-14, Annika Sorenstam offers a three-day full-swing and fitness clinicat the Annika Academy at Old Greenwood. "I bring my entire academy staff from Orlando," Sorenstam says."We have a lot of fun." Go to theannikaacademy.com
Bar Service: In 1921, my great-grandfather opened Tony's California Kitchen in downtown Truckee. After it burned down twice, he rebuilt it using bricks. He eventually sold the building to Bank of America, and it's now the Bar of America* (right, Matt Ginella),* an ideal spot for a casual post-round meal. Save room for the chocolate croissant bread pudding.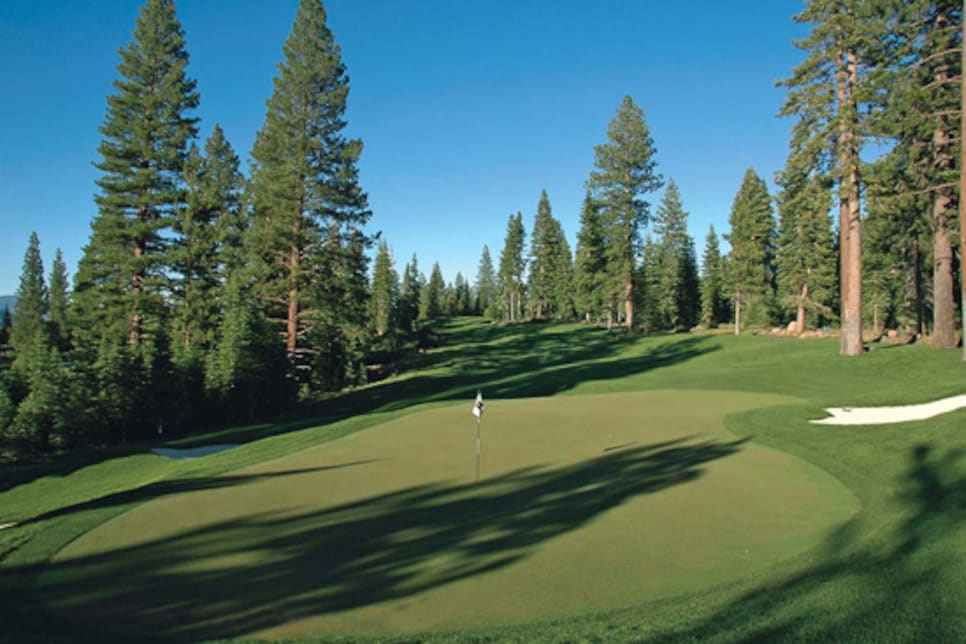 The 203-yard 13th at Schaffer's Mill, formerly known as Timilick. (Photo by Matt Ginella)