Courses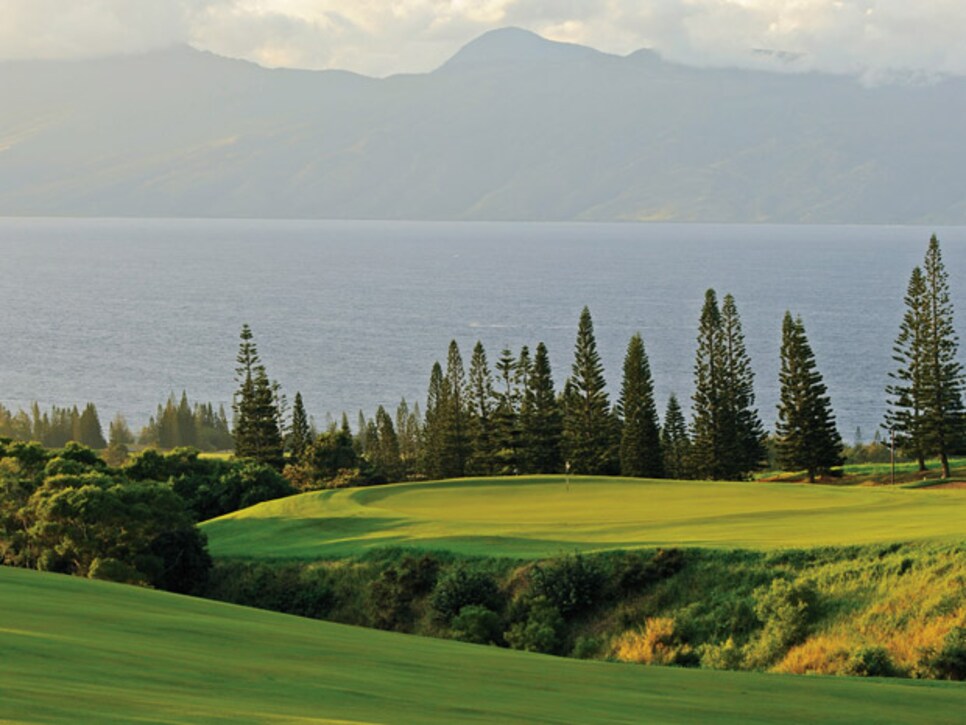 The Plantation's 508-yard 17th is one of the most spectacular par 4s in the world.
A few years ago, Annika Sorenstam and her soon-to-be husband, Mike McGee, joined Clifford Nae'ole for dinner at the Ritz-Carlton, Kapalua, on the northwest coast of Maui. They were seated in one of Kai Sushi's small side rooms, which, like most restaurants in Hawaii, is covered but open to the fresh ocean air and sweet floral smells of the Aloha State. Nae'ole is the resort's cultural guide who ensures authenticity and respect for Hawaiian traditions and ancestors.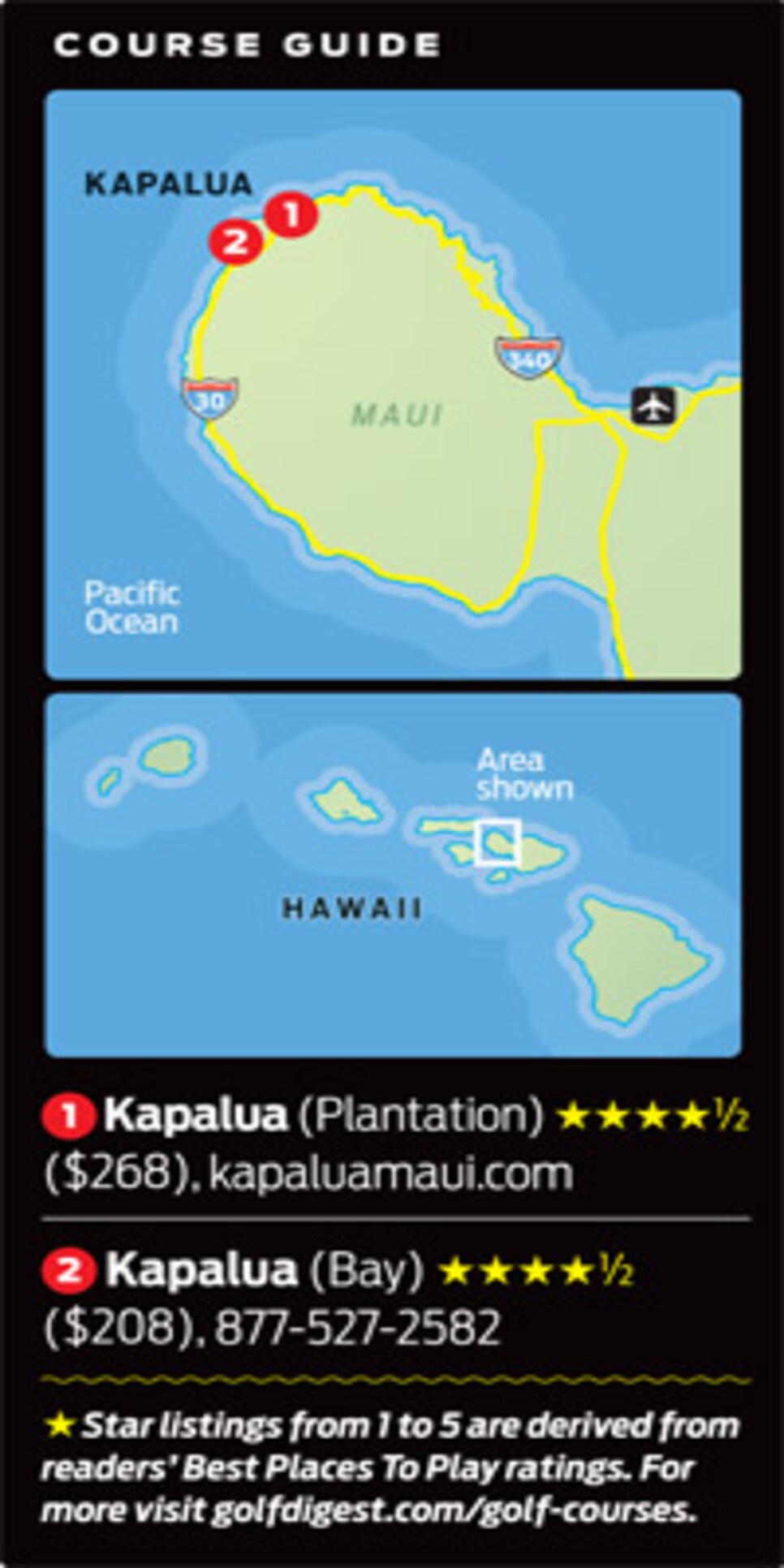 Nae'ole captivated Sorenstam and McGee with stories about the history of the islands, the spiritual land they were on and why he believes it's blessed. (Original plans in 1989 called for the resort to be built on the coast, but after an ancient Hawaiian burial ground was discovered during excavation, the resort was moved farther from the water.) As Nae'ole finished his stories, a gust of wind whipped through the restaurant, banging shutters and shaking the plates on their table. McGee held Annika's hand and looked at Nae'ole: "We believe."
So do I. Walking into the inviting lobby of the resort, looking over the pools and out to the ocean, a weary traveler and return visitor gets the sense he's not checking into a typical Hawaiian destination. "There's a harmony that goes on here," Nae'ole says. "It's not just about coming to a place in Hawaii. Coming to Kapalua is about a migration to wellness."
In the past five years, the resort and its two courses have had a migration as rough as anything that takes place on the Serengeti. And now, clear of financial difficulties, changes in management and staff, the sale of the golf courses, the fragile economy and a fickle real-estate market, there's the feeling that wellness has been restored.
The story has been told before. Big golf resort leverages name and reputation into a loan for property renovation and real-estate development. Market crashes, and no one buys the condos, which were projected to sell for a big profit. What's left is enormous debt on a beautiful resort.
Simplified, this is how Bill Jones lost Sea Island. In the case of Kapalua, majority owner Maui Land & Pineapple Company had to sell off the golf courses to reduce its debt.
In 2009, the Plantation course, my favorite in Hawaii, was sold to Tadashi Yanai, an avid golfer and wealthy Japanese businessman, for $50 million. He bought the Bay course in 2010. Ritz-Carlton continues to manage the resort, and Troon manages the courses.
Golf in Hawaii can be a lot of things: spectacular, adventurous, hot, windy, wet and hard. And then you head to the back nine. The Plantation course, the first collaboration of minimalist architects Bill Coore and Ben Crenshaw (in 1991), is mostly fun, regardless of its uncontrollable elements.
Standing on the Plantation's fifth tee, looking across a Jurassic canyon filled with foliage and taking in an awesome perspective of the sixth hole, Gary Planos, one of my playing partners and former senior vice president of Kapalua, said: "It's as if Coore and Crenshaw spilled buckets of fairway out across the natural terrain."
Planos has been a consummate host for golf enthusiasts coming to Kapalua for 27 years. Now "semiretired," Planos echoes my sentiment on the Plantation. "If there's one round to play, this is the one."
If you've watched the Hyundai Tournament of Champions in January (formerly the Mercedes Championships), you know that the Plantation course is hole after hole of elevation changes, jaw-breaking views and gut-testing (but fair) shots to fairways and greens.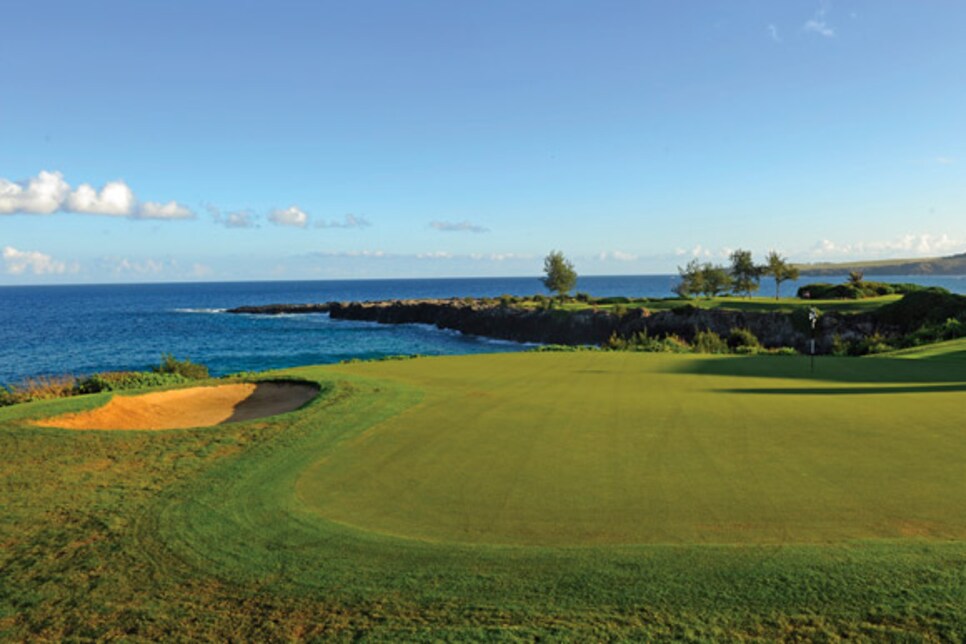 The Bay's 184-yard fifth is among the property's most memorable.
The Bay course, which is flatter, shorter and has a few holes that run along the water, isn't bad, either. Designed by Arnold Palmer and Francis Duane, it hosted the 2008 Kapalua LPGA Classic, Morgan Pressel's only professional victory other than the Kraft Nabisco Championship.
If the Plantation course is for the golf enthusiast who has something more than just a vacation game, then the Bay is more conducive to family golf.
Critics will say the northwest coast of Maui gets more rain than the rest of the island and that nothing about this destination qualifies as inexpensive, but for a couple or family who can afford it, Kapalua should be on a short list of places to visit.
I've never been to a resort that is so determined to expose and teach its customers about the ocean and the environment. And they're practicing what they preach. Among other things, they're growing their own fruits and vegetables and looking for ways to add more solar power.
And with Troon, the golf management company that oversees 78 U.S. properties, the courses are in good hands. Troon understands agronomy, service and relatively reasonable rates. (Resort guests pay $529 for three days of unlimited golf, which includes both courses.)
Overall, the Kapalua consumer is benefiting from the changes. Thanks to Nae'ole, a commitment by management, and a depleted, but dedicated staff, there's an authenticity to every aspect of what you'll do during your stay. The northwest coast of Maui isn't as raw or spectacular as the North Shore of Kauai or the North Shore of Oahu, but it's close.
"People spend a lot of time and a lot of money to come to Hawaii," says Ashley Carroll, a director of one of Kapalua's youth programs. "When they come to Kapalua, we want them to experience true Hawaii."
There are two more courses at the Ka'anapali resort, which is located between the airport and Kapalua, but based on their green fees ($205 for the Kai course and $249 for the Royal), I wouldn't suggest leaving Kapalua. From the golf, spa, tennis courts, private beach, multiple pools and restaurants, there's more than enough to keep adults occupied.
As for kids, they might have a better time than their parents. "We have a no-child-left-inside policy," Carroll says with a smile. With two miles of ziplines, endless hiking trails through the rain forest and programs like Jean-Michel Cousteau's Ambassadors of the Environment, which offers excursions led by expert naturalists, parents might get jealous. "They say, 'My child is having more fun than I am,' " Carroll says.
World-class golf, fine dining, pristine pockets of relaxation, a spiritual pulse to the surroundings, kids having fun on vacation with their parents while learning about the ocean and the environment--or as Nae'ole puts it: harmony.
From Dec. 15 through April 15 you get three hours of up-close observations of humpback whales from Zodiac boats ($99 per person). Humpbacks migrate to the warm and protected waters off the coast of Maui to give birth to calves. The "party" really gets going in late January.
I ate most meals at Banyan Tree, next to the Ritz-Carlton pools. (Take advantage of 50 percent off any bottle on Wine Wednesdays.) Mix in Pineapple Grill, next to the Bay course. Order fish and save room for the Pineapple Upside Down Cake. "It's heaven on a plate," reads the menu, accurately.
With Ben Hongo (No. 4), you have one of the best teachers in the state at Kapalua's golf academy. "I don't overload people," says Hongo, who charges $150 per hour. "I structure lessons based on goals and expectations. The more time you give me, the more I can do."