Courses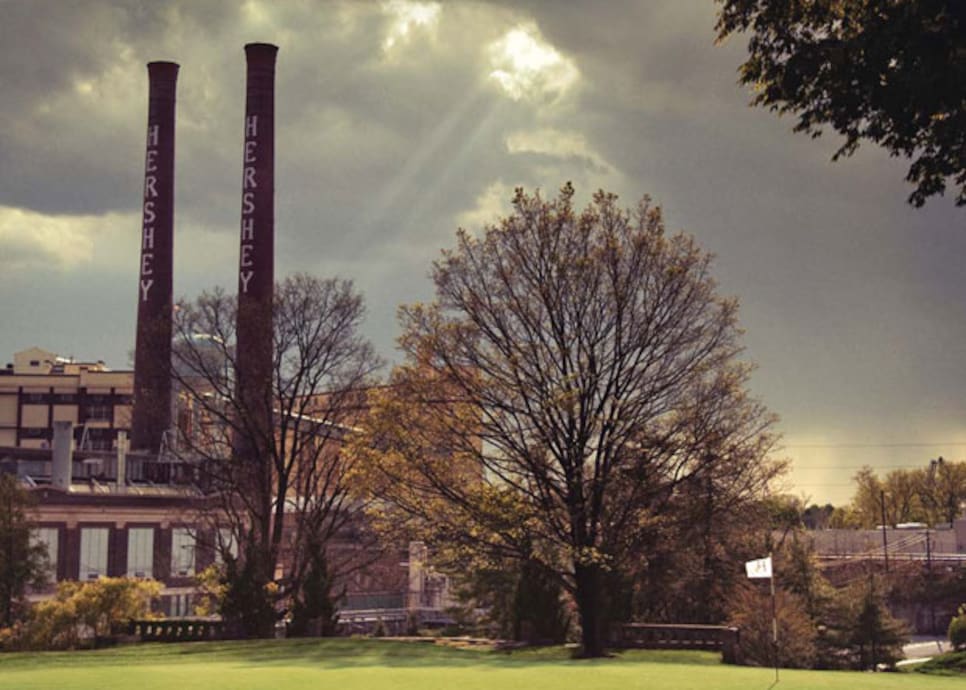 The Hershey factory's twin stacks emit sweet smells near the fifth green of the West course.
You might assume Hershey, Pa., smells like chocolate and sounds like screams from the town's theme park. That while spa-goers indulge in the serenity of cocoa treatments, golfers bump knuckles after dropping birdies in peanut-butter cups. It's all true. Except the part about peanut-butter cups. But as we know, birdies are sweet wherever you are.
Milton Hershey was a diminutive man with a big, philanthropic heart who died in 1945 at age 88, but locals talk about him as if he just left the room. In addition to the Hershey Chocolate Company that he founded 105 years ago, Hershey's legacy includes a school for underprivileged kids, a golf resort that's steeped in history, and the root system to a modern town of 9,000 that gets six million visitors annually.
Hershey, Pa., is 2½ hours by car from New York City. Or take a plane or train to Harrisburg, Pennsylvania's capital, which is 15 miles west of Hershey. As I checked into one of the 10 new cottages ($539 a night) behind the AAA Four-Diamond Hotel Hershey ($409 a night), bellman B.J. Sisson explained, "We're within a 6½-hour drive of nine NFL franchises."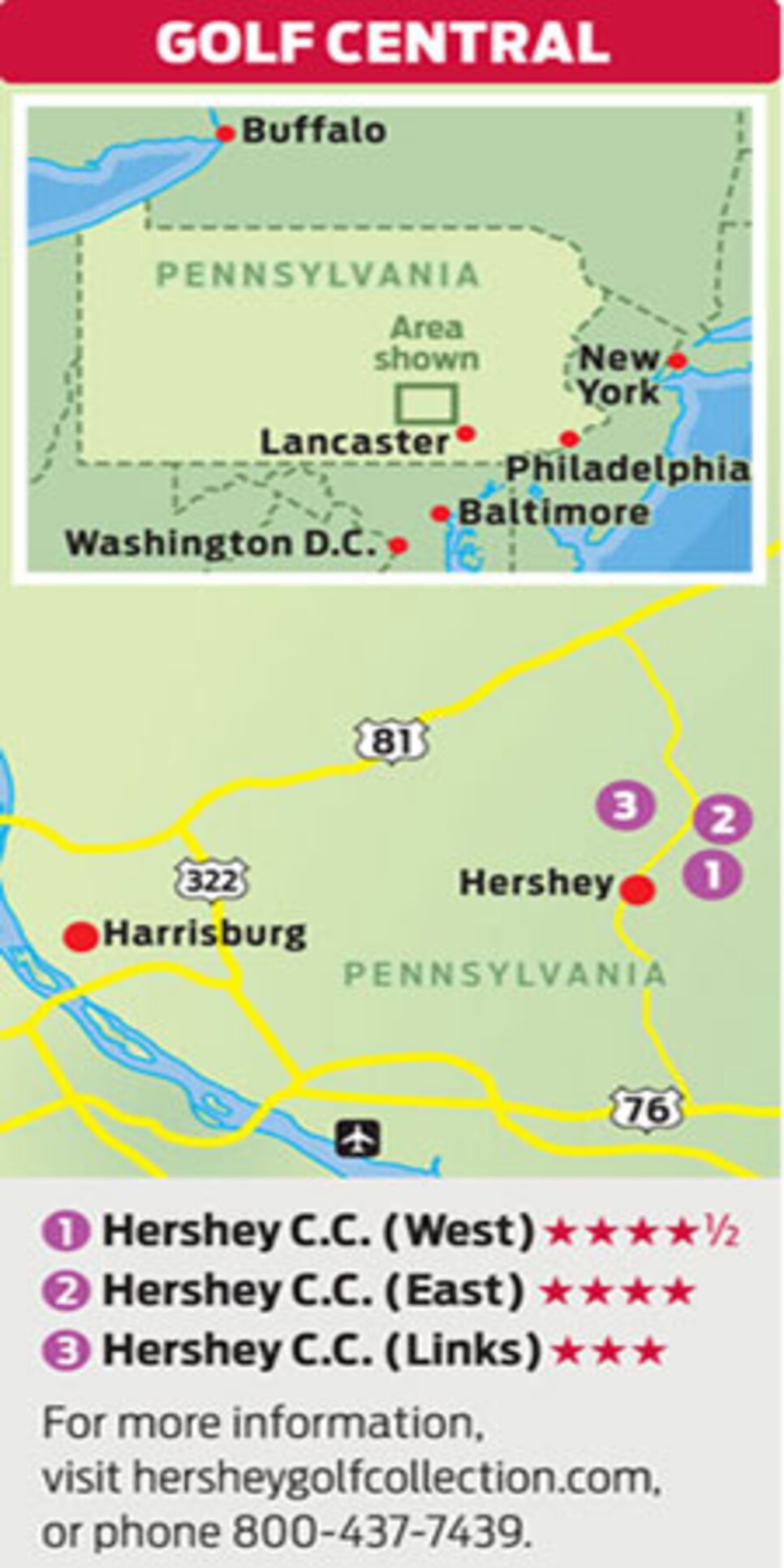 There's no professional football in Hershey, but there are the Bears, a successful NHL affiliate of the Washington Capitals. The Bears play in the arena where Wilt Chamberlain scored 100 points in an NBA game in 1962. There's also a 110-acre theme park with more than 65 rides and 11 roller coasters. Tickets cost $21 to $53, depending on your age. Fahrenheit is a ride that will put you through a 97-degree free fall, and Storm Runner will zip you from zero to 72 miles per hour in two seconds.
Any ride more extreme than the Ladybug can cause me to lose my Reese's Pieces, so I focused on Hotel Hershey's 63 holes of golf.
, favored by members and me, was built in 1930 and designed by Maurice McCarthy, a club pro from New York who moonlighted as a golf-course architect. The West's 6,860-yard, par-73 layout reminds me of Old White at the Greenbrier
in California. The first two holes are long and brutal, but then it becomes a fun combination of testy par 3s, short par 4s and reachable par 5s. The greens are sloped and can be slick -- so stay below the hole.
The West ($145) hosted the 1940 PGA Championship, and a few members who caddied in the late '30s and early '40s as kids are glad to tell stories of golf's Golden Age. Mark Henry, 88, is one of those members. He was Gene Sarazen's caddie in the 1940 PGA. "[Ben] Hogan by far was the best ball-striker," says Henry, who tries to play 100 rounds a year and confirms Hogan struggled on the greens. "[Byron] Nelson used to say he could smoke a cigar in the time it took Hogan to line up a putt."
Nelson beat Sam Snead in the match-play final, 1 up, to win the third of his five major championships. In 1941, Hershey, an avid golf fan who lived on the upper floor of High Point mansion, left of the fifth green, hired Hogan as his pro to replace Henry Picard. Hogan remained the pro at Hershey for a decade, but Mark Henry says Hogan was in town for only about eight weeks a year.
($130) is definitely worth playing. Built in 1969, the George Fazio design hosted a Nationwide Tour event from 1997 to 2004. Play from 6,551 yards and enjoy the views, elevated greens and the ability to get around in less than four hours, because it's rarely crowded.
Only members and guests of the resort may play the East and the West, but the Hershey Links
($120) is open to anyone, and open off the tee. Described by one member as "resort links," the 2005 Mike Hurdzan and Dana Fry design is a nice complement to the more challenging East and West layouts but seems overpriced in comparison.
The resort's other nine is known as Spring Creek, which opened in 1932. Hershey had McCarthy build this short course for kids. The only way adults could play was as a guest of a child. Today anybody can play, and you can buzz around on foot in fewer than 90 minutes and for less than $20. Spring Creek underwent a renovation in 2006, and it's in great shape. Adults play for $14 per nine holes; kids play for $12, ($5 if they're a member of a First Tee program).
I can't say the food in Hershey is as good as the chocolate or the golf. I had decent meals at Devon Seafood Grill and Trevi 5, the new restaurant at Hotel Hershey. By far the best combination of food and service was at the Circular Dining Room, also at the hotel (jacket required).
I suggest an after-dinner drink on the deck by the fire pit, which overlooks the Hershey Gardens and out to the twin "Hershey stacks" at the chocolate plant -- the most visible landmark of this centrally located, candy-coated chunk of Americana.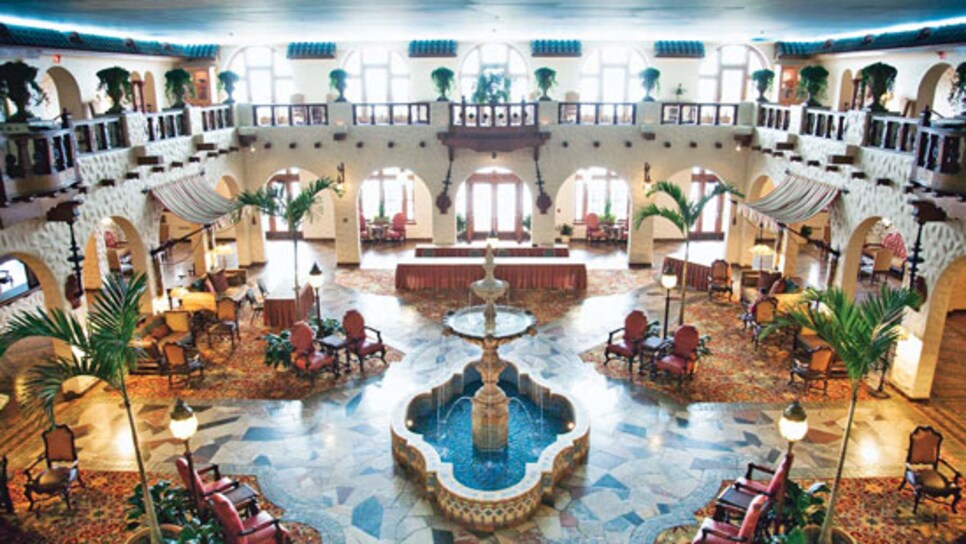 Top: One of 11 roller coasters at Hershey Park. Middle: Inside the lobby at the well-appointed Hotel Hershey. Below: The clubhouse at Hershey Country Club overlooks the 18th at the East Course.