Courses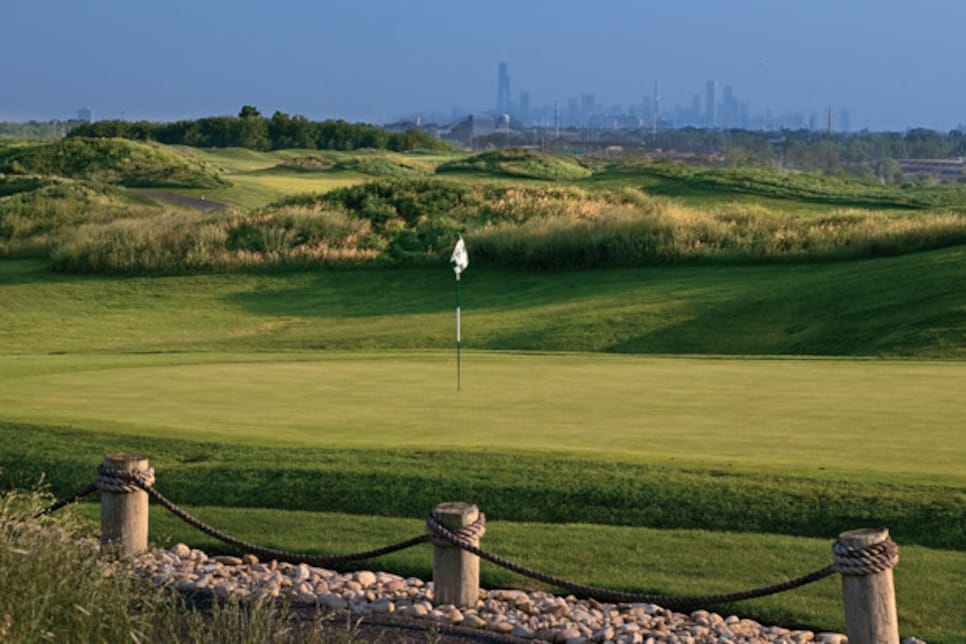 Harborside International Golf Center has 36 holes and an impressive skyline view.
Our recent ranking of the Top Cities for Golf -- led by Dallas/Fort Worth -- got some pretty heavy pushback from Chicagoans. How, angry readers wondered, could the Second City not even crack the top 20? (It was No. 22.) The short answer: weather. We ranked its number of "playable days" 40th out of 50 cities.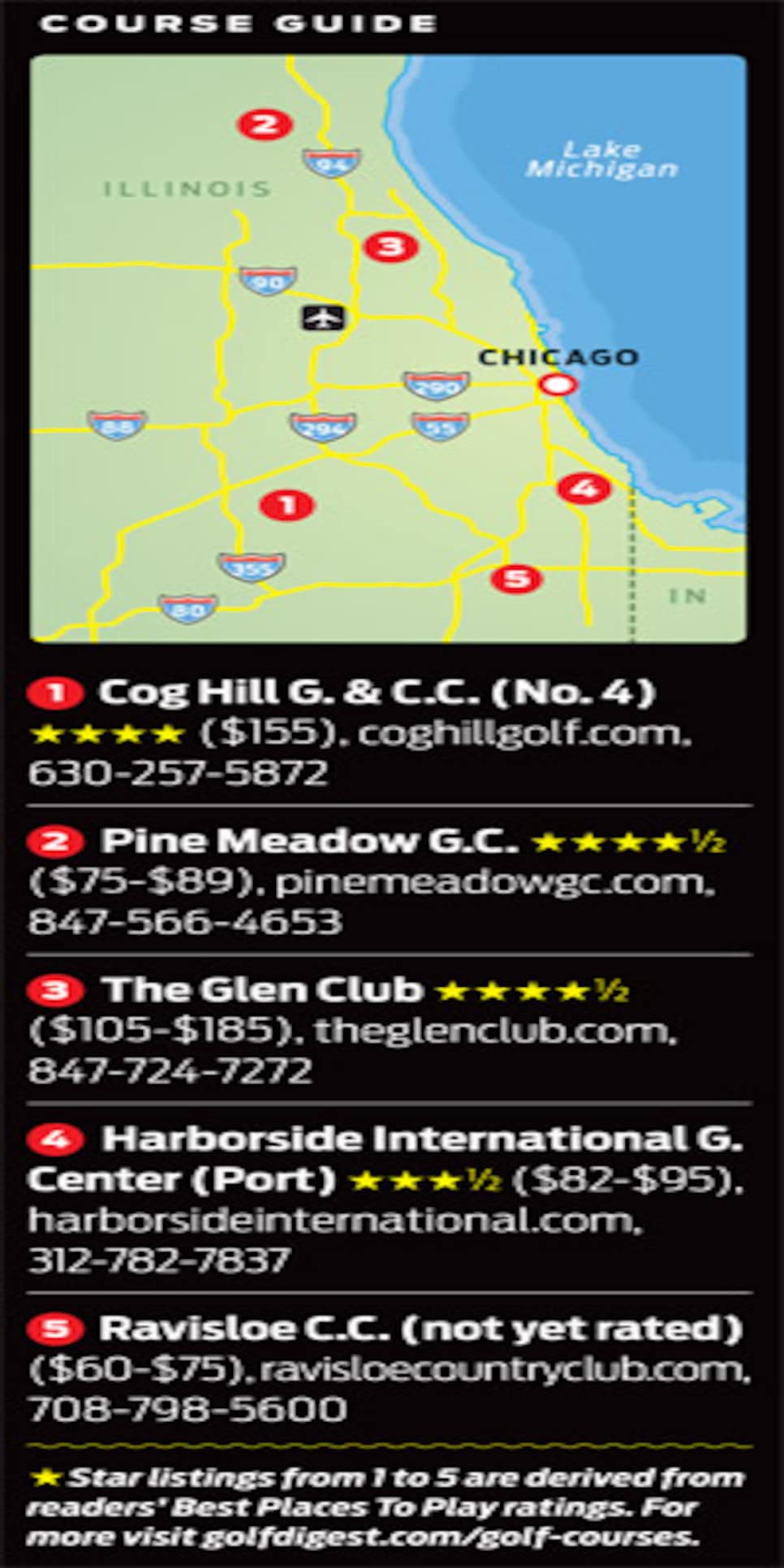 But let's be clear. When Chicago is not buried under snow or being pounded by thunderstorms, it is hard to beat for golf. We rank it No. 1 in the nation for the number and quality of its public courses. So if you're planning a trip timed to this September's Ryder Cup at Medinah Country Club or you just happen to be passing through, do yourself a favor and pack your clubs.
Starting at Cog Hill was a natural. Owned and operated by the first family of Chicago golf, the Jemseks, it's just a half-hour drive south of O'Hare International Airport. Yet once you pull onto the property, with its massive oak trees, babbling creeks and surprisingly hilly fairways, the urban world seems to disappear.
Its best course, No. 4, underwent a $5 million renovation led by Rees Jones four years ago in hopes of luring a U.S. Open. That didn't turn out so great. Phil Mickelson and other pros complained about Jones' work, and now No. 4 isn't even part of the PGA Tour's season-ending FedEx Cup rota anymore.
The heart of Mickelson's gripe is that it's too easy for pros and too difficult for average players. I can say with authority he's wrong about average players. Approached from the correct tees (6,400 yards, thank you very much), it didn't so much wear me down as energize me. It's one of the more varied and photogenic courses I've played in a while. I would have happily gone back out and played it again that afternoon.
Saturday morning brought me to Pine Meadow, about an hour north of the Loop. Like Cog Hill, it is managed by the Jemsek family, and it exudes a similar old-school charm. Built on a relatively flat site, Pine Meadow lacks some of the thrills and spills you'll find elsewhere around town, but it's plenty challenging. I liked the back nine best, where narrow Lake Schroeder comes into play on three holes and is visible on five.
Pine Meadow has taken some hits the past couple of years for its lackluster conditioning. This season the Jemseks brought in a new maintenance staff, removed trees to improve air flow around a few greens, and embarked on an aggressive aerification and top-dressing schedule, among other efforts. It worked. Golfers who've played Pine Meadow in previous years describe 2012's conditioning turnaround as nothing short of amazing.
My Saturday-afternoon stop, the Glen Club, is the kind of place that wouldn't put up with poor conditioning for more than a weekend. Built on a former U.S. Navy base about half an hour south of Pine Meadow, this hotel and spa is the most conspicuously upscale of the clubs I visited (reflected in its $185 peak-season weekend green fee). The course is beautifully manicured, with springy, bowl-shaped fairways and smooth, roundish greens. The front nine feels a bit hedged-in by neighboring homes and a shopping center, though the middle holes offer a respite as they circle each other and the massive mounding of designer Tom Fazio.
Harborside is also reclaimed flatland -- in this case, a sprawling former construction landfill south of downtown. There are a pair of courses, both designed by Dick Nugent and opened in 1995. I played the Port course on Sunday morning and enjoyed every hole. It's a long way from the natural splendor of Cog Hill and Pine Meadow, and its conditioning was no match for the Glen Club's, but it was fun: big elevation changes, forgiving fairways, not a lot of forced carries, and several holes with views of the Chicago skyline.
As at the Glen Club, the sculpting work at Harborside is impressive. If my playing partner hadn't mentioned it, I wouldn't have noticed the city's massive "auto pound" for towed vehicles behind a wall of dirt and trees on the seventh hole.
Visiting Ravisloe, by contrast, was like stepping back in time. Once a private club for Chicago's Jewish elite, it suffered from years of declining membership and finally had to open for public play in 2009. It's a cool old course, built on its current site in 1910 and renovated a few years later by legendary Scottish architect Donald Ross. Bonus points: It's an excellent layout for walking -- not too hilly, with short distances between greens and tees.
Of that group, I liked Cantigny and St. Andrews best. St. Andrews is friendly and not too difficult, a municipal-type 36-hole facility owned by a branch of the Jemsek family. Cantigny (can-TEEN-y) is tougher, a high-end outfit with three nines that cut through the rolling former estate of Tribune co-founder Joseph Medill and his grandson, Col. Robert McCormick.
One of the things I remember most about both weekends is the punishing lightning and thunderstorms that swept in, flooding some courses and sending us scurrying for cover. Golfers in lesser cities would probably write them off as "unplayable days" and head for home. But we waited it out. In Chicago, that's how it's done.
A few times at Cog Hill, I got to my ball and found it in or near a hidden water hazard. Only after the round did owner Frank Jemsek tell me the secret: Keep an eye out for weeping willow trees -- they're planted near the unseen water hazards.
One stop past Ravisloe is the lively Flossmoor Station Restaurant & Brewery. It's not all microbrews and pub fare. There's also a coffee shop and, spring through fall, an ice-cream shop in a renovated Illinois Central caboose.
Feel like a ball game after golf? Harborside is close to U.S. Cellular Field, where the White Sox play. The Glen Club is about half an hour from the Cubs' home, Wrigley Field. You might have to start early, though. The Cubs play a lot of afternoon games.