Courses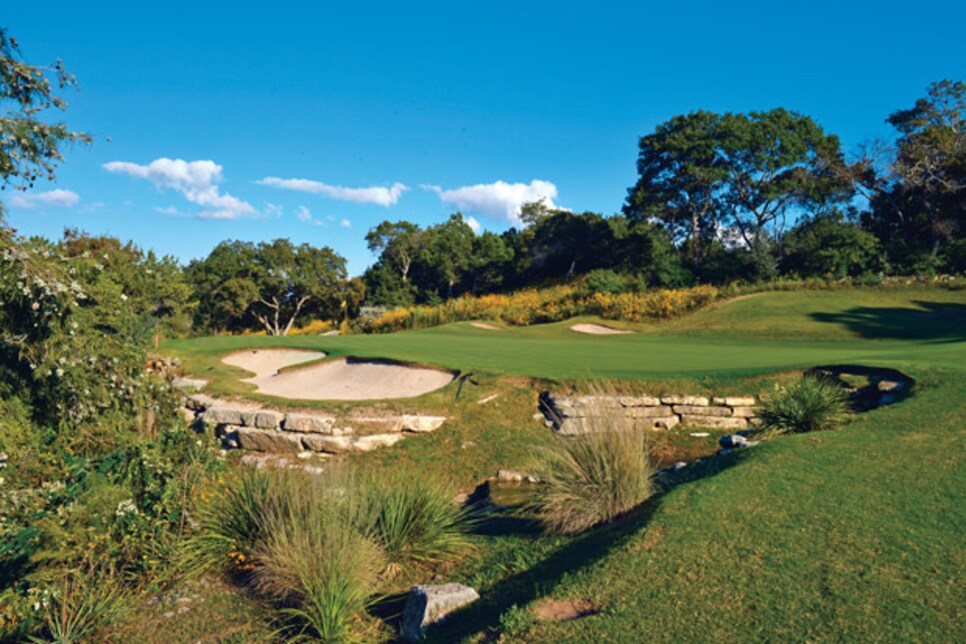 The eighth green at Fazio Foothills, Barton Creek's most dramatic course.
Kids these days. You see them hitting balls on the range while listening to music through earbuds. Adults race around in souped-up carts with modified sound systems. Walter Iooss Jr., Golf Digest's iconic photographer, gets the music going on his iPhone and sets it in his golf cart's cupholder as he plays.
Golf plus music is trending as the game undergoes a loosening of the tie and a softening of its spikes. Just ask the Golf Boys.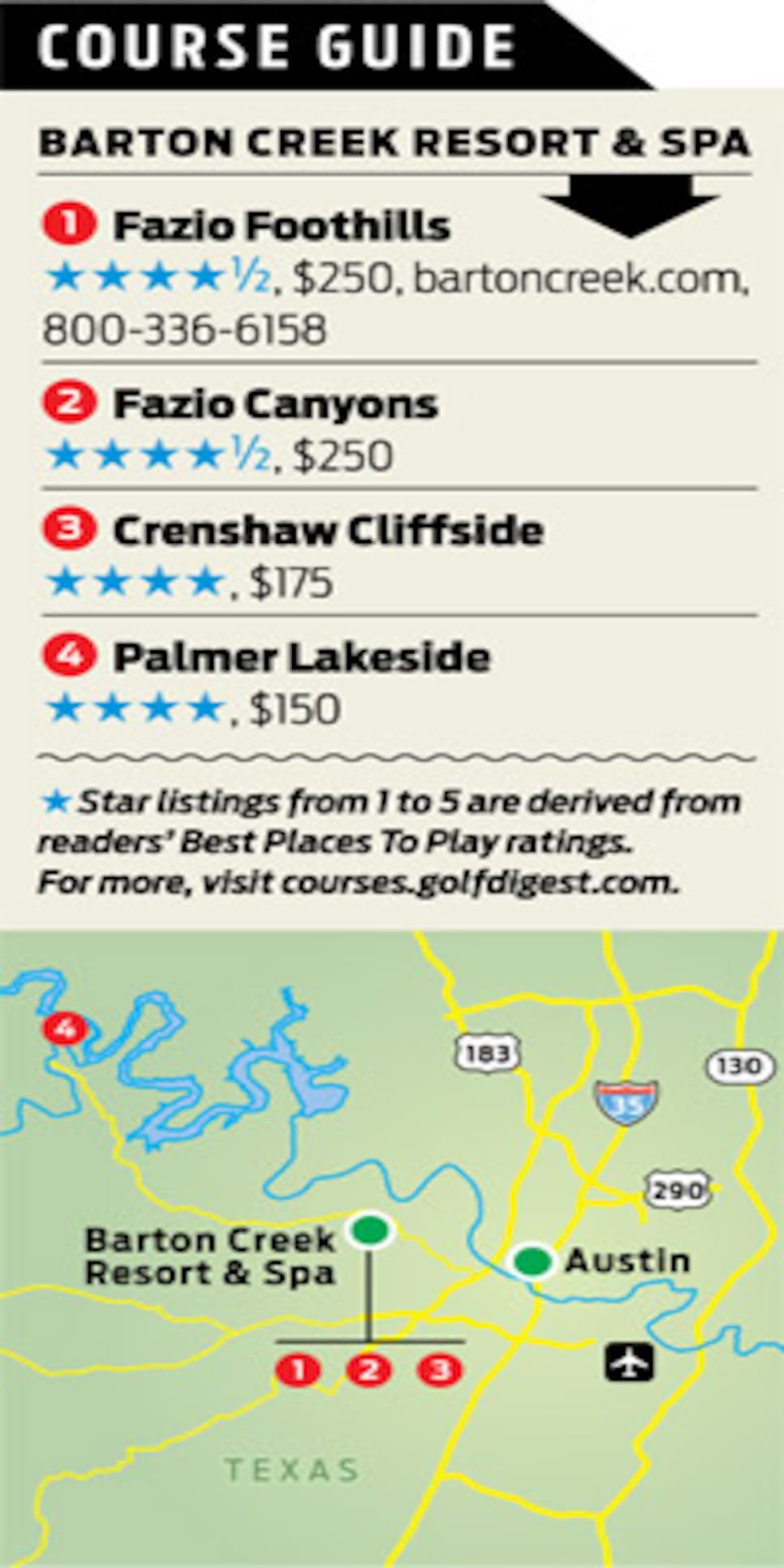 I laid down my mix of tunes and tracks last fall, playing golf by day at Omni Barton Creek Resort & Spa in Austin and hitting the Austin City Limits music festival by night.
Ever since I first visited Barton Creek (January 2010), the 309-room resort has been on my short list of America's best buddies-trip destinations. Rates start at $150 a night, and I suggest asking for one of the rooms in the tower, which have all recently been renovated and overlook one of Barton Creek's four golf options.
, one of two courses on property designed by Tom Fazio. It's best described as a roller-coaster ride through the Texas Hill Country (without the screaming). Once you reach its elevated tee boxes, you'll enjoy wide views and a thrilling trip down to the fairways and greens, which are protected by cliffs, creeks, limestone caves and waterfalls. After you make the climb to the par-5 finishing hole (hit at least one extra club into the elevated green), take a minute to look back and snap a picture of your accomplishment.
I played the Foothills with three Barton Creek members, who told me they prefer Fazio Canyons
. They agreed it isn't as spectacular as Foothills, but it's a short cart ride from the resort (meaning it's more remote) and more forgiving, with bigger greens and lighter rough.
course, which is the layout best suited for beginners or family golf. But as one local said: "You'll be able to tell a good putter built this course." Translation: There are fun and sometimes frustrating undulations on the large greens, so make sure to spend time getting familiar with the speed before teeing off.
course is at least 35 minutes off property. Not as many golfers venture that far from the resort, but that's partly why it's a buddies-trip favorite. It's also a big-hitters ballpark with panoramic views of Lake Travis.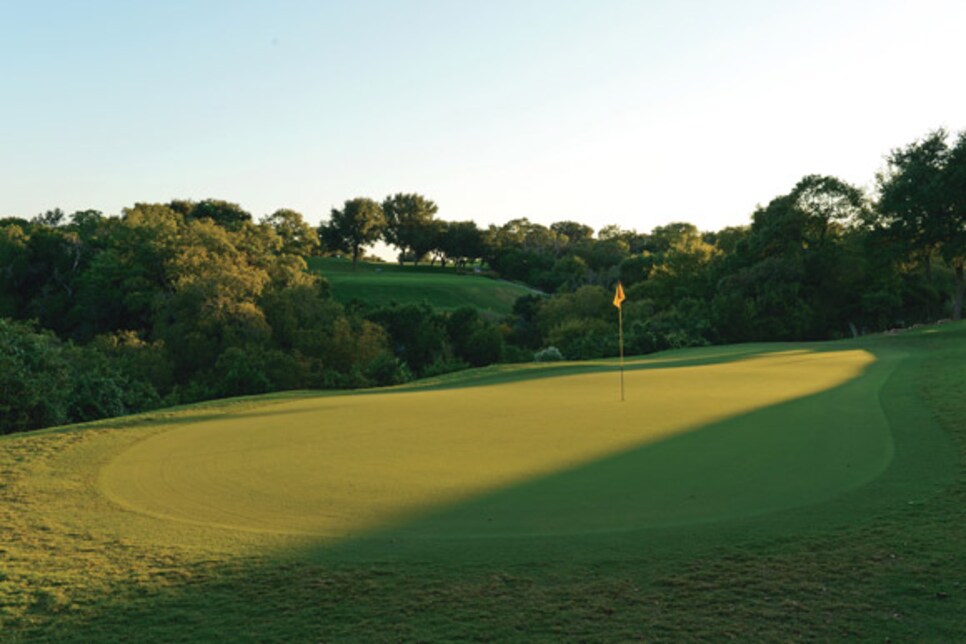 That covers the golf. As for the Austin City Limits music festival, I'll let Dave Grohl of the Foo Fighters explain. "This is huge and beautiful and great," he once told the passionate crowd assembled in the 350-acre Zilker Park. "You guys have yourself a nice festival."
Austin City Limits festival takes place on two three-day weekends in October (4-6 and 11-13), among the best months to visit one of my favorite cities in America. Humidity is low, and temperatures are in the low 80s. The open venue consists of eight stages sprinkled around the perimeter of the park, with one of two main stages strategically set in the foreground of the Austin skyline. There's Austin Eats, which is a massive food court offering a variety of local fare. And there's an art market with countless booths selling accessories and goods made by Austin artisans.
I spent a Saturday evening pinballing from the contemporary soulful sound of Lee Fields & The Expressions to the indie rock sound of The Shins, and then over to Steve Earle, who gets the label of "roots rocker." I ended the night listening to Jack White, one of the best modern guitarists, who closed with "Seven Nation Army." Before White left the stage, and in a classy nod of respect to a fellow rock icon, he inspired the crowd to the opposite side of the park by saying: "God bless Neil Young." I caught the end of a two-hour set where Young, 67, was looking and sounding like anything but an "Old Man."
Getting to the park from Barton Creek is easier than you might think. You can take a shuttle from the resort by alerting the concierge a day in advance. The ride costs $20 a person, but never more than $100 per shuttle, which can hold up to 11 passengers.
Before heading back to the resort, I suggest hopping into a bicycle rickshaw for the 20-minute ride downtown. There, in the lively bar scene on West Sixth Street, I was reminded just how great Austin is for enjoying live music year-round, not just for the festival. If there's a better place for golf and live music, I haven't found it.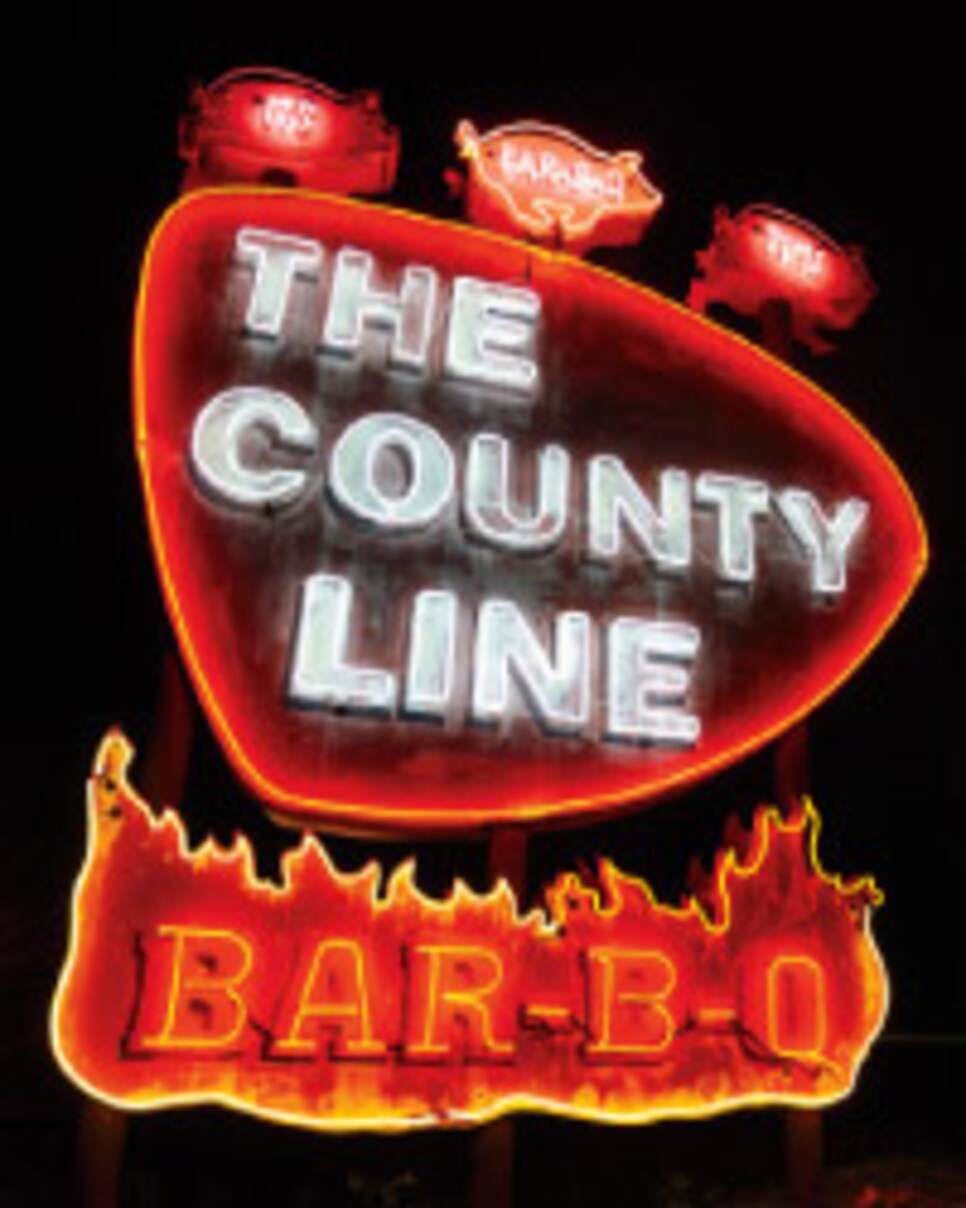 LINEUP CARD This year's Austin City Limits will feature 134 bands in six days, including Kings of Leon, Depeche Mode, The Cure, Lionel Richie, Wilco, Silversun Pickups and Fun.
LONG WEEKENDS Tickets for the first weekend of this year's ACL were sold out at press time, but tickets remain for the second weekend (Oct. 11-13). For details visit aclfestival.com.
FOOD FOR THOUGHT I recommend the pork nachos or fish tacos at the grill next to Barton Creek's golf shop. Or head down the street to The County Line for some true Texas BBQ.