News
Austin Cook: Choosing Q School Over Med School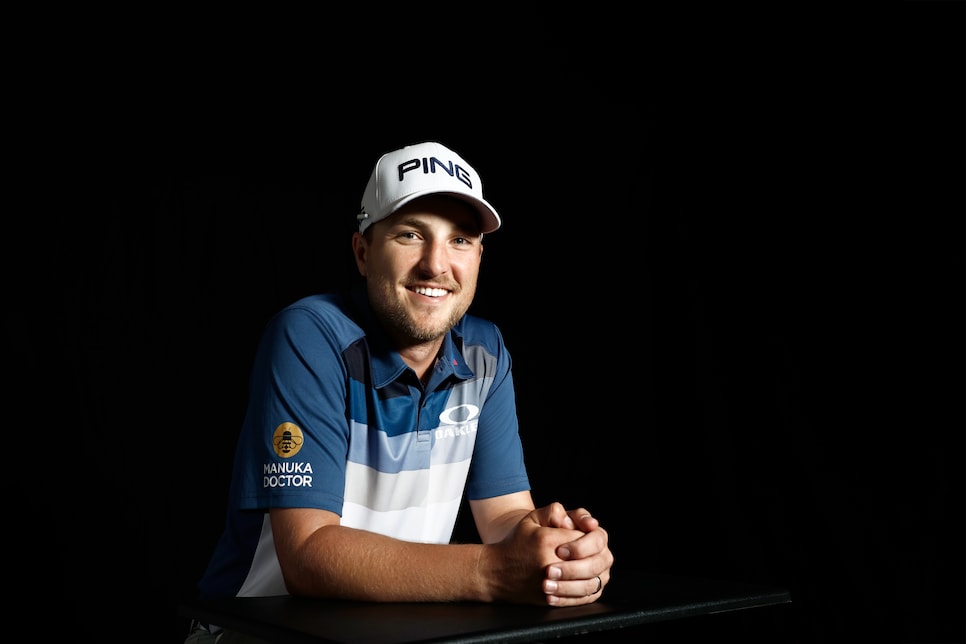 Photo by Walter Iooss Jr.
It's Wednesday before the 2016 Web.com Tour Championship. I'm sharing a house in Jacksonville Beach, Fla., with my wife, Crys, and Zack Sucher and his wife. We're hanging on the beach in 40-mile-per-hour winds as Hurricane Matthew approaches. I'm 27th in the standings, needing to move into the top 25 to earn my PGA Tour card for 2016-'17. And I had just missed the cut by one shot in the third event of the Web.com Tour Finals. We're hitting balls on the sand, trying to have fun. Then my caddie calls: "The tournament's canceled." My season is suddenly over, my PGA Tour card ripped from me.
IT TOOK A LOT NOT TO CHUCK THE WEDGE I WAS HOLDING OUT INTO THE OCEAN. Zack and my wife just let me have a moment to myself. We had to evacuate the area, and so we drove from Jacksonville to Birmingham, where we'd stay for a night with the Suchers before driving home to northeast Arkansas. I wouldn't calm down for a few days, but my wife's advice sticks in my head: She said, "I know this is heartbreaking right now, but it's gonna happen for you." She was right. When you've worked hard for a lifetime for a goal, you've got to remember the bigger picture.
I'VE ALWAYS HAD TWO DREAMS—TO BECOME A PRO GOLFER OR A DOCTOR. My father and uncle are doctors, and my grandfather, who was a club pro in Minneapolis, played in 60 or so PGA Tour events. His career highlight was playing in the final pairing with Jack Nicklaus in the 1965 Memphis Open. My dad often told the story of being in the gallery, scrambling for a look of his father walking side by side with Nicklaus at his peak. Though Granddad didn't play well that day, that planted the seed that maybe I could succeed at golf, too.
I GOT MY FIRST PLASTIC SET OF CLUBS AT 2 OR 3. So my entire conscious life I've been playing. Growing up, I had an ideal situation. We lived by a hole at RidgePointe Country Club in Jonesboro, Ark. It was about a one-minute cart ride from our house to the range. I wasn't supposed to, but I started driving our cart down there around age 7.
INSTEAD OF DOING TYPICAL KID STUFF OVER THE SUMMER, I WAS AT THE RANGE. Not having that time with friends was probably the biggest sacrifice I made. But my parents taught me to work hard at everything I did, and that translated into thousands of hours of practice. And I'm happy about where that got me.
YOU CAN CALL ME A TEACHER'S PET, BUT MY FRESHMAN YEAR AT THE UNIVERSITY OF ARKANSAS, I introduced myself to every professor on the first day of class and explained that I'd probably be missing a lot of class because of golf. Some teachers were understanding and let me make up exams and papers. Others weren't. There were times I had to involve department heads and coaches to vouch for me.
"Some teachers were understanding and let me make up exams and papers. Others weren't."
BALANCING GOLF AND A MAJOR IN BIOLOGY TESTED MY PATIENCE. Before a chemistry exam my freshman year, I spent 38 hours out of the 48-hour weekend at the library. I was the only athlete in our study group. My coach, Brad McMakin, would let me skip practice if I needed to. It all worked out, and when I graduated in December 2013 with a 3.9 GPA, I faced a big decision whether to pursue medical school or try pro golf.
MY MED-SCHOOL PREREQUISITES WOULD REMAIN VALID FOR FIVE YEARS. So it wasn't time to give up playing. To save money traveling to Adams Pro Tour events, my roommate at Arkansas, Andrew Landry, and I pooled money and shared rooms. We'd eat together and stay up late debating whether we were doing the right thing.
THE 2014 FEDEX ST. JUDE IN MEMPHIS IS A STORY. If you don't have status, you need to play in a pre-qualifier for the Monday qualifier. Usually they're on Thursdays, but this time it was on Friday because of U.S. Open qualifying. I drove an hour and a half from Arkansas to Memphis, only to learn this when I arrived. The guys at the course laughed at my rookie mistake but let me zip around the course in a cart as a practice round. The next day I medaled in the pre-qualifier, and then medaled in the qualifier, too.
I'LL NEVER FORGET THAT FIRST PGA TOUR ROUND. Storms pushed everything back the first day, so I didn't tee off until 5:30 p.m. There were no fans except a few family members. It felt like a college event. I was paired with Kevin Kisner and Doug Labelle, two laid-back guys. It was calm and peaceful. On the weekend, I played with another Arkansas roommate, David Lingmerth, and Scott Stallings, who is such a good guy. That comfortable setting really helped. I finished 13th.
BUT I WAS SHAKING ON THE FIRST TEE ON THE SATURDAY AFTER I MONDAY'D INTO HOUSTON THAT SAME YEAR. I was paired with Phil Mickelson, and that was my first taste of real PGA Tour nerves. I had my brother caddieing, carrying my Arkansas stand bag. The first hole called for a fairway wood, but teeing it up with a fairway wood seemed terrifying, so I hit driver and found the bunker. I found the green and two-putted for a par, and that settled me down.
I GOT MY PGA TOUR CARD BY FINISHING 15TH IN THE 2017 WEB.COM TOUR STANDINGS. But it was all my early experience—I Monday'd into four tour events in 2015 and had top-25s in six of my first eight starts as a nonmember—that gave me a leg up this past season. I already knew I could compete with the best. So winning the 2017 RSM Classic at Sea Island in my fourth start wasn't entirely a surprise to me.
FAST-FORWARD TO THE END OF 2018, AND I'M PAIRED WITH TIGER WOODS IN THE FIRST EVENT OF THE FEDEX CUP PLAYOFFS. We're talking about parenthood, as Crys and I are expecting our first child, a daughter, in January. Tiger's giving Crys and me parenting advice as we snap a photo after our round. If you told me before the season that that's how my first year on the PGA Tour was going to end, I would've signed up for that in a heartbeat. – With Stephen Hennessey