News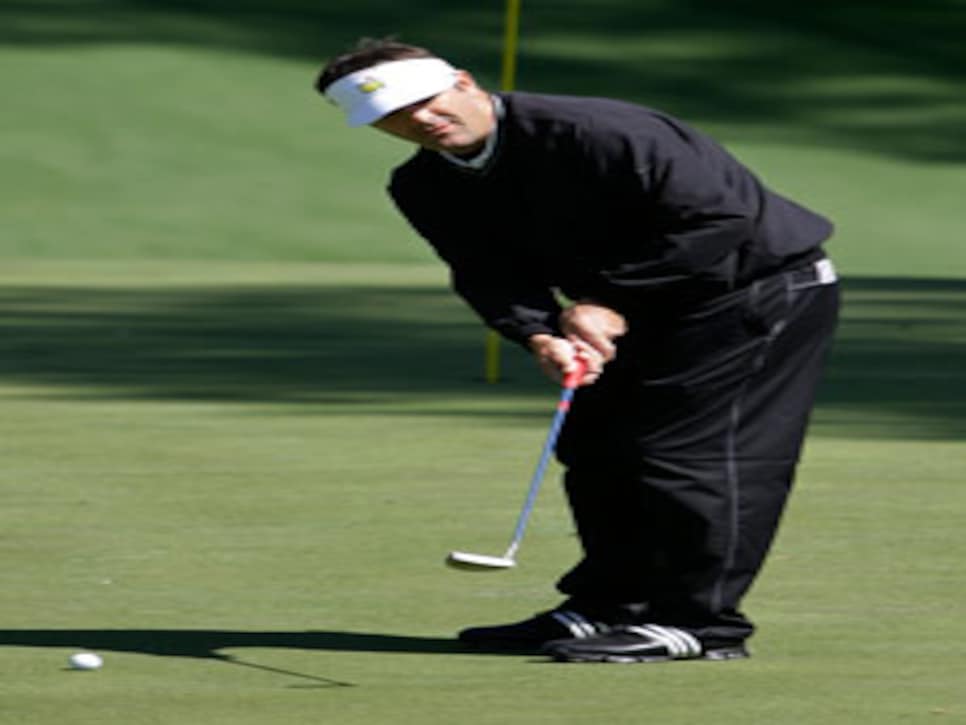 Regardless of how he fared on Thursday, Steve Wilson's appearance in the Masters was remarkable.
AUGUSTA, Ga. -- On his way to the sixth tee at his first Masters of his 39-year-old life -- his trembling hands had three-putted again -- the gas station owner from Gautier, Mississippi, looked up at a leader board and allowed himself a silent smile because there, in great big bold black letters, the better to be seen from a hundred yards away by people who'd never heard of Steve Wilson, was his name, "Wilson S," sandwiched between these other guys, "Harrington" and "Woods."
Yeah, right. That computes.
"We're all the same," Wilson said, meaning they were in no way the same, the realist in him deliciously amused by the improbability of it all.
His name was on the board as a courtesy, not a reflection of his score. The Masters likes to advertise its kindnesses to amateurs, and he is the 2008 U.S. Mid-Amateur champion, an automatic qualifier for the world's grandest golf tournament. A mid-amateur is not a guy who's half pro, half amateur, though in a way Steve Wilson is exactly that. The mid-amateur classification was created when the United States Golf Association realized that no man much past drinking age was ever again going to win the Bobby Jones/Jack Nicklaus kind of amateur deal. It now belonged to limber-backed flat-bellies on scholarship. So the USGA created the Mid-Amateur event for creaking old folks, everyone over 25.
For most of a decade through the 1990s, Steve Wilson had chased the professional golf dream, knocking around the bush leagues of shared car rides and low-dollar motels. When it came to naught, he turned to the real-world option of running a gas station on the Gulf Coast of Mississippi, in a little place called Gautier. He and his wife, Shelly, raised their son, Gavin, now 9 years old. And then, to quote his friend, business partner, and caddie Gary Martin, "He got the itch last year."
By then he had quit professional golf and had regained amateur status. That meant he could go to Milwaukee for the Mid-Am during which "he absolutely knew that if he won, he'd get in the Masters," Martin said. "And in the championship match, he played sensationally." A 5-and-4 victory earned Wilson an 11:29 a.m. tee time on this first day of the 2009 Masters.
At 11:28 a.m. on Thursday, he wasn't on the tee.
Such a week. At the Par 3 Contest, Gavin had been his caddie. "All of it," Wilson said, "has been just incredible." And with a minute before he was due on the tee, he "got caught up in something," the caddie Martin said. "Then I saw Watson looking back for us. I said, 'Steve, c'mon, we better go.'"
That would be one of Wilson's playing partners, Tom Watson, the winner of eight major championships. The immortal waited on the tee for the amateur gas-station owner.
"I was running to the tee then," Wilson said.
Not a good idea to be DQ'd from your first Masters, even if running to the tee contributes to a case of trembles that never ended. "Your hands are shaking," he said, "and you don't want anybody to see them." After three-putting the first hole, Wilson stood on the green, hands jammed into his slacks' pockets. While waiting on the second tee, he folded and re-folded his arms across his chest. He had these hands that wouldn't behave and he looked for ways to make them hold still and/or disappear.
"I was just uncomfortable," he said. "I thought the nerves might not last all day, but they did. I never expected that."
Tee shots flew wide right. At the third hole, one bounced off a tree back into the fairway. At the fifth, another wound up in the right rough where, of all people, Wilson found his father, Tom.
"You trying to hit me?" the elder said.
"You the one who kicked my ball out on three?" the son said.
When you're alongside an immortal -- and there with Ian Poulter, too, the world's 37th ranked player -- every little imperfection becomes obvious. Your shots are always a touch off, leaving you with a shot a little more difficult than the immortal's, and pretty soon all those little touches and those more difficult shots add up to a feeling that, any moment now, you'll be run over by a train.
Still, through 17 holes, Wilson had kept himself together, five over par, only two over for the previous 11 holes. He even had rolled in a 12-foot birdie putt at the 16th hole. "Finally," he said.
Then, on the 18th tee, he had a sudden thought. It was one of those thoughts that a thinker should never think on the 18th tee of his first Masters.
"A deadly thought," Wilson called it.
It occurred to him that he had not made a double bogey this day.
So, of course, he pushed his tee shot into a forest, caromed the second off one of the trees, sailed his third into the gallery behind the green, and took three to get down. The quick double left Wilson with a 79 for the day. Augusta's greens baffled him all day and won't become any easier overnight, meaning he's unlikely to qualify for the weekend's rounds. So one reporter thought he should take this opportunity to ask a gas station owner the question that all of America has wanted answered for a year now.
"Steve, what was with the $4 a gallon for gas?" I said.
Steve Wilson had heard that one before. "It's all my fault," he said, and he smiled again, as if he was seeing his name sandwiched between Exxon and Mobil.
Dave Kindred is writing daily during the Masters.