News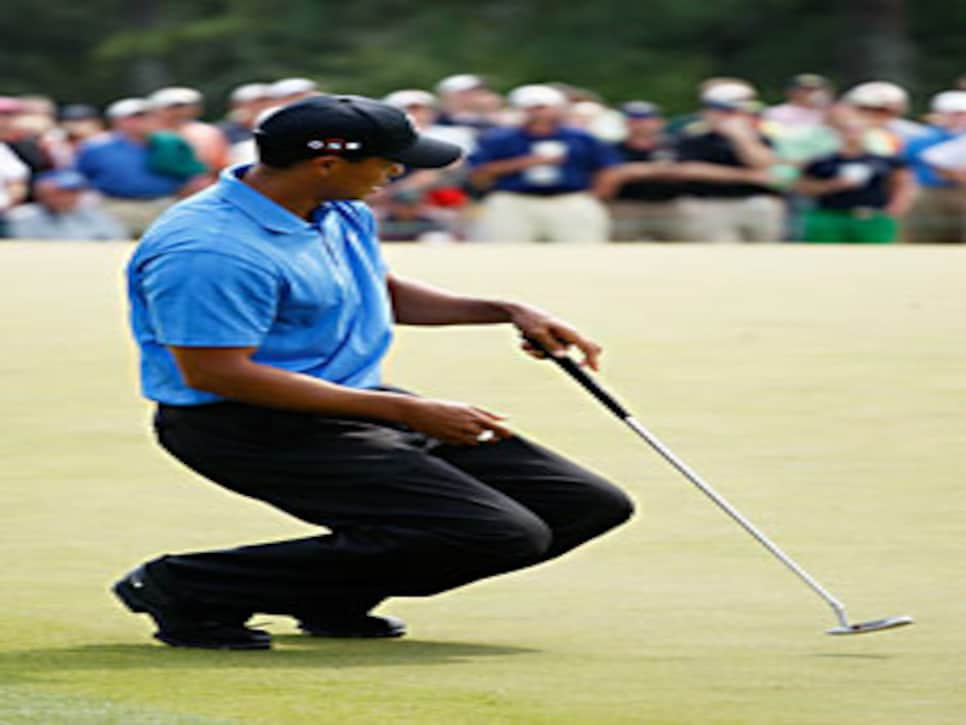 After a disappointing 72, Tiger Woods will begin the third round seven shots off the lead.
AUGUSTA, Ga. -- It took Tiger Woods five hours to play his second round of 72 Friday at the Masters. He needed only eight questions to cover it afterwards.
Woods bogeyed the 18th the second day in a row, this time after knocking his second shot into a greenside bunker, and finds himself in the unenviable position of being seven shots behind the leaders at Augusta National.
Are seven shots doable? Woods could not have been briefer in his response. "Yeah."
If it is, he's going to hope that he makes some birdie putts, and the 18 players ahead of him don't.
Woods was completely steamed after he completed his round, and his answers to his mini-session with reporters was classic for its lack of length.
An example: Question: Tough day today?
Woods: "Conditions were tough. It was just tough all around."
Q: Was the wind difficult?
Woods: "Yeah, you might say that."
The interview completed, Woods stormed to the driving range. He was the only player there, and was the picture of anger. He walked to the back of the range, turned around and walked back, occasionally looking up at the clouds flooding past. He took out his driver and started hitting balls with it, caddie Stevie Williams nowhere in sight. Swing coach Hank Haney looked on, a few steps behind Woods.
A few hours earlier, Woods made the turn in par, got through the swirling gusts of Amen Corner without mishap, and then made a birdie at the 15th to reach three under. But his second shot at the 18th landed in the right greenside bunker and Woods couldn't get it up and down, his par putt just lipping out.
He said he has two more days to get it together, or he's going to be stuck on 14 major championships until at least the U.S. Open in June.
"Hopefully I'll play a little bit better than I have, make a few more putts and clean up my round."
There was time for one more question.
So, did you get frustrated with your game, with yourself?"