News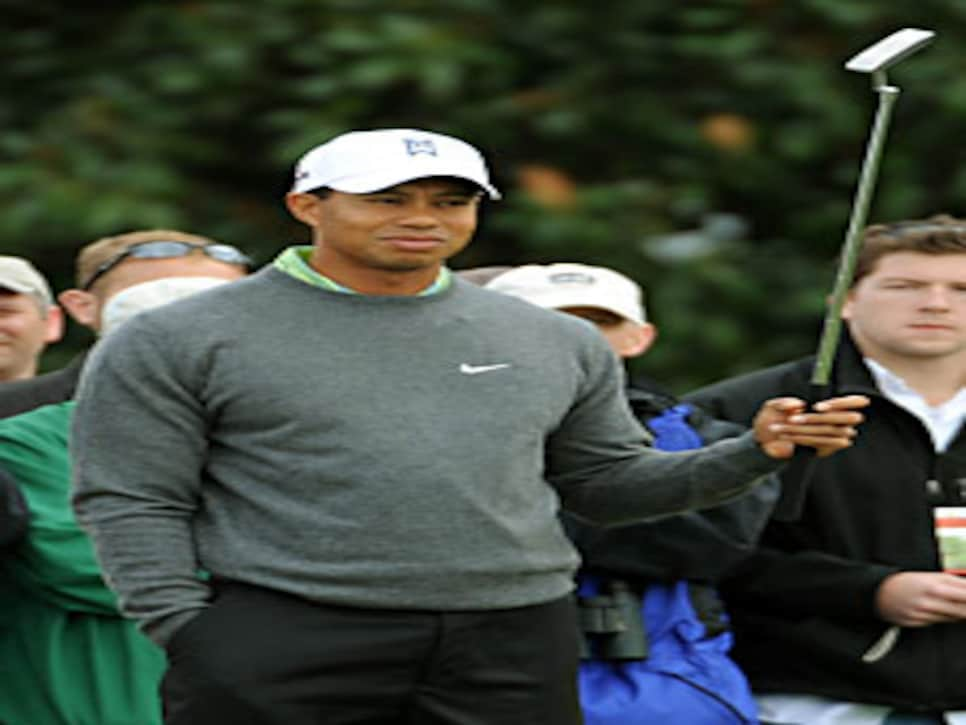 His recent near-misses aside at Augusta National, Tiger Woods has reason to be confident heading into Thursday.
AUGUSTA, Ga. -- It's the first major championship of the year, so it's the first question to ask Tiger Woods at the Masters.
Can anybody win the Grand Slam?
"Well, I know I can do it. I've done it. It's hard for me to sit here and tell you that it can't be done."
As usual, it's best not to underestimate Woods, whose victory in the 2001 Masters completed his so-called Tiger Slam, going along with victories at the preceding three majors, the 2000 U.S. Open, British Open and PGA Championship.
"It's just a matter of winning the right four at the right time. So hopefully it will start this week for me."
No matter how it shakes out, the week is already off to an unusual start for Woods, who decided the best method to get ready to play the Masters was to take Tuesday off. That's after playing only six holes on Monday. He may try to get in nine holes Wednesday or maybe not, because wet, cold and windy is no way to play Augusta National.
Woods believes it's close to pointless, that the course conditions are going to be entirely different for Thursday's first round. He wasn't wearing a ski parka or heavy gloves or a wool cap, but plenty of fans who showed up to watch the practice round Tuesday certainly dressed that way. Even the world's top player noticed.
"This looks more like a British Open ... than a Masters," he said.
After what happened at Bay Hill a little more than a week ago, Woods looks more like his old self since coming back from the knee surgery he had 10 months ago. He won in the third tournament of his comeback when he birdied the final hole in growing darkness to make up a five-shot lead and take his sixth Arnold Palmer Invitational by one shot.
Now, after a week off, Woods is back and wanting more. He said he knew that final winning putt was going to drop at Bay Hill.
"You have to believe in yourself."
When you've won the Masters four times, it's a stretch to say Augusta National owes you something, so Woods isn't claiming that at all. But the fact remains he hasn't won since 2005, when he hit fewer fairways than in any of his 14 trips to the Masters.
That's been long enough for Woods to have played 54 rounds in a combined 55 under par. His scoring average at the Masters is 70.98, but he has had just one round in the 60s (a third-round 68 last year) since his victory in 2005, when he beat Chris DiMarco in a playoff.
Woods' keys to winning again have not changed -- putt consistently and also beat up on Augusta National's par fives, which he has played to a total of 97 under in his career. Even if he hasn't won lately, he has been close. In 2006, only winner Phil Mickelson and runner-up Tim Clark were ahead of him. In 2007, only Zach Johnson beat him and last year, Trevor Immelman was the only player who finished ahead.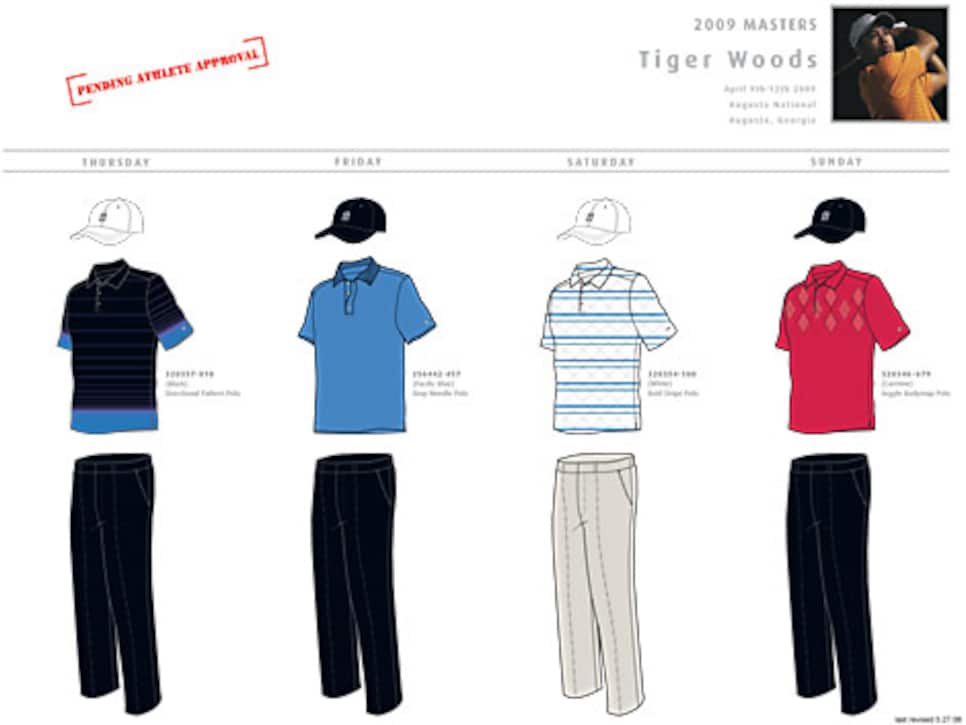 As usual, Woods' Masters experience will be totally scripted, or at least the part he has control of. That would be his Nike clothes.Thursday: Directional pattern polo in black, (translation: black shirt with blue stripes). Friday: Dri-FIT drop needle polo in Pacific blue, (translation: blue shirt with black collar). Saturday: Bold stripe jacquard: polo in white, (translation: white shirt with gray stripes). Sunday: Bodymapping argyle polo in carmine (translation: red shirt with argyle pattern).
Dressed for success, that's the Tiger way, but it also wouldn't hurt to get off to a quick start. Woods has never broken 70 in the first round here. What's more, he is a combined 13 over on the opening hole, statistically his poorest hole at Augusta National.
Getting close isn't the goal, but Woods knows where he needs to pick up the slack at the beefed-up and much stricter Augusta National.
"My putting has been streaky here," he said. "I got on rolls where I make everything and I get on rolls where I didn't make anything. Consequently, I didn't win the tournament. You have to be consistent around this golf course.
"Especially now, there are not too many birdie opportunities. It's not like how it used to be. So given that, you've just got to be obviously very patient and hit the ball well, but make the putts when you have the opportunities."
If there are opportunities, they will come late. Woods is in the next-to-last group in Thursday's first round, a 1:52 p.m. EDT start with Stewart Cink and Jeev Milkha Singh.
But don't think he is worried about this Masters, or adding to his 14 major titles, or any wayward putts, or the weather, or the golf course, because he isn't. He's just curious.
"We'll see how it plays out."