News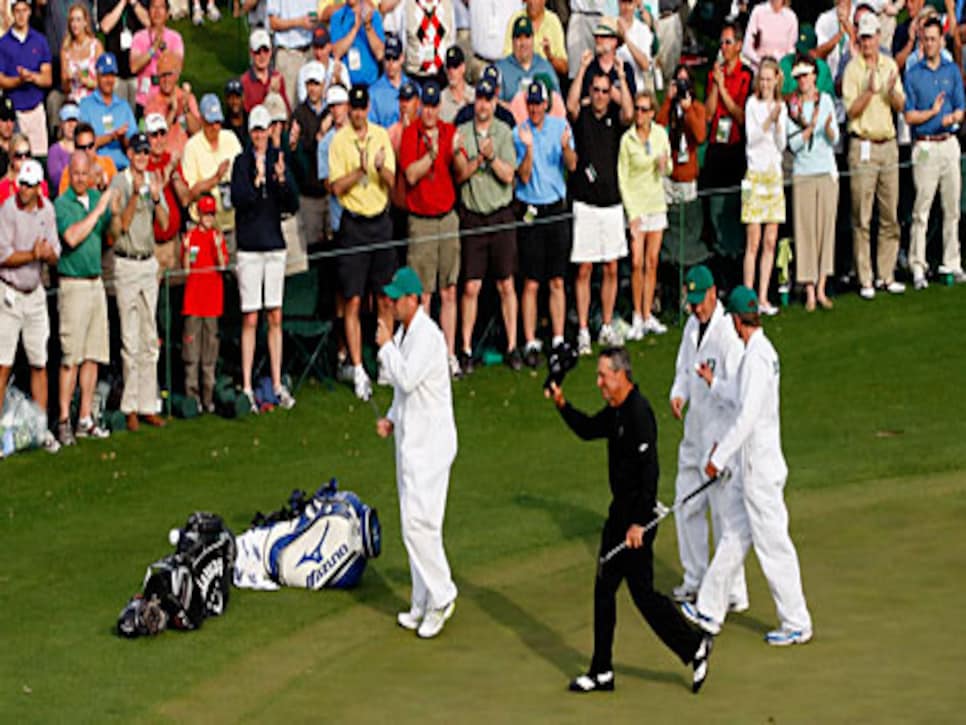 With his final round at Augusta National, Gary Player capped a underappreciated career at the Masters.
AUGUSTA, Ga. -- Shortly before 1 o'clock Friday afternoon, six simple words filled the air around the first tee at Augusta National GC. "Fore please," said Masters starter Fleming Norvell, "Gary Player now driving."
For the little man in black, about to tee off Friday for the last time as a competitor in the Masters, the emotions were more complicated.
This was Player's 52nd Masters, more than anyone, and 159th major championship, second only to Jack Nicklaus' 163 appearances. Given Player's tenacity, even at age 73, even after shooting a first-round 78 that left him well out of contention, even though he has to hit metal woods into most of the holes, he probably was trying to figure a way to make his curtain call last two more days.
"What I have learned about myself is that I am an animal when it comes to achievement and wanting success," the South African once wrote. "There is never enough success for me."
Player lost his mother to cancer when he was 8. His father worked in a gold mine, 12,000 feet underground, a workplace as bleak as Augusta National is beautiful. He would make them proud, and himself rich. Player didn't just want to be the best golfer in Africa, or in America, but the best golfer anywhere.
Jet lag. Language barriers. Different kinds of grasses. Galleries or golfers who underestimated him. Player used anything and everything for motivation. Only a handful of golfers have been as motivated or successful. What the 5-foot-7, 150-pound Player gave up in stature, he made up for in sweat. No golfer may have made more out of less, maximized his talent so efficiently.
"The harder I practice," he liked to say, "the luckier I get." Whether Player knew it or not, he was paraphrasing Thomas Jefferson. And when it comes to the modern game of golf, Player is a founding father.
Player sharpened his bunker play so it would be second to none. He worked out when almost everyone said golfers shouldn't lift weights. He favored wheat germ when his peers were filling up on steak and potatoes. Player has buttered up sponsors and host courses like no one else -- "It's the finest course of its kind," he would say, time after time, whether the layout was a goat track or truly glorious -- but he was eating to win well ahead of his time.
Player's final Masters is a perfect time to assess his record, which is as enduringly striking as the diamonds that his dad worked risky shifts trying to harvest. His three Masters titles (1961, 1974, 1978) are among nine major-championship triumphs, which among male golfers trails only Nicklaus, Tiger Woods, Bobby Jones and Walter Hagen. Player is one of only five players (Gene Sarazen, Ben Hogan, Nicklaus and Woods being the others) to capture the modern career Grand Slam. His last major victory, the 1978 Masters, came nearly two decades after his first, the 1959 British Open, and he is the only golfer in the 20th century to win the game's oldest major in three different decades.
When Golf Digest ranked the greatest golfers of all time in 2000, Player was No. 8, owing to his more than 160 wins worldwide, including 24 on the PGA Tour and 19 on the Champions Tour, where he won when he was a couple of months shy of 63. To put Player's longevity at the Masters in perspective, Woods -- who is competing in his 15th Masters this week -- would have to play every year through 2046 to have as many appearances as Player.
"It was quite a hard decision for him because he's such a competitor," said his wife, Vivienne. "He enjoys playing so much. He feels like he's young and fit in heart and mind, and [wonders] why he can't still do it. It's quite irritating to him that he still can't go around here under par, even though he hasn't got the length. It was a hard decision, but you know, 52 years is pretty amazing. You have to stop sometime."
There was standing applause across Augusta National Friday afternoon whenever Player walked up on a tee or approached a green, his physique and stride those of a much younger man, his demeanor that of a grateful one. At an arena where the other two members of The Big Three always seemed to get a bit more love, Player got his due. "I was absolutely fine until I walked up the 13th, my favorite hole," said Vivienne, who was in the company of children and grandchildren as her husband put an exclamation point on his remarkable Masters career.
"I think I retired too soon," Player had said with a smile Thursday after bettering his "personal par" of 80 by two strokes.
A day later the wind was up and so was Player's score. He knocked his second shot onto the 18th green with a fairway metal. It finished about 40 feet past the flagstick, a longer putt but on the same angle as the birdie that finished off his back-nine 30 and 64 on Sunday in 1978, when at 42 he became at the time the tournament's oldest champion.
Player dropped to his right knee as he got to the edge of the 18th green. It was thanks for the memories, thanks for a lot of things. He three-putted for a bogey to shoot 83, not that it mattered to perhaps anyone but him. Masters chairman Billy Payne was first with a handshake as Player exited the green, then Player got hugs from a new generation of South African golfers that was competing this year: 2008 champion Trevor Immelman, Rory Sabbatini, Louis Oosthuizen and Richard Sterne.
Globetrotting golfers were rare when Player began amassing his 14 million miles in the air. Now, in no small part thanks to him, they are commonplace.
A club camera crew grabbed Player for the first interview after he signed his card. "I've always said if there is a golf course in heaven, this is what it will look like," he said.
You won't find another golfer quite like Player, regardless of where you look. He was a limited edition of one.