News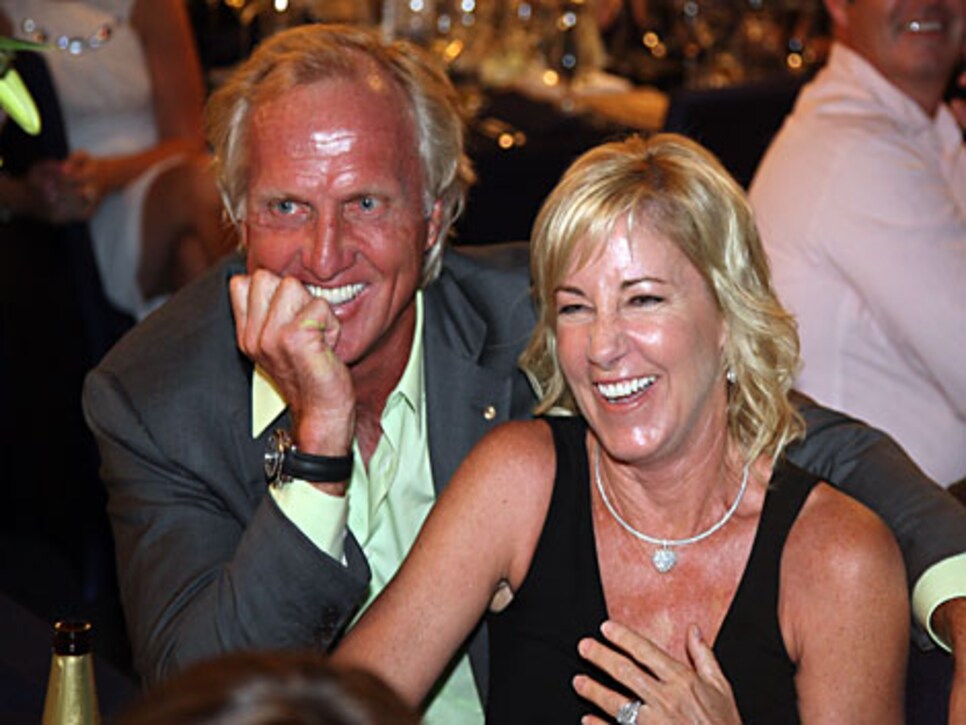 Greg Norman says wife Chris Evert has been instrumental in his preparation for the Masters.
Wheels were up out of Palm Beach International at 3:45 p.m., which in a G5 means climbing like a rocket ship out over Palm Beach and the Atlantic Ocean. This is the way Greg Norman rolls, as we start this business trip watching CNBC -- it's a rare good afternoon on Wall Street -- before flipping over to catch the opening round of the CA Championship from Doral on a satellite TV.
The Shark is flying to Myrtle Beach, S.C., to attend a wine-tasting dinner coordinated by daughter Morgan-Leigh at The Greg Norman Australian Grille. Morgan, a culinary school graduate who is now an Associate Brand Manager for Greg Norman Estates. Norman put on a button down shirt and broke away to support her.
The opening round of the Masters is exactly four weeks away, so the clock on his return to major championship golf was going into its 11th hour. On the screen is Tiger Woods, in his first round back in a stroke-play event. "This is the first time I've seen him swing," Norman says. "Let's see if what he does is any different, posture looks the same. It doesn't look much different to me."
Norman doesn't look much different than when he owned Doral the way Woods does now, winning three times in an era when he ranked No. 1 for what was a record 331 consecutive weeks. But the subject of this interview, the Masters and Augusta National GC, was an event and a place that once defined him as one of the game's tragic losers. By finishing third in last year's British Open, Norman, 54, earned an invitation back to the place that has teased him unmercifully, and broken his heart.
No sooner had we reached cruising altitude than Norman motioned for the laptop to open, a sign that he was ready to answer questions about a return trip down Magnolia Lane. In the back of the plane, long-time business manager Bart Collins was at work.
"How serious are you about this?"
"As serious as I can be. I've committed pretty hard to it. Not the (same) duration, but I'm doing the same routine as I used to do. Not 10 hours a day, but like today, I hit balls two-and-half straight hours, chipped and putted for two hours, then I had to leave to come here."
In other words this isn't 1986 or 1987 or 1996 or any of the years where one break, one shot, one stroke of fate would have turned any one of those second-place finishes into a happy ending. That chapter seemed closed until out of nowhere, on honeymoon with Chris Evert, Norman swung by Royal Birkdale and turned back the clock. He's remarried, reinvented, but still the same Greg Norman, and so I ask, "What did you learn from the British Open that you could apply to Augusta?"
"Manage your emotions, keep your emotions in check and keep your expectations low."
Norman returned to Augusta last year. When the Golf Writers Association of America presented him with the Charles Bartlett Award for his contributions to society, he was there in the same room with Woods, just tables apart. But when Norman walked out the door and flew home that night to West Palm Beach, he figured it was his last flight out of Augusta -- at least during a tournament week. I mention this to him and he says, "Absolutely. I never thought I'd be going back to Augusta to play."
There are plans for Evert to caddie in the Par 3 Contest and son Greg to caddie in the tournament. This is scheduled to be a celebration, but Norman is a competitor and as he displayed at the British Open, still capable of competing at a major championship venue.
But when he returned to Augusta for a practice round a week after this trip, Norman was astounded at the course's increased length. It was a wet day, and the ball was getting negative roll, but it was clear that Augusta National, playing 420 yards longer than when Norman last played it in 2002, was not Royal Birkdale and that the Shark's only chance was to catch it playing hard and fast. "The thing's a monster," he said when I called him afterward.
Outside, there are blue skies and Norman points to a button where the window shade comes down electronically. At 54, the Shark looks like he's been in training. He makes a point about there being mandatory drug testing at Augusta, as if to say times have really changed.
I mention that Tom Watson said he thought his legs gave out at Royal Birkdale. I ask him, "What are you trying to do to prevent that on those hills at Augusta?"
"Just keep them strong, working on a lot of cardio, leg squats, lunges, ball twists. I get on the stair stepper. (At Birkdale) I was on honeymoon and didn't do any working out."
Norman's plan was to enter the Champions Tour event at Cap Cana in the Dominican Republic, hooking it around a site visit to a course he's designing. He was also committed to this week's Shell Houston Open. I remind him that after his missed cut at the Johnnie Walker in Perth, that he sounded like a golfer again, blaming the missed cut on his putter.
"That was the truth. That was the only thing that let me down. I was disappointed. I played well tee-to-green, but paid the price with my putter. I never practiced it. Instead I focused on getting my big game back in shape. But that's not happening this time. You've got to be able to putt under tournament conditions, it's different from putting on the putting green."
This was the first time I've been around Norman in almost a year when Evert wasn't alongside, since a round of golf we played the previous spring at Emerald Dunes with Jimmy Roberts of NBC, when the lawyers were calling almost daily about his divorce from Laura, his wife of 25 years. The litigation pressure is gone now and he called Chris just before we took off, obviously still very much in love not only with her, but the idea of being happy. We talked during the winter in an interview for the Golf World Newsmakers issue about how he's now being coached by a woman who won as many major championships as Jack Nicklaus.
"Just how influential has Evert been in the process?" I asked.
"She's encouraged me every step of the way. She knows what it means about practicing, getting prepared for a tournament. She'll tell me, 'Go practice,' and if I come back and say I don't feel like working out in the gym, she'll say, 'Go work out in the gym, because you know you'll be thankful later on.' She's been a great motivator and supporter for the whole thing."
Ben Hogan shot 66 at age 54. Nicklaus made the cut at age 58 and shot 68 on Sunday. Norman is in much better shape than they were, but they didn't face a 7,445-yard golf course. "How hard is it not to put pressure on yourself for this one," I ask, "even though there shouldn't be any pressure."
"Very hard because it's my nature, so I have to go against my nature. That will be the hardest. If the weather is good and it's nice and warm, my excitement level being back there, I've got a lot of good memories and a lot of bad memories, keeping myself in check will be the hardest thing."
We are over South Carolina now, getting ready to land. Finally, he is asked, "You're not going there as a 'ceremonial golfer,' to use a Nicklaus term?"
In a way he is. In a way he is Greg Norman, so something dramatic should happen.
"I've said it and I'm going to say it again, I'm going in there with low expectations. Just to make the cut, I'd love to be able to do that. I don't know how long this course is. If it's wet and cold that's going to work against me. When you're 54 and the conditions are wet and cold, its different than when you're 24 and wet and cold. I've got to find out how much longer this golf course is. They say on the back nine, there are no more cheers and roars and excitement back there anymore. But who knows? Augusta is Augusta."