News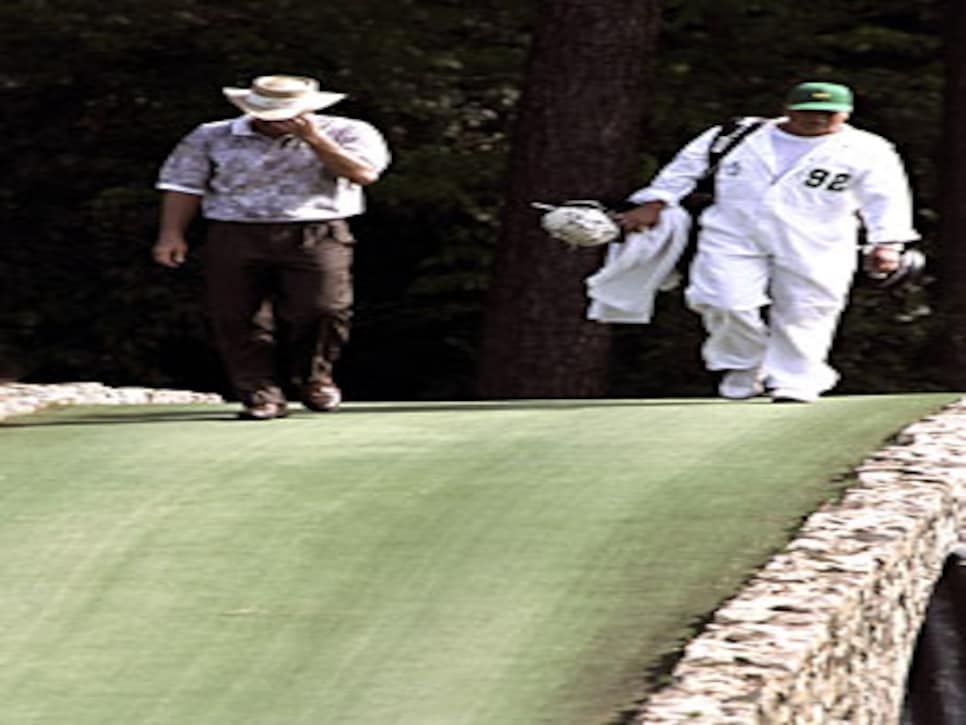 Greg Norman's collapse in the 1996 Masters will forever be remembered as one of golf's most gut-wrenching moments.
Sooner or later, it seemed bound to happen. Greg Norman would be on the practice green at Augusta National late on a Sunday afternoon, slipping into a green jacket, the golden light from a low sun bathing the presentation ceremony in warmth while everyone cheered for the worthy Masters winner. He would then hold a triumphant press conference, followed by dinner in the clubhouse to honor the champion, and the next morning he would wake up to newspaper headlines chronicling his achievement.
The reality was a montage of grimaces and memories of disappointment, the residue of a great golfer who never was able to quite close the deal at a tournament he coveted. "Greg Norman's stranglehold on the 60th Masters Tournament tightened Saturday," David Westin wrote in The Augusta Chronicle after the Great White Shark built a six-shot lead after 54 holes in 1996. "The question is: Can he bring it home?"
Of course, the answer that memorable Sunday, and a number of others in Norman's 22 Masters between 1981 and 2002, was no. Whether it was because he had too tight a grip on the club or too loose a grip on his emotions, Norman couldn't bring it home at the Masters. It is still eerie to recall what instructor Butch Harmon said that fateful Sunday in 1996 before Norman began the final round. "Greg's finally at peace with himself on this golf course," said Harmon, who over the next four hours would watch his pupil stumble in with a 78, losing by five strokes when Nick Faldo shot a flawless 67.
Norman doesn't hold the record for Masters' futility, it only seems that way. Tom Kite teed it up 26 times at Augusta National, like Norman finishing second three times. Julius Boros, Vic Ghezzi and Denny Shute played in 25 apiece without a win. Another of Norman's contemporaries, Jay Haas, also played in 22 Masters without winning, although Norman will pass him next week when he makes an encore drive down Magnolia Lane.
When it comes to going 0-for-forever in a major championship, Sam Snead's futility in the U.S. Open is the gold standard. Snead liked to say if he had shot a 69 in the final round, he would have won eight. Snead biographer Al Barkow did the math and ascertained that Snead -- whose U.S. Open final-round scoring average was 73.83, nearly two shots higher than rival Ben Hogan -- actually would have won five and gotten into playoffs in two others.
Applying the Snead example to Norman at the Masters, a final-round 69 would have resulted in three outright green jackets: 1987, when he closed with a 72 then was victimized by Larry Mize's long-shot chip in the playoff; 1996, when a 72 would have gotten the job done, even with Faldo's stellar play; 1999, when he shot 73 and finished three behind Jose Maria Olazabal. On two other occasions a 69 (1981, when he had a 72, and 1986, when his 70 left him one behind Jack Nicklaus) would have gotten Norman in a playoff.
There also are some parallels between Norman's Augusta history and the failure of Arnold Palmer and Tom Watson to win a PGA Championship -- the obvious difference being that both of them had a victory at the other three majors, where Norman netted only his two impressive British Open triumphs (1986 and 1993).
Norman never asked for sympathy for what didn't go his way at the Masters, although he got plenty from many folks who thought, in the manner of Nicklaus, he handled defeat graciously. And Norman kept the fact that he was an athlete, sometimes failing at a game, in perspective. "If I'm a tragic figure, then tragic is good," he said to Golf Magazine in 2003, when asked about the assumed weight of so many near-victories on big occasions.
When Norman has been asked why he never earned the victory he wanted so much at the Masters, he pointed to the tournament's placement on the calendar, which allowed him to get too keyed up. "The other majors come so quickly that you never have time to worry about them," he wrote in Travel + Leisure Golf. "But I would start thinking about Augusta on January 1, so by the time April arrived I was already impatient." In the same column, Norman stated his deepest regret for the "soft 4-iron" he sprayed wide right of the green on his approach to the 72nd hole in 1986 which led to a bogey when a par would have earned him a spot against Nicklaus in sudden-death. "If I could have one career mulligan," Norman wrote, "I'd take it there."
As for degree of heartbreak, the Shark told Golf Digest, "The one that killed me inside was Larry Mize's chip at the Masters. That was destiny saying, 'You aren't going to win this tournament.' "
Norman's return to the Masters after a six-year absence is going to stir a lot of talk. But unless something really crazy happens next week, destiny will have the last word.