News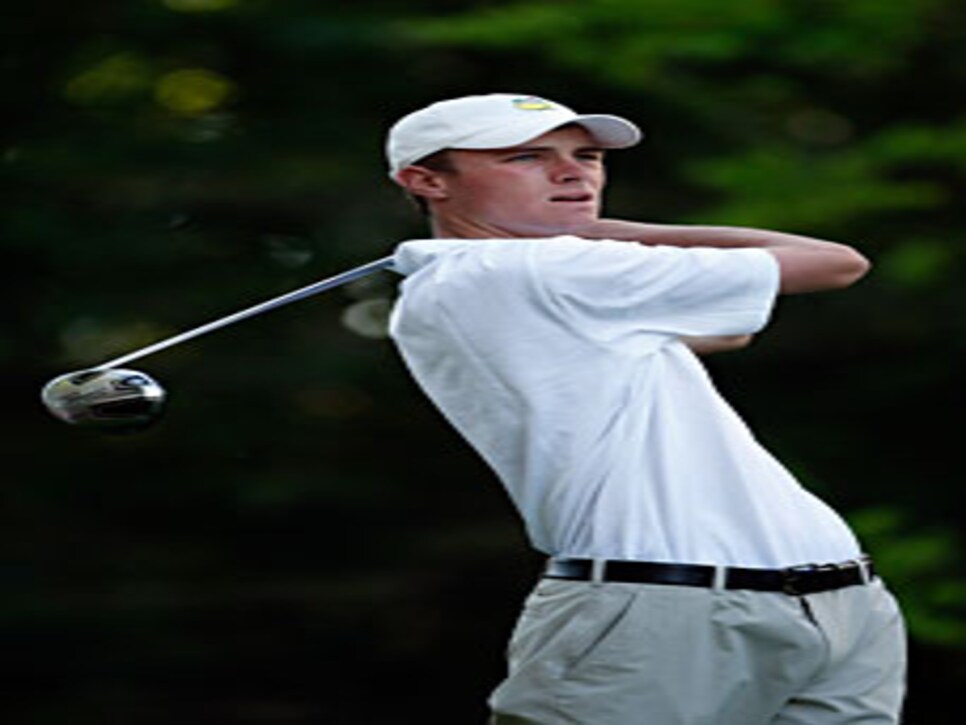 Drew Kittleson's back-nine on Friday was a testament to Augusta National's unpredictability.
AUGUSTA, Ga. -- The 11th hole at Augusta National Golf Club is pretty much the same as the rest of them, hellacious to a truly disturbing level. It's a par 4 and it's a nasty 505 yards through a slot in a forest to a grassy knoll from which only the truly disturbed dare fly a second shot around and/or over a little pond at green's edge. Do you think any of this mattered to Drew Kittleson as he drew from his quiver a 6-iron? Hah. He stood high above the danger and said, "I laugh at this hole's impudence."
Well, he didn't say exactly that.
What he said was, "What we got?"
His caddie, the venerable tour looper James Earl Walker, said, "One-seventy-one to the front, two hundred to the hole."
Then the kid hit one of those iron shots so pure, so perfect, so freakin' wonderful that you have to lean to one side to see around the ball and find the flagstick. "On it all the way," Walker said. Kittleson said, "I didn't see it go in, but there was an eruption." The worshipers congregated at Amen Corner raised holy huzzahs at the sight of a 200-yard 6-iron taking one hop into the hole for an eagle two. "And my friends," Kittleson said, meaning buddies in the gallery, "started bowing to me."
Hey, we ain't got to the good stuff yet.
But hang on a minute while I punch my get-a-credential-next-year ticket by quoting Bobby Jones, the saint of this cathedral in the pines. Jones once said we are all "dogged victims of inexorable fate." Not that Drew Kittleson is a victim. A week after your 20th birthday, life doesn't get much sweeter than a crib in the Crow's Nest, the amateurs' dorm room atop the clubhouse.
Nor do I buy the idea that fate has anything to do with 6-irons struck three grooves from the bottom. But the "dogged" part works. If dogged is hitting it squirrelly one day and squarely the next, Drew Kittleson is doggone dogged.
He's a sophomore at Florida State, just under 6 feet tall, 1-iron thin. Unlike most of the monied dandies here, he didn't have the big ol' leather bag and the cap someone pays them to wear. He came with his nylon, two-legged Florida State bag and he wore a "Masters 2009" cap out of the pro shop. He earned his ticket here by reaching the final of the 2008 U.S. Amateur Championship. Then, Thursday, he hit it all over the property in a 78. "Awful," Kittleson said. His coach, Trey Jones, walking outside the ropes both days, said, "Drew felt dejection and disappointment after all the build-up. But what these guys out here have" -- the Tigers and Phils -- "are the intangibles. Drew showed those intangibles yesterday, getting it up and down all day. Today he showed his ball-striking ability."
Kittleson's even-par 72 was the best in his threesome, two up on John Merrick, four on Larry Mize. He finished the tournament at six over.
Anyway, after a bogey at the 10th, he makes the eagle at the 11th.
Then he triples the 12th.
"Amen Corner got me," Kittleson said. A small smile here. "But I got part of Amen Corner, too."
We could put his back nine to music. All together now, and sing . . .
Amen Corner got me, yes it did.
And I got Amen Corner, yes I did.
Told you this was good, and it's all answer to the question, "How do you shoot 38 with three bogeys, a triple, and no birdies?" You may also ask how a player can send a 6-iron 200 yards into the hole and a heartbeat later needs six shots with all kinds of implements to cover 150 yards. He does it this way: "Pulled the tee shot left and long. No grass back there. Putted it, it hopped over the stuff, and went into the bunker."
Uh-oh. He had putted off the green and into the devilish bunker in front. From the bunker -- "Not much sand in it" -- he sent the sand shot across the green again, only in the other direction, or, to quote him again, "Playing Ping-Pong." A lame chip and two putts became a quick triple bogey on the most evil hole on this and several other continents.
At the 15th, a par-5 at 530 yards, Kittleson's drive left him 215 to the flagstick. Downwind, downhill, that was another 6-iron. He put it 30 feet left of the hole and from there he made a putt that curled right, moving slowly but inexorably -- thank you, Mr. Jones -- toward its happy fate. And Kittleson raised two fingers to his gallery buddies. "Two eagles," he would say to an old Florida State teammate, Jonas Blixt, coming over to the gallery ropes to chat.
"You learning a lot?" said Blixt, now a regular on the Nationwide Tour, the PGA Tour's minor league. "Learned that putt broke a lot," Kittleson said, an allusion to a two-footer he missed for par at the 16th. Which is to say he learned that eagles come and go, but two-footers are here forever.
This week, by serendipity, he played practice rounds with Masters champions who also had played here as amateurs. Sunday, Craig Stadler. ("Awesome guy.") Monday, Mark O'Meara. ("Mr. O'Meara talked about life.") Tuesday, Phil Mickelson. ("Golf.")
Besides all that, two eagles in five holes.
"Unforgettable," he said.
The Masters gives players a crystal glass for an eagle. Does Kittleson have a place in mind for the two he'll take home?
A big smile here. "In my hands."
Dave Kindred is writing daily during the Masters.