News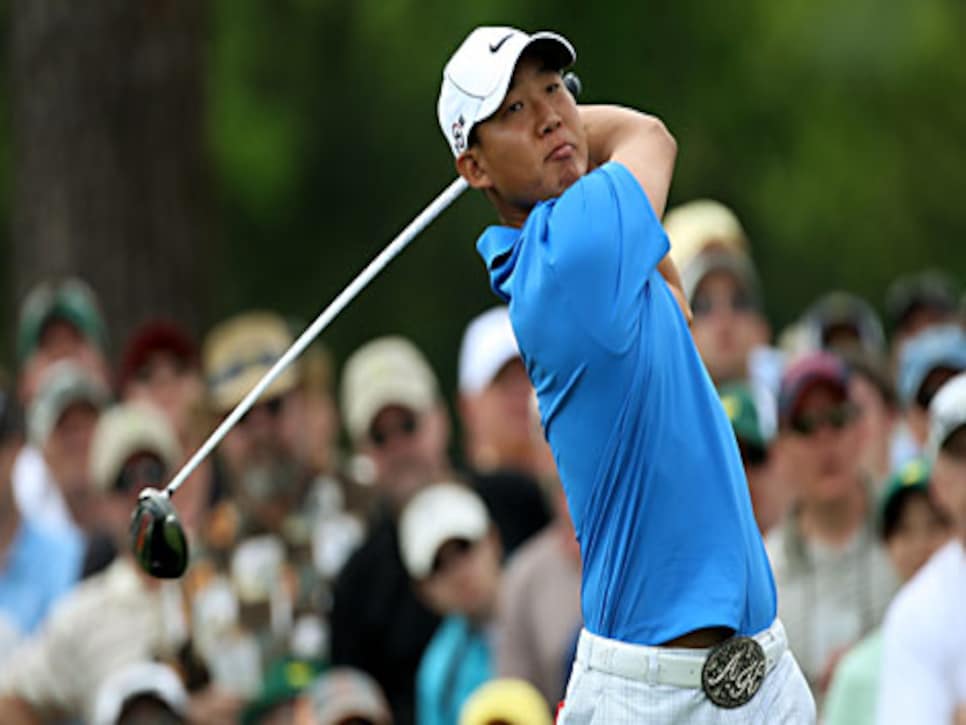 After an indifferent start to his 2009, Anthony Kim's birdies on Friday were a reminder of his vast potential.
Never has Anthony Kim's abundance of talent been on finer display than during the second round of the Masters. On a day of swirling winds and rising scores, Kim set a tournament record with 11 birdies en route to a 65, two strokes better than anyone in the field. After an opening 75, Kim has vaulted himself into the heart of the weekend mix. Just three players stood between him and co-leaders Chad Campbell and Kenny Perry when play began Saturday.
For all that made the performance so impressive, what I liked most about Kim's turnaround was the bounce-back factor itself. The kid looked terribly discouraged on Thursday, his negative body language reflective of a flustered young hotshot playing in his first Masters. Given AK's lackluster play since last September -- a stretch that has led to growing speculation about his penchant for late nights, crowded bars and other behavior commonly associated with a 23-year-old -- I didn't see him making the cut, much less leaping into contention.
I'm glad I was wrong. We're talking about an exceptionally gifted player whose swagger and self-confidence go a long way toward defining Kim's on- and off-course personality. In the eyes of many observers, a group that includes some of his fellow tour pros, AK's work ethic and priority list do not measure up to his physical skill, especially compared to good friend Camilo Villegas, whose roll-up-the-sleeves mentality has everything to do with his rising stardom.
When a kid of Kim's ability goes six months without finding his way onto a leader board, the whispers get louder, conclusions are drawn, and the repercussions of a young man's lifestyle become a hot topic of discussion. "I'm not too concerned with what everybody else is thinking," AK said after the 65. "Of course, I'll hear or read [people saying], 'what happened to him?' I'm still here. I'm still making golf swings. I'm very positive about where my career is heading."
My read on Kim is that he plays his best golf when he has something to prove, a trait that dates back to his college days at Oklahoma. Given the chance to face Sergio Garcia in the first singles match at last year's Ryder Cup, AK dismantled Sergio with such effortless efficiency that it was hard not to envision him winning four or five tournaments a year for the next decade.
What followed was a string of minor injuries, none of which kept Kim out of action for more than a week or two, none of which seemed to come with a full explanation. He hurt himself riding a horse, then cut his feet while surfing in Hawaii, which ultimately led to his not playing in the Bob Hope Classic. At last month's Arnold Palmer Invitational, Kim withdrew after coming down with the flu. which caused a few snickers that Wednesday on the practice range.
After a distant T-2 in season-opening Mercedes-Benz Championship, Kim played in just four PGA Tour events leading into the Masters, his best finish a T-17 at the WGC-Match Play. He missed all three starts in his native Southern California, the last two so he could bank a nice appearance fee and play overseas, at which point it was hard not to wonder if AK was going to be OK over the long haul.
At Augusta National, Kim was paired for the first two rounds with 19-year-old Rory McIlroy and 17-year-old Ryo Ishikawa, golf's latest version of the limitless future. Having played such sloppy golf in front of those teenagers Thursday, AK had to feel at least a little embarrassed, which sent him back to the the grounds the next morning with a full tank of motivation.
Eleven birdies and 65 strokes later, America's best young player looked like America's best young player again. It would be really nice if he looked like that all weekend, regardless of the circumstances or the company.