News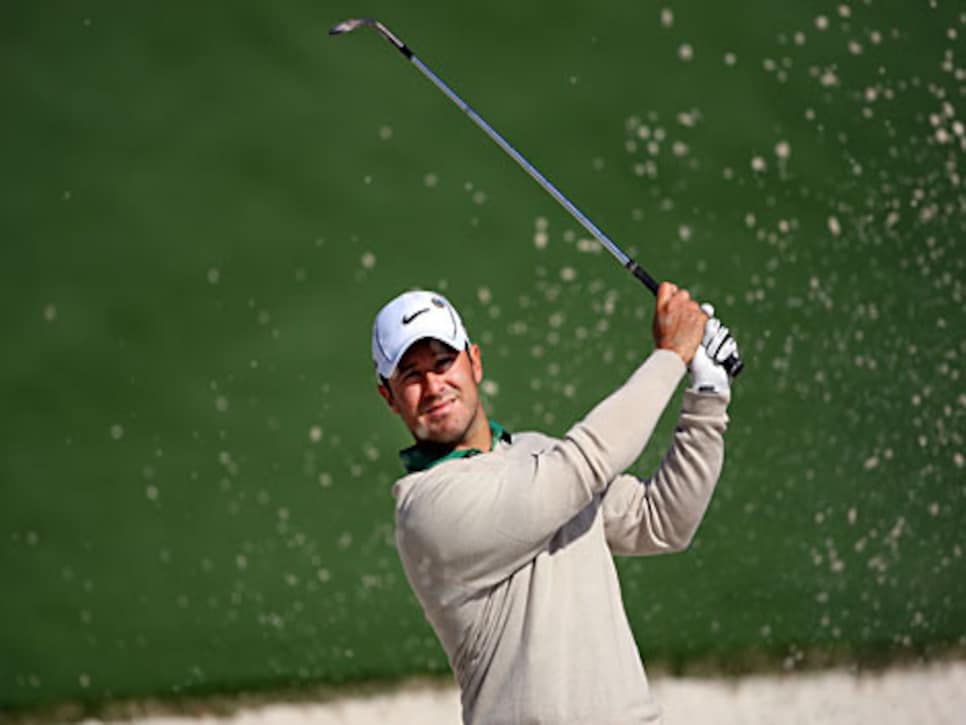 Defending champion Trevor Immelman has mostly struggled since his win at Augusta National last April.
AUGUSTA, Ga. -- For the past year, Trevor Immelman has been wondering if his win in last spring's Masters was a dream.
That dream became a reality this week when Immelman walked into the winners-only Champions Locker Room at Augusta National. He saw Mike Weir, Bob Goalby, Charles Coody, Zach Johnson and Phil Mickelson, all offering congratulation and welcoming him to the green jacket club.
"It's obviously been a surreal experience," the 29-year-old South African said Tuesday. "I came here about a month ago and had a little visit. That was the first time I went in there and saw my name up on the locker.
"And going in there this week and meeting some of the past champions has been great fun. It's cool. It feels a little weird, because you're the new guy."
Tuesday night, Immelman will host the Champions Dinner. After giving great thought to the menu, he settled on South African Spinach Salad; Babotiei (traditional curried meat and fruit), Chicken Sosties (grilled chicken and vegetable skewers); and for desert, Melktert (traditional milk tart), plus a selection of South African wines from Cape Town.
"I think it's going to be the highlight of my week, to be in the presence of 25 or 30 former champions that I have just idolized and looked up to my whole life," said Immelman.
Immelman has been introduced as the 2008 Masters champion at some tournaments, but it will be different Thursday when he hears his name announced on the first tee.
"Obviously, I'm going to be nervous and excited and anxious and everything all at the same time," he said. "It's goose-bump stuff, just an absolutely incredible feeling."
Admittedly a perfectionist, Immelman has struggled with his game since last year's win. Although he's made five of six cuts on the PGA Tour, his best finish is a tie for 19th at the Transitions Championship, where he closed with a 75. He enters the Masters ranked 103rd on the money list.
Several factors have contributed, mainly more demands on his time, the pressure of becoming a role model, and trying too hard.
"I think what happened to me, if I could do it all again, is I think after I won last year, my expectations got too great," Immelman said. "I kind of felt like I could play like that every week, and it's just not possible in any sport -- well, you know, I guess it is, because Tiger does it. But whether he's human or not is still up for debate."
Last year, Immelman opened 68-68-69, becoming just the ninth player in tournament history to start with three-straight rounds in the 60s. Even with a final-round 75 in tough, windy conditions, he still cruised to a three-stroke win over Woods.
The win was no fluke. Immelman led the field in driving accuracy by hitting 48 of 56 fairways, tied for second in greens in regulation (51 of 72), ranked fourth in driving distance (287.5) and perhaps most impressively tied for fourth in putts with 112.
Once Immelman's second shot found the green at 18, he savored every step to the green.
"I knew, okay, well, I couldn't lose it from there," he said. "So that's something I really enjoyed, because I was able to make that walk that I've watched on TV, knowing I had won. I was trying my best to let my guard down in a sense and take it all in, because in some sense, I still don't think it's sunk in. But I was able to try and enjoy that moment as much as I could."
Mark Soltau is a contributing editor to Golf Digest and the editor of TigerWoods.com.