News
If A Golfer Goes For Three Straight Majors ...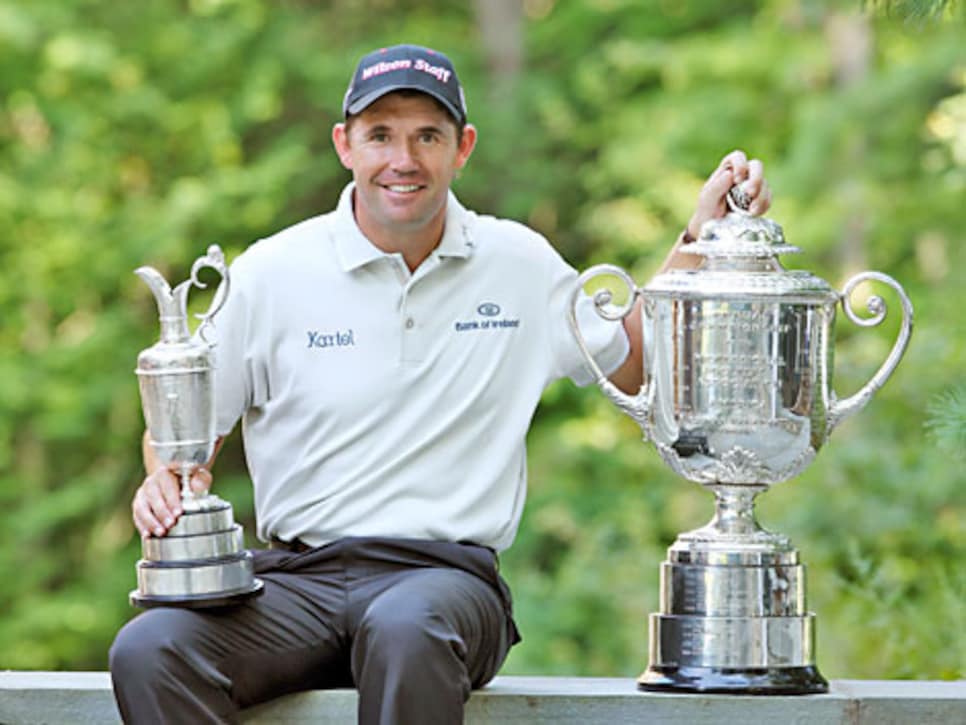 After winning consecutive majors to end 2008, Padraig Harrington's bid for three straight has hardly raised a stir.
In a game where failure is a familiar foe, in a league where a ton of ability often produces five pounds of accomplishment, Padraig Harrington has become the biggest overachiever in golf's modern era. No player with a comparable talent level has done more than Harrington, which might be the ultimate compliment in today's hype-happy society, but it's not like the Irishman has the skills of a single-digit handicap.
You don't win three major championships with half a toolbox. You don't play in five Ryder Cups unless you can play, period, and Harrington certainly can, but after 12 years in the big leagues, his position in pro golf's empire seemed somewhat predetermined. He was a very good player, not a great one, a second-tier star best known for his grinder mentality and large pile of second-place finishes in Europe.
In 2005, Harrington, who was 33 at the time, committed to a full-time schedule in the United States, a move he thought would better equip him to contend at the majors and win one of those big trophies. Several high-profile Euros already were playing most of their golf on this side of the Atlantic, so it hardly was front-page news. That said, it quickly became apparent that Harrington was a lot different than most of his fellow transplants.
He wasn't here to stay in a nicer hotel, drive a fancier courtesy car or dine on the gourmet chicken salad in the lunch buffet. Paddy was here to get better. For all the talk about the hundreds of hours Vijay Singh spends on the practice range, Harrington couldn't have been more than a few minutes behind. There is no messing around when he hits balls, either. The guy goes about his business like a man about to tee off in the final group of a U.S. Open, and if there's any daylight left when he's done, he'll probably use it to work on his short game.
When Harrington arrives at next week's Masters in search of a third consecutive major title, his quest won't receive nearly the attention given to Tiger Woods and Phil Mickelson, the last two players who found themselves at the same historic juncture. Some of that might stem from the fact that he's not an American, as we tend to dump more love and scrutiny on those born in this country, but if Harrington has reinvented himself as a player by winning two British Opens and a PGA Championship in the last 21 months, he seems totally comfortable with the idea that it hasn't redefined him as a public figure.
"It has been a big bonus," Paddy says of the deflected spotlight. "Tiger is back and Phil has been playing great, which obviously [draws] huge media attention in the U.S., and with [19-year-old Irishman] Rory McIlroy coming on the scene, it has taken a good bit of the attention at home. It's all the better for me. It allows me to manage my own time and cope with what I'm doing."
There is a simple-minded optimism to Harrington that makes him easy to be around, hard not to like and tough to beat, especially in difficult scoring conditions. He rallied on the back nine Sunday to claim all three of his majors, an admirable and unlikely trait considering the venues involved. Carnoustie is as tough as it gets, although the R&A wisely softened the old bear after the debacle in 1999.
At Birkdale last July, a fierce breeze howled across the grounds all week; Harrington played the last eight holes in four under to win at three over par. And last year's PGA was more like a U.S. Open until heavy rain Saturday brought menacing Oakland Hills back to a challenging but reasonable state. "I don't think he's an overachiever," offers Woods' caddie, Steve Williams. "He's just a great player, and he knows how to finish a tournament."
There is no shame in getting more out of your game than most people would rightfully expect, especially after your 35th birthday has come and gone. To win three majors in a bunch at that point in your life is very unusual -- Nick Price is the only real obvious example, although Phil Mickelson didn't knock the chimp off his back until he was almost 34. Mickelson, however, has been dealing with irrepressible expectations his entire career.
Neither Harrington nor Price has spent time in that type of fishbowl. Both maximized their ability for an extended stretch, although one senses Paddy's maximization period may not be over. Price had always been a terrific ballstriker who didn't make enough putts, and when they started going in, he took home a bunch of first-place checks. Harrington has always been an excellent putter whose dramatic improvement from tee to green vaulted him clear to the next level.
Can he win the Masters? Absolutely. He wouldn't be my first choice with Woods and Mickelson coming off victories in Florida, but the changes to Augusta National definitely favor Harrington's style of grinding and economizing. Even if some of the ill-conceived course alterations are no longer around next week, it's still tighter, longer and tougher than it was 10 years ago. You're not going to hit 16 greens, two fringes and shoot a 64 unless the weather is perfect.
At that point, the year's first major becomes an immense mental battle. Harrington has proven he has the confidence, intelligence and competitive instincts to not only deal with those conflicts, but succeed at the highest level. He is quick to credit sports psychologist Bob Rotella for his success, which makes Paddy the best shrink billboard in golf, but this is a guy who had it in him all along.
Harrington is an unassuming man with a dig-in nature to him. "I haven't played with Paddy in a while," Woods says, "but Stevie and I were talking about how his [pre-shot] routine has changed. It's certainly much quicker than it had been in the past. I mean, whatever he's doing, it's working. His work ethic is second to none out here."
That's high praise from a guy who will prepare for the Masters from sunrise to sunset this week. Harrington's quicker pace can only come from increased self-assuredness, a clearer head, a better plan. Whether you're shooting in the mid 90s or winning golf's biggest championships, there is something to be learned from the Irishman's major improvement.
His strongest assets are qualities that won't disappear overnight. They won't betray him, and they'll only travel well. "It would be a nice bonus to win three majors in a row," Harrington says, "but does it make a difference whether I win one [next week] or next year, or in two years? No. I'm quite patient. I'm not going to get drawn into thinking that if I go to the Masters and don't win, it's a failure, or that it detracts in any way from the last two majors."
Or three of the last six, but who's counting?