News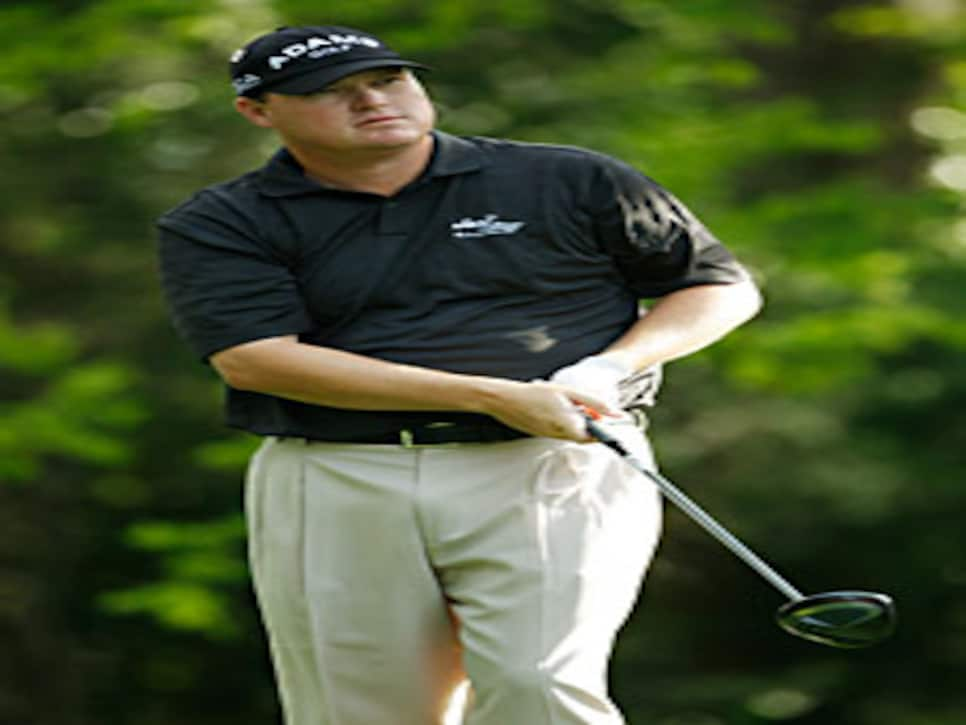 Campbell needed a birdie on 18 to on to sole possesion of the lead.
AUGUSTA, Ga. (AP) -- Kenny Perry and Chad Campbell shared the lead at the midway point of the Masters on Friday while Tiger Woods was seven strokes off the pace heading into the weekend.
Woods plodded to a 72 and 142 total through 36 holes. The best score was turned in by Anthony Kim, who set a Masters record with 11 birdies on the way to a 65. Bouncing back from an opening 75, he put himself just five strokes off the lead.
Argentina's Angel Cabrera was alone in third, one stroke back, after his second straight 68.
Anthony Kim was too impatient to wait that long. The 23-year-old Californian set an Augusta National record with 11 birdies on the way to a 7-under-par 65.
"I haven't been making 11 birdies in two days," Kim said. "To make 11 in one day is pretty special, and to do it at Augusta is incredible."
It also was a day for nostalgia. Three-time winner Gary Player and 1979 champion Fuzzy Zoeller played their last competitive rounds at Augusta.
The 73-year-old Player dropped to one knee and brought together his hands in prayer as he arrived at the 18th green one last time in his record 52nd Masters. He closed his brilliant career with five straight bogeys, including a three-putt at the 18th, and took an 83. Not that it mattered.
"I had a standing ovation on all 36 holes," Player said. "How do you let people know how much you appreciate the love?"
Zoeller, 57, blew a kiss to the patrons before jogging up the hill behind the green to sign one last Masters scorecard, struggling to hold back the tears.
"I hope everybody's had fun, because I enjoyed my ride," said Zoeller, who shot a 76 in his final round. "Now it's time to step aside and let some other young kid come in and win."
Carrying on for the old-timers was Perry, who closed out his 67 with a tap-in birdie. Now, he can make a run at becoming the oldest major champion in golf history.
The Kentuckian will be 48 years, 8 months, when the green jacket is handed out on Sunday, four months older than Julius Boros when he won the 1968 PGA Championship.
"I really believe I can win this tournament," Perry said.
The first-round leader Campbell shot 70, tying him with Perry at 9-under 135. Woods could only manage a 72 and will go to the final two rounds seven shots off the lead.
The soft-spoken Campbell bounced back from a tough back side to make a 25-foot birdie putt at No. 18, putting himself in a familiar position. Three years ago, he entered the weekend with the lead but fell back during a rain-plagued third round that extended over two days.
He finished in a tie for third, three strokes behind winner Phil Mickelson.
"It's nice that I have been in this position before," Campbell said. "There's a long ways to go, but it's definitely nice to not be on foreign ground."
No one made a bigger move than Kim, the emotional leader of last year's winning U.S. Ryder Cup team that also included Campbell and Perry.
The polar opposite of Perry (in age) and Campbell (in temperament), Kim shot 10 strokes better than a day earlier -- even with a stiffer breeze, firmer greens and tougher pin positions. Instead of wondering if he'd make the cut, he's solidly in contention for a green jacket with a 140, just five strokes off the lead.
"If I can keep my putter hot, I like my chances here," said Kim, playing in the Masters for the first time.
Kim pulled himself together after making a bogey at No. 9 and a double-bogey at the 10th. He drew a few insights, he said, after reading a story about Los Angeles Angels pitcher Nick Adenhart, one year younger than Kim and killed in a car wreck early Thursday shortly after pitching in a game.
"I refocused on the 11th tee. I made some good swings. I told myself, 'No matter what you shoot, I want you to put this tournament round in perspective,'" Kim said.
"Look, it been my dream to be at the Masters all my life. I didn't want to pout about bogeys. I just wanted to go out there and have some fun. That's what made 11 birdies a lot easier."
After opening with a 70 that could have been much better if not for a balky putter, Woods lost ground to the leaders on Friday. An 8-footer to save par at No. 18 caught the lip and popped out, leaving the world's No. 1 player with plenty of ground to make up over the final two rounds.
"A lot of wasted opportunities today," Woods said. "I didn't get a whole lot out of my round."
His putting must improve if he's going to have any chance of chasing down Campbell and Perry. Of course, Woods overcame a five-shot hole on the final day at Bay Hill two weeks ago, sinking a birdie putt on the final hole.
"I hit some good putts, a little bit better today than yesterday, but I didn't make many," Woods said. "Obviously, I need to putt a little better than I have."
While players such as Kim, Perry and Steve Stricker (69) did just fine, Augusta National did show its teeth a bit after a hosting a birdiefest Thursday, when 19 players shot in the 60s and 38 broke par, both records for an opening day at the Masters.
Larry Mize went from 67 to 76. Tom Watson soared from 74 to 83 -- his worst score ever at Augusta. Amateur Danny Lee played the first five holes after the turn at 10 over, including a quintuple-bogey 9 at the 10th.
"Obviously today is a lot more difficult," said Todd Hamilton, the 2004 British Open champion who stayed in contention with a 70. "If you have no wind, the guys on the Tour are going to play very good. You throw in some wind with a tough setup golf course, that's when you see some trying times."
Phil Mickelson was flirting with the cut line until he rallied on the back side, putting himself in good position to play on the weekend.
But Greg Norman had another Masters disappointment. Having played his way into the field with a third-place finish at last year's British Open, the 54-year-old Shark opened with a solid 70, but was assured of missing the cut after struggling to a 77 Friday.
Norman, a three-time runner-up at Augusta and best known for his monumental collapse in 1996, was playing the Masters for the first time in seven years.