News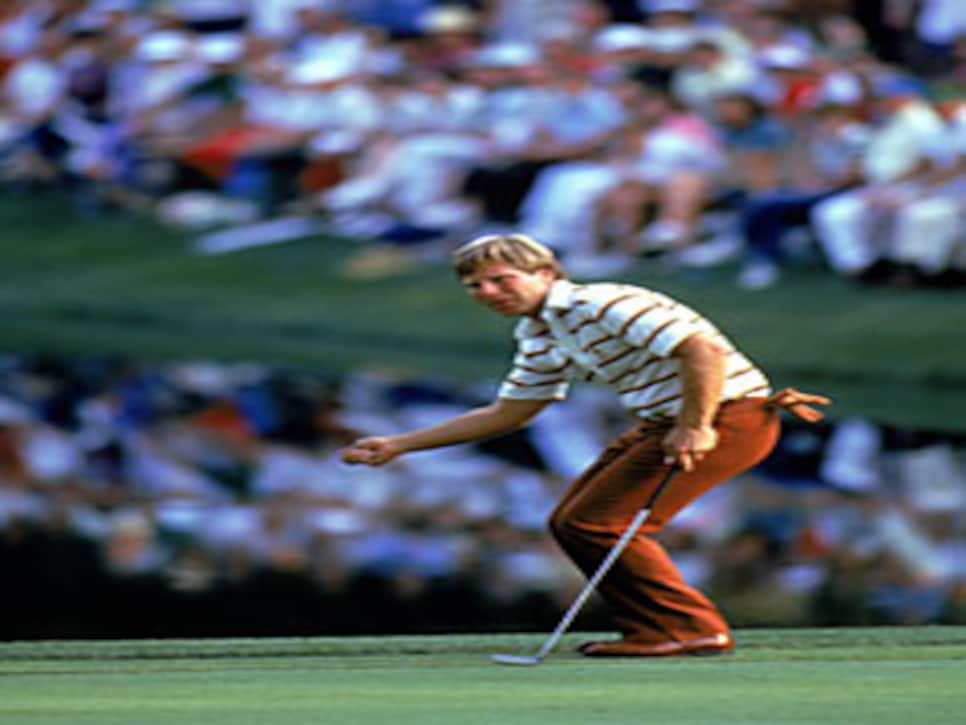 Ben Crenshaw has used the same blade putter on and off for more than 40 years, including when he won the first of his two Masters in 1984.
In the pantheon of great putters, Ben Crenshaw holds a special place. Although a Hall of Famer who next week at Augusta National GC will be celebrating the 25th anniversary of the first of his pair of Masters titles, Crenshaw never made as many historic putts as Jack Nicklaus or Tiger Woods, or other golfers who own many more major championships than he does. Yet no one has ever used a putter more artistically, looked more comfortable on the greens, or seemed like he was meant to excel at this phase of golf quite like Crenshaw. That was true when Crenshaw was a wonder boy hitting the tour in the 1970s, and it will be true when the 57-year-old Texan competes in the Masters for the 38th time using "Little Ben," a simple blade putter (or a close facsimile) he got in 1967.
Crenshaw delights in trying to solve Augusta National's heavily sloping greens on which he has earned the equivalent of a putting doctorate. Putts that scamper like nowhere else, that break 10 to 20 feet or more on occasion -- there is nothing he likes better. "Even when we play a fun round at Austin Golf Club, if Ben sees a pin placement he likes, we'll stop on that green and throw a ball down on the hardest spot to make a putt," says longtime friend and business associate Scott Sayers. "His speed is amazing. But he could shoot lights-out as a point guard in basketball and he was good at baseball and football, too, when he was a kid. His mother played the piano by feel. Maybe he was born with some of it."
What nature didn't provide, Crenshaw nurtured from an early age. Putting laboratory analysis is standard practice for elite players today, places where their strokes get the attention of a space shuttle launch, but it is instructive how Crenshaw developed his putting acumen.
"When we were about 10, we were waiting for daddy to get out of the shower at the Austin Country Club," remembers Charlie Crenshaw, Ben's older brother by 15 months. "We were lag putting up to the wall of the locker room, seeing who could get closest to it without touching it. We were tied one night and fighting about who was closer. Harvey [Penick] heard us and came in to break it up. We told him what we were doing, and Harvey said to keep it up, that it was one of the best putting exercises he had ever seen. We played that game all the time at the house, too."
Like premier baseball hitters who get an edge because of their keen eyesight that allows them to read a pitch when it is barely out of a pitcher's hand, Crenshaw also benefits from good vision. "To this day, at his age, Ben's eyes are still damn near perfect," says Bill Coore, his partner in the course-design business "since 1985. "He's like the guy in 'Lonesome Dove' who can spot somebody a mile away. Ben will look at a faraway bird and say, 'Look, that's a such and such.' I'm just trying to see if it's a bird, period. He'll say, 'Can't you see the little stripes under its wing?' "
Once, when Coore and Crenshaw were testing one of the hybrid Bermuda grasses on a putting surface, Crenshaw alone eyeballed how the blades grew differently on contours than on a flat, which would affect how a ball reacted on the slope. "And there have been times," Coore adds, "when I thought I was pretty good rolling balls on a green to a cup. I've putted sequences of balls and it just didn't matter. His invariably would end up closer to the hole than mine. His ability to perceive contours on greens is amazing. He has an ability to read almost imperceptible contours and have a sense of how they affect the roll of the ball, and that has been extremely influential in our work through the years."
Regardless of the terrain he is trying to negotiate, Crenshaw sets up on his putts in an open stance, arms relaxed, hands in a classic reverse-overlapping grip. Before he strokes a putt, he turns his head toward the target, like a farmer surveying a familiar field he has worked many times.
"I don't think Ben ever saw a putt he didn't like because he's a pure speed putter," observes Loren Roberts, like Crenshaw one of the best putters of their time. "He has a bit of a different stroke than a lot of guys. He just feels it and sees it. What I've always admired about his stroke is that he really gets that true end-over-end roll. If you watch him when he's putting well, the ball gets up around the edge of the hole and and it goes in. There isn't any sidespin. It looks to me like he takes the putter a little to the inside and hits it with the toe going over just a little bit -- puts that end-over-end roll on the ball."
Says Coore: "His putts look like they're never going to get to the hole, and they just keep creeping along so slowly you can almost read the name on the ball. It just keeps going."
While some pros switch putters frequently looking for the secret, Crenshaw has been remarkably faithful to the Wilson 8802 model that was a 15th birthday present from his father, a putter that for all its magic hasn't escaped Crenshaw's wrath. "It has seen a lot of miles and it's been up in the air a few times, too," Crenshaw says. "It climbed a few trees. It broke in the singles match the last day of the Ryder Cup at Muirfield Village in 1987. I swear to goodness I didn't deserve that one." (Crenshaw had to putt with a 1-iron part of that round after his putter was disabled when he "tapped" a buckeye as he walked off a green.)
"At various times, he's fooled around with a Bulls-eye," says Sayers, but I haven't known him to use one in a tournament. One time in the mid-1990s, in Jamaica at the Johnnie Walker, he used a Ray Cook mallet for a couple of rounds. His brother putts with a Ray Cook and he's a real good putter."
Crenshaw has a collection of blades (he won his first Masters using Little Ben, the second with a Cleveland model he designed). He is constantly on the lookout for one that feels as good as the original, but hasn't found it. "I brought a putter out on the Champions Tour about two months ago, one of the best I've ever seen, and it wasn't even close," Crenshaw says. "It's amazing the feel of [Little Ben]. I got about a dozen Palmers or 8802s. I've never had one that hits as solid as the old one. Very strange."
When you poke the face of "Little Ben" with your index finger to ascertain its sweet spot, it appears, as with many similar models, that the sweet spot is slightly toward the heel. Yet if anything Crenshaw strikes his putts slightly toward the toe. "This one's very solid out here," Crenshaw says, indicating where he likes the putter to contact the ball. "Very solid."
"It's kind of odd," admits Carl Jackson, Crenshaw's caddie at the Masters since 1976, "but he knows what he wants to feel when the putterhead hits the ball."
"Little Ben" looks its age, the chrome rubbed away on part of the top line, tiny nicks all over it. There were no alignment aids on the club when it was manufactured, but a couple of parallel scratches on its tiny flange have served that purpose for years. "See those two little spike marks?" Crenshaw asks. "I was playing with Craig Stadler one time in Greensboro when this happened. I stumbled and happened to spike up the putter. I said, 'Golly, I messed up my putter.' Stadler wanted to look at it and he said, 'Look, that's exactly where you hit it. It's a little toward the toe.' "
All investments should mature the way "Little Ben" has. Mr. Crenshaw paid $15 for it. Talk about a gift that keeps on giving.