News
A Sprint Out Of The Gates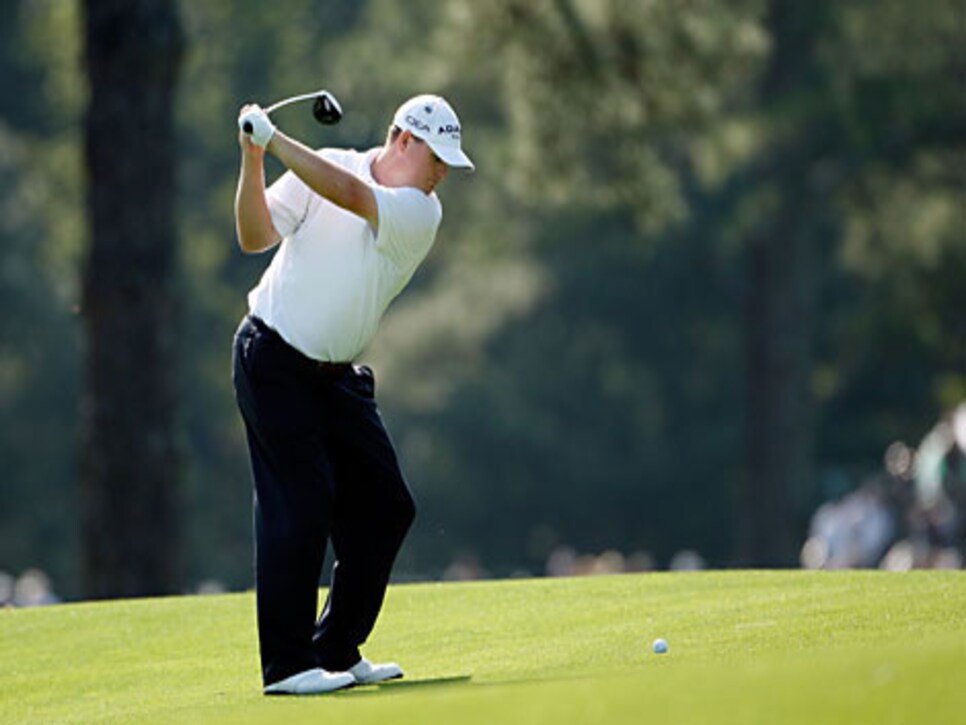 Before his two closing bogeys, Chad Campbell was in position to make a run at a course and major championship record.
AUGUSTA, Ga. -- Chad Campbell may not win the 73rd Masters at Augusta National Golf Club, but no one had a better start. The 34-year-old Texan opened Thursday's first round with five consecutive birdies and fired a pacesetting 7-under 65.
The previous best Thursday start was four-straight birdies by Ken Venturi in 1956. He shot 66 and finished second in the tournament.
"I kind of knew I was swinging well and putting well," said the easygoing Campbell. "I was pretty excited."
Campbell has made five birdies in a row before on the PGA Tour, but never to begin a tournament. He added four-straight birdies at 12 through15 to get to 9 under, and could have tied the course record by parring in. But he stumbled with bogeys at 17 and 18.
"I'm a little unhappy with the finish, but definitely happy with the round," he said.
Once Campbell got rolling, the crowd kept encouraging him.
"The fans did a good job of reminding me," said Campbell. "All I'm trying to do is hit one shot at a time. They were yelling everything: 'One more! Get to 10, and 63."
Campbell said a lack of wind and some easier pin placements propelled his fast start. Even the first tee was moved up, allowing him to hit 7-iron into the green instead of his usual 3- or 4-iron.
"They felt sorry for us, I guess," he said.
A late starter, Campbell saw lots of red numbers on the large scoreboards.
"You could see guys were making birdies," said Campbell.
Here's how he started: a 7-iron to two feet on one; a two-putt birdie on two; a sand wedge to five feet on three; a 2-iron to 18 feet on four; and a 7-iron to 15 feet on five.
"It did, absolutely," Campbell said, when asked if he thought about matching the course record. "Just on the back nine. It's always in the back of your head."
Campbell, a four-time winner on the PGA Tour, is competing in his sixth Masters. His best showing was a tie for third in 2006. However, he has also missed the cut three times, including last year, when he scored 77-77.
He has played well this year, making seven of eight cuts, topped by a tie for ninth at the Bob Hope Chrysler Classic. Commendable considering he and his wife Amy, a country western singer have a seven-month-old son.
"It definitely changes your life," he said.
While Campbell was thrilled with his start, he knows there is a long way to go. And he knows the course is only going to get tougher.
"By no means is it easy out there," said Campbell. "If you hit good golf shots, you get rewarded. You can get behind the eight ball in a hurry."
Mark Soltau is a contributing editor to Golf Digest and the editor of TigerWoods.com.